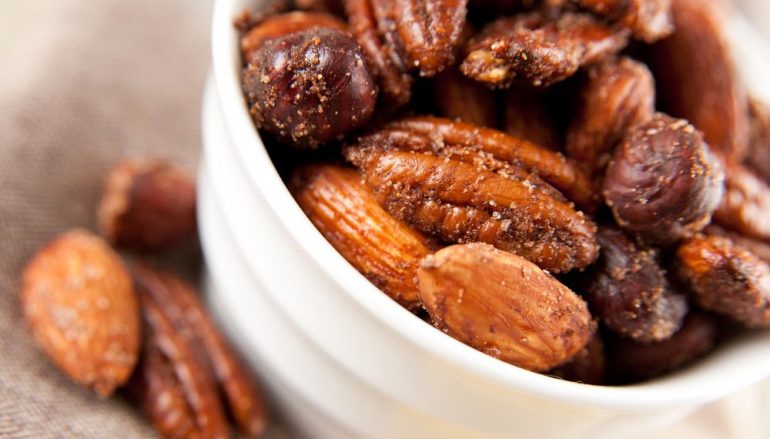 Finding ways to eat healthier, while maintaining a busy lifestyle, is a work-in-progress for most of us.  It usually means a little pre-planning and preparation.  Here is a recipe that you can make and batch ahead of time, even freeze if you need to.  Eating nuts helps your heart!  They have been shown to lower LDL cholesterol (which is the bad cholesterol in our blood), when eaten as part of a balanced diet.  Nuts contain unsaturated fatty acids, Omega-3 fatty acids, Vitamin E and fiber.  They help you to feel full, which is great when you get those afternoon munchies.
Recipe
1) In a bowl, mix the following ingredients:
1/4 cup Olive or Coconut Oil
1 tsp. Cumin
1 tsp. Garlic Powder
1 tsp. Sea Salt
1 tsp. Chili Powder
*Note: Measurements are approximate – feel free to use more or less according to your personal taste.  Or add in another favorite seasoning, be creative!
2) Add in your RAW nuts, any variety is fine.
Side note: Just like fruits and vegetables, nuts lose some of their nutritional value when heated and processed.  Raw nuts are unprocessed and have not been steamed, roasted or cooked in any way.  Add as many nuts as your mixture will coat, approximately 2 cups.
3) Add a few spritzes of Bragg's Liquid Aminos (a healthy alternative to traditional Soy Sauce)
4) Layer on a cookie sheet and bake at 350 degrees for 15-25 minutes, checking so not to burn mixture (you may want to turn the nuts half way through baking).
Photo – shutterstock.com
Tammy Schienke
Tammy Schienke is a Certified Health Counselor, as well as a Regional Sales Manager in the wellness industry. Becoming a Health Counselor was a critical first step in her personal journey to find balance in a busy world. She enjoys sharing her knowledge with others, to help them make steps toward a healthier life. Tammy received her training at The Institute of Integrative Nutrition in New York City. She is certified by the AADP, Teacher's College Columbia University and holds a BA in Communications and Psychology.
Related Articles
Read more from RECIPES