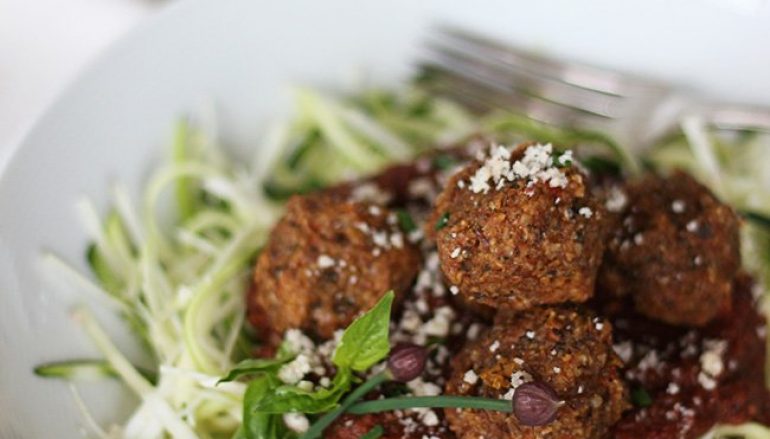 Raw Spaghetti and Veggie Balls
Raw Veggie Balls
(Makes approximately 25 veggie balls)
Recipe
1 1/2 Cup Sunflower Seeds (soaked for 8 hours or overnight)
2 Tbsp Lemon Juice
1 Tbsp Tamari
1 Stock Celery, Chopped
1 Carrot, Chopped
1/3 Cup Chopped Red Pepper
1/3 Cup Chopped Zucchini
1/3 Cup Chopped Onion
2 to 3 Cloves Garlic
1/4 Cup Packed Parsley
1/4 Cup Packed Basil
1 Tbsp Ground Flax
1 tsp Mixed Italian Spices
1/2 tsp Smoked Paprika
Spaghetti (recipe below)
Sun-dried Tomato Sauce (recipe below)
Parmesan (recipe below)
Procedure
1. Begin by soaking the sunflower seeds for at least 8 hours or overnight. Before using them drain and rinse well under fresh water.
2. Combine the soaked sunflower seeds in a food processor or high speed blender with the rest of the ingredients and puree until the mixture is fine, but you can still see small bits of the veggies. Taste and adjust with salt and pepper if needed.
3. With damp hands, form the dough into balls approximately the size of a Tbsp. If the dough begins to stick to your hands at anytime, just rinse them under water and start again.
4. Dehydrate at 40 C (105 F) for around 12 hours, or until the balls have a crisp exterior, but are still soft in the middle. Alternatively, you can dry them with the oven set to it's lowest setting and the oven door slightly ajar. This will take far less time, but they will technically be "cooked".
5. Serve with Spaghetti, Sun-dried Tomato Sauce, Parmesan and a drizzle of olive oil.
6. Extra veggie balls should be stored in the refrigerator. They are great added to salads, etc.
---
Raw Spaghetti
(Serves 4, easily halved)
Recipe
2 Medium Zucchini
1 Small Celeriac
Procedure
Using a mandolin and a knife, or a grater like this, cut the zucchini into noodles.
Peel the celeriac and slice very thinly into strips, then into matchsticks.
Toss to combine. Use fairly immediate as the zucchini will get watery if left too long.
Tags
clean eating
,
cleanse
,
detox
,
food
,
healthy recipes
,
meatless Monday
,
raw
,
raw food diet
,
recipes
,
vegan
,
vegetarian
Sophie Mackenzie
Sophie MacKenize is the founder of 'Whole Hearted Eats', a raw food blog. She is whole food enthusiast blogger who calls the rainforests of Vancouver Island home. She has a passion for making raw, vegan, and unprocessed recipes that one can feel good about eating.
Related Articles
Read more from RECIPES