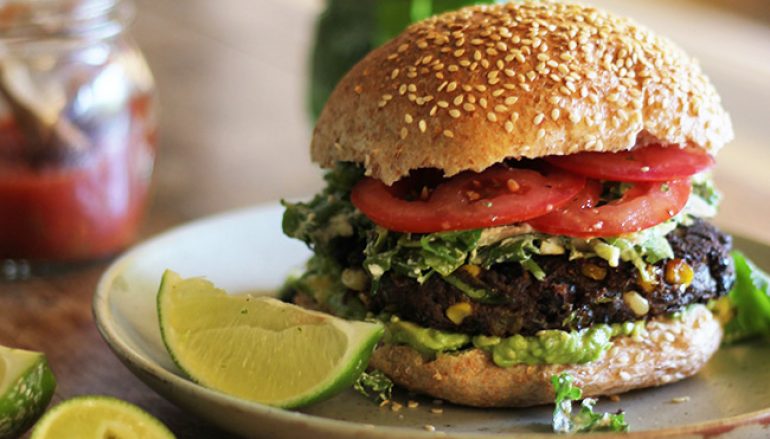 Baja Black Bean Burgers and Creamy Lime Coleslaw
Meatless Monday is coming!   What better way to kick off a healthy week.  Try this new spin on an old fashioned summer favorite.  This amazing and flavorful recipe that is sure to please any crowd.
Baja Black Bean Burger
(Makes 4-5 burgers)
Recipe
3 Cups Black Beans (or 2 15oz cans, rinsed)
2 Cups Mushrooms
1/2 Medium Onion
1/4 Cup Cilantro Stalks (or the stems from one bunch, reserve the leaves)
1 Clove Garlic
2 tsp. Oil
1/2 Bell Pepper (I used 1/4 Red and 1/4 Green), diced
1/2 tsp. Cinnamon
1 1/2 tsp. Cumin
1 tsp. Coriander
1 tsp. Smoked Paprika
1 Green Onion, slivered
3/4 Cup Fresh Corn (or 1 cob)
6 Tbsp.Ground Flax
1/2 Cup Gluten Free Flour (or flour of choice. I used this mix )
Sea Salt to taste
Serve with: Salsa, Chunky Guacamole (recipe below), Creamy Lime Coleslaw (recipe below), Buns or lettuce wraps, hot sauce.
Procedure
Begin by pureeing the mushrooms, onion,cilantro stalks, and garlic until it makes a fine pate-like consistency.
Heat a frying pan to medium, and add 2 tsp. of oil. Add the mushroom mix, cinnamon, cumin, coriander, and smoked paprika. Cook for about five minutes or until the mushrooms begin to cook. Add the diced peppers and cook for another minute or two until they begin to soften.
Transfer the mushroom mixture to a bowl, and mix in the beans, green onion, fresh corn, and flax meal. Taste and adjust for seasoning (if you are using canned beans you will need less salt). Slowly stir in the flour, you may need a little less or more depending on your mix.
Heat a heavy frying pan to medium and add a touch of oil. Shape the burger mix into about 4-5 patties. Once the oil is hot, place two patties in the pan and fry for about 5 minutes or until they begin to brown. Flip the burgers and then place in a 190 C (375) F oven for about 10 minutes.
Serve on a wholegrain bun and top with guacamole, creamy lime slaw, and salsa. If you want a gluten free -bread free option, serve the patty on a bed of creamy lime coleslaw.
---
Chunky Guacamole
Recipe
2 Avocados
2 Cloves Garlic, grated
2 Tbsp. Lime
Sea Salt and Pepper to taste
Procedure
Mash all together with a fork. Taste and adjust seasoning if needed.
---
Creamy Lime Coleslaw
Salad Recipe

1 Cup Shredded Kale
1 Cup Chopped Cilantro Leaves (reserved from the burgers)
2 Cups Shredded Savoy Cabbage
1 Green Onion, Slivered
Dressing
1/2 Cup Cashews, soaked overnight or for at least four hours
1/2 Cup Water
1 Tbsp. Lime Juice
1/2 tsp. Sea Salt
Pepper to taste
Procedure
Soak the cashews overnight, or for at least four hours. Once soaked drain them and rinse well.
Combine cashews in a blender along with the water, lime, salt, and a pinch of pepper. Puree until smooth.
Pour over chopped veggies, mixing well.
Photo – shutterstock.com
Sophie Mackenzie
Sophie MacKenize is the founder of 'Whole Hearted Eats', a raw food blog. She is whole food enthusiast blogger who calls the rainforests of Vancouver Island home. She has a passion for making raw, vegan, and unprocessed recipes that one can feel good about eating.
Related Articles
Read more from RECIPES