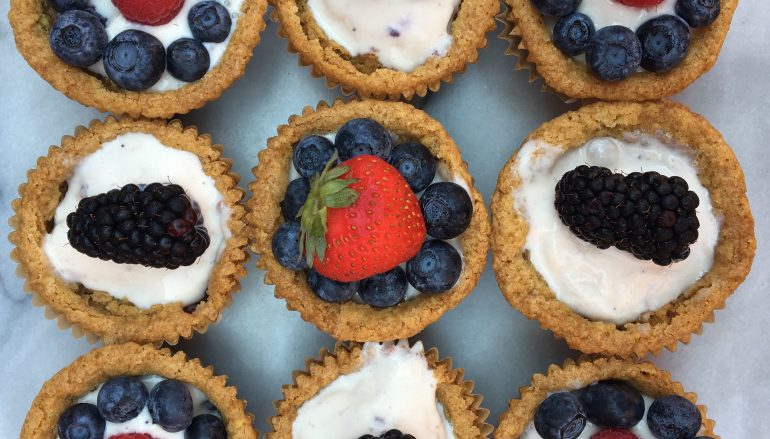 Berry Ice Cream Cookie Cups
Ingredients
2 ¼ cup GF flour
1 cup butter
¾ cup sugar
¾ cup brown sugar
1 tsp baking soda
1 tsp salt
1 tsp vanilla extract
2 eggs
12 oz chocolate chips
Snoqualmie Ice Cream mixed berry ice cream
big handful of blueberries
a few raspberries
a few blackberries
a few strawberries
Preparation
Preheat oven to 325 degrees, and line cupcake liners in a muffin pan.
Mix flour, baking soda, & salt in a small bowl.
Beat butter, sugar, brown sugar, & vanilla extract in large bowl until creamy.
Add eggs, one at a time.
Gradually add flour & beat until well-blended.
Stir in chocolate chips.
Place a big spoonful of cookie dough into each cupcake liner in muffin pan. Don't press down on the cookie dough too hard – the cookie dough doesn't have to be perfectly fitted into the liner.
Bake for about 15 minutes or until golden brown.
Remove from oven, and immediately make a shallow indentation in center of each baked cookie cup using the handle of a wooden spoon.
Cool for 10 minutes, and remove cookie cups from pan.
Add a spoonful of ice cream to each cookie cup.
Add berries to each ice cream-filled cookie cup.
Makes about 15 cookie cups.
Occasion:
Fourth of July/Memorial Day
Jackie McEwan
Jackie McEwan is the founder of Gluten Free Follow Me, the Guide to Living Gluten Free. glutenfreefollowme.com has customized searches and filters for 2,000+ gluten-free friendly restaurants, products, and recipes. Six years ago, Jackie learned she had celiac disease. It was incredibly overwhelming, and she wished she had a go-to guide to tell her all she needed to know about following a gluten-free diet. This manual did not yet exist so she did a ton of research which developed into Gluten Free Follow Me. Jackie graduated from Georgetown University where she majored in Finance & International Business and minored in Sociology. She worked as a private equity analyst at a corporate bank in NYC for six years, before pursuing Gluten Free Follow Me full-time. Jackie lives in Santa Monica, CA with her husband and golden retriever rescue. Instagram
Related Articles
Read more from RECIPES