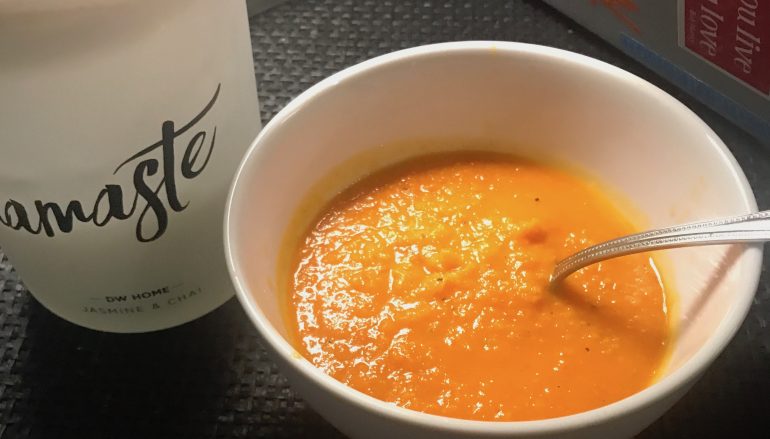 Spicy Roasted Sweet Potato and Red Pepper Soup
Cold, dreary winter days can lack motivation and be very uninspiring, especially now that football is over. If we aren't careful it will not only affect our mood, but can also wreak havoc on our wellness.  I believe soup is a year round delicacy, but a pot of hearty homemade soup on a cold and rainy day truly warms the soul.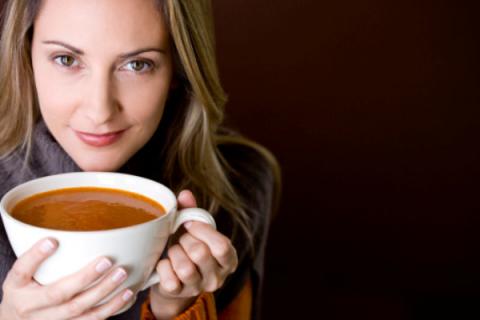 The great thing about soups is they are like warm versions of salads: diverse and creative.  You can make them light and healthy with what you have on hand.  You can add different colors, textures and seasonings and never run out of recipes.
Today while organizing the vegetable drawer (don't judge me….), I discovered some sweet potatoes and red peppers I had nearly forgotten about.  I wondered for a moment if this combination would work and thought there is only one way to find out.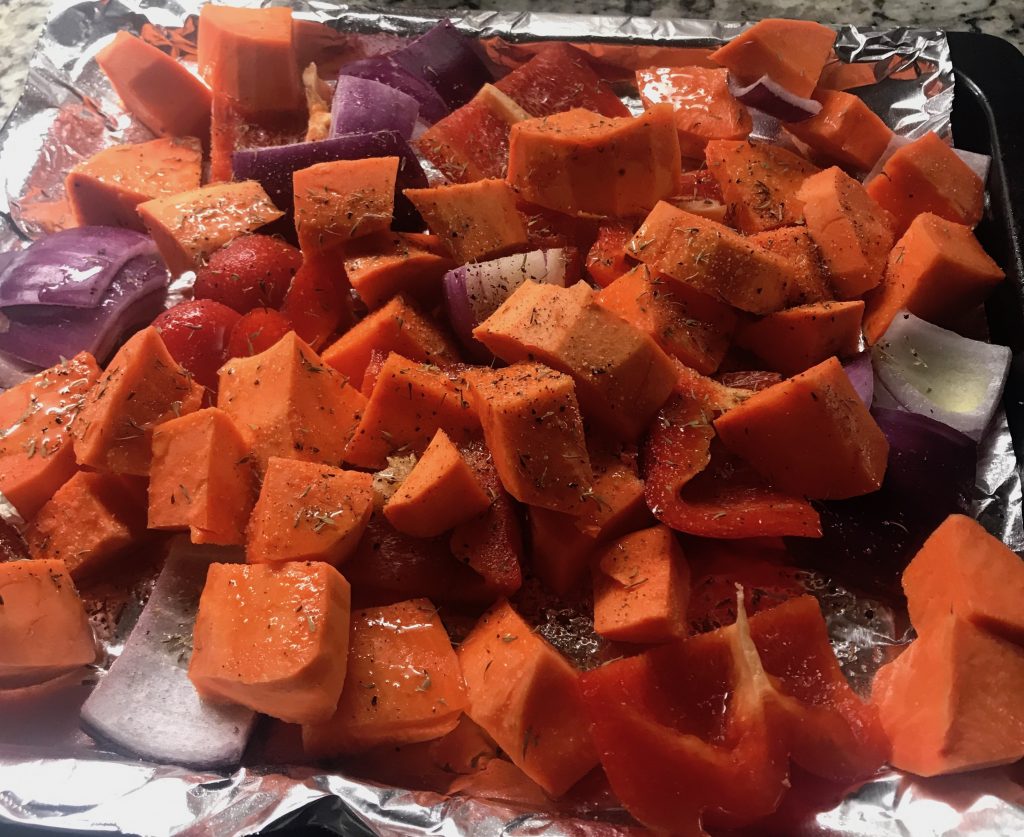 A platter of roasted veggies alone can taste like a guilty pleasure in itself.  Though there is evidence that subjecting vegetables to extreme heat can alter their nutritional value,  it's a trade off because cooking them can also make some nutrients easier to absorb.  Bottom line:  if you're getting vegetables in a meal, it's a win!
This soup is easy, so even if you are feeling a little less than motivated to prepare a big fancy meal, this is easily doable and will get you back to relaxing under that cozy blanket in no time.
Spicy  Roasted Sweet Potato and Red Pepper Soup
Ingredients:
2 large sweet potatoes, peeled and diced into 1-inch chunks
1 red bell pepper, coursely diced
1/2 red onion coursely diced
4 cups vegetable broth
1 Tbsp oil (I am currently using avocado oil)
1 tspn Thyme
1/2 tspn salt, pepper, cumin
1/4 tspn cayenne
Instructions:
Heat oven to 425.  Placed sweet potatoes, red bell pepper and onion on a greased baking sheet, drizzle with oil, salt, pepper and thyme, bake for 30 minutes or until potatoes are soft and starting to brown.
Place roasted veggies in blender. Add 2 cups broth (or enough to cover vegetables in blender) and blend on high until texture is smooth.  Add 1 more cup of broth and blend until even.
Transfer mixture to a large stock pot and heat to simmering.  Add the remaining seasonings and additional broth for desired consistency and taste.
Serve immediately. Enjoy!
Jenn Bodnar
Jenn Bodnar is the owner of  Yoga Digest and has a genuine belief that yoga can benefit everyone. She is 500ERYT having attended multiple teacher trainings, facilitating yoga teacher trainings and studying and practicing yoga since 1999. Jenn is an avid fitness professional, who has taught and managed group fitness for many years. As a former competitive triathlete, gymnast and dancer Jenn loves the balance of strength, flexibility, perseverance and freedom that yoga provides. She is mom to three awesome young men and loves being active and outdoors with her family and friends. Jenn oversees LifePower Yoga studio in North Dallas, is a self proclaimed health food chef and hopes to leave a positive footprint by inspiring others to choose happiness. "Watching people grow through yoga is one of the most amazing miracles to witness."
Related Articles
Read more from LIFESTYLE