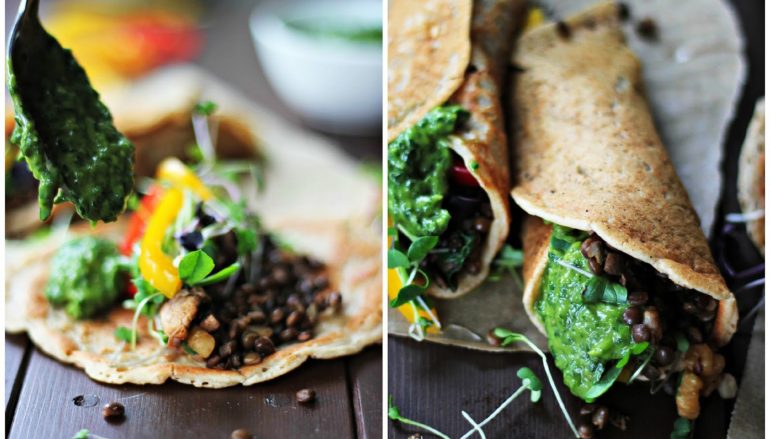 Happy Tacos with Avocado Sauce
Not only is this recipe fabulously yummy, it's hormone balancing as well!  Manage stress and balance cortisol with this HAPPY Meatless Monday Recipe!
These tacos are full of so many cortisol balancing foods: lentils, walnuts, mushrooms, spinach, and greens
---
Ingredients
1/2 Onion, chopped
2  Cloves Garlic, minced
1-2 tsp Oil
1 tsp Grated Ginger
1 1/2 Cup Cooked Lentils (I used black lentils)
1 1/2 Cups Chopped Mushrooms
1 Tbsp Tamari
1/4 Cup Walnuts, chopped
1 Cup Spinach, chopped
A Pinch of Chilli Flakes, optional
To Serve:
Amaranth Wraps (recipe below)
Avocado Sauce (recipe below)
Bell Peppers, micro greens, or sprouts to serve
Directions
Heat a frying pan to medium heat.
Add the oil and sauté the onion until soft.
Add the garlic and ginger and continue to cook until the onion is translucent (if the mixture begins to stick, you may have to add a little water).
Add the mushrooms and tamari and cook until they become soft. Add the spinach, lentils, walnuts and optional chilli and continue to cook until the lentils are warmed through and the spinach has wilted.
Serve with Amaranth wraps (or wraps of choice), avocado sauce, sprouts, and bell peppers.
---
Amaranth Wraps
1/2 Cup Almond Flour
1 Cup Amaranth Flour
1/2 Cup Tapioca Starch
1/2 tsp. Baking Soda
1/4 tsp. Sea Salt
1 tsp baking Powder
2 Tbsp Apple Cider Vinegar
1 1/2 Cups WaterOil for frying
Directions
Combine the almond flour, amaranth flour, tapioca, baking soda, salt and baking powder until combined.
Add the water and apple cider vinegar and stir until the flour entirely mix in.
Heat a heavy frying pan to medium, add a little oil for frying and spoon about 2 Tbsp of batter into pan.
With the back of the spoon, quickly spread the batter to make a thin pancake about 10 cm (4 inch).
Let the wrap cook on one side until bubbles begin forming on the top.
Flip the wrap and cook on the other side for a couple of minutes, or until it is  browned, and it doesn't feel tacky (it seamed like they took quite a while to cook, but if you rush them, they will be stodgy – and overcooking them will make the brittle. It took a couple of test ones to get it right).
Once cooked, store the wraps under a tea towel to prevent them from drying up while you continue to cook the rest.
Uneaten wraps should also be stored in an air tight container to prevent them from drying out (they will dry out much the same way as  home-made corn tortillas). Or best yet, cook as many as needed and refrigerate the batter until the next day.
---
Avocado Sauce
1 Cup Cilantro (or parsley if you dislike cilantro)
2 Cups Spinach
2 Cloves Garlic
1 Tbsp Tamari
1 Tbsp Honey (or liquid sweetener of choice)
2 Tbsp Apple Cider Vinegar
2 Tbsp Olive Oil
1/2 Ripe Avocado
Directions
Combine the cilantro, spinach, and garlic in a food processor and blend until it becomes chopped.
Add the tamari, honey, vinegar, oil, and avocado and continue to purée until the sauce is smooth.
Recipe courtesy of – wholeheartedeats.com
Sophie Mackenzie
Sophie MacKenize is the founder of 'Whole Hearted Eats', a raw food blog. She is whole food enthusiast blogger who calls the rainforests of Vancouver Island home. She has a passion for making raw, vegan, and unprocessed recipes that one can feel good about eating.
Related Articles
Read more from RECIPES