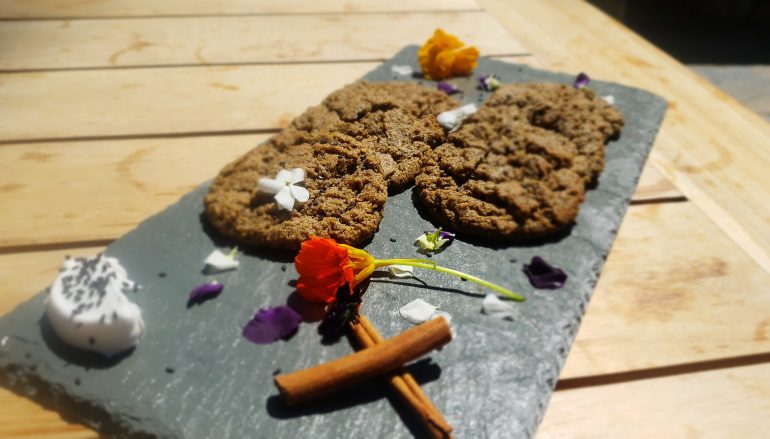 1 Tbs flax seed
3 Tbs water
¼ c room temp coconut oil
¼ c almond butter
1/3 c organic brown sugar
1/3 c organic cane sugar
1 tsp vanilla bean paste or extract
½ tsp baking soda
½ tsp baking powder
½ tsp sea salt
¼ tsp sesame powder
1 ½ c oat flour
1 ½ c almond milk
Mix flax with water, set aside for 10 minutes
Mix coconut oil, almond butter, brown sugar, sugar, milk, and vanilla together
Add flax and water mix to coconut oil mix.
Mix baking soda, baking powder, salt, sesame powder and oat flour together.
Add dry to wet until just combined, Do not overmix.
Scoop 1 tablespoon cookie dough balls with cookie scoop.
Dough is idea if scooped and placed in the fridge overnight before baking. The sesame flavor becomes more pronounced as the dough rests.
Bake at 350F on parchment lined pan, no spray, evenly spaced between 3 inches apart, 10-12 minutes. Every oven is different, rotate halfway. When edges are browned and middle is still slightly underdone, they are ready to be pulled out of the oven. Cool on tray for 10 minutes then transfer to cooling rack.
Yield= 8-10 cookies
Kenny Woods
Kenny Woods got his start in the kitchen as a young boy, standing on a chair helping his Italian grandmother stir soups for the family. As a teen, he taught himself to cook from watching cooking shows, finding recipes, and taste testing along the way. By 13, he loved cooking and knew he wanted to be a chef. From dishwasher, to prep cook, to sous chef by the age of 19, Kenny has been developing his craft throughout his life. He was executive chef at North in Arcadia, Arizona, where he started hosting community dinners consisting of several creative courses using local, sustainable, and seasonal ingredients. From there, he became executive chef at Flower Child in Scottsdale, Arizona, developing his leadership style to bring out the best in others. Kenny's philosophy is to believe in the ingredients and showcase them with integrity, while loving the process, so food sustains its living energy and the care of those who prepare it. Kenny supports local communities and farmers and creates meals with the hope of inspiring guests to cook simply prepared, delicious meals at home. Instagram
Related Articles
Read more from RECIPES