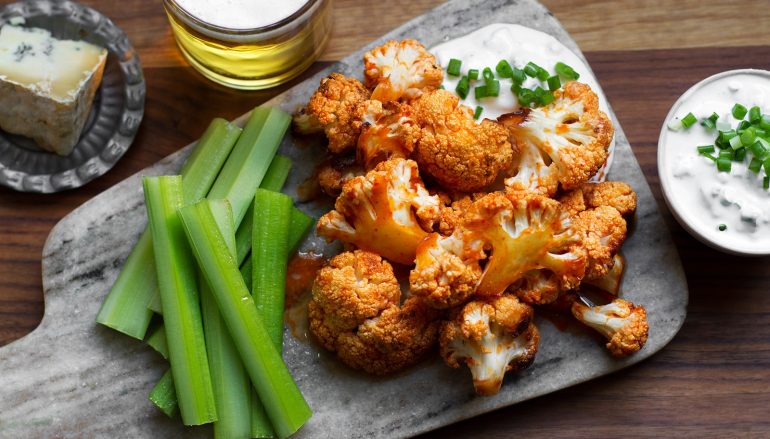 Baked Cauliflower Wings Recipe
This Vegan alternative to Buffalo Chicken Wings is both healthy and delicious!  And it can be made gluten-free, vegan, or vegetarian. Dip in ranch or blue cheese for even more added flavor.
Total Time – 45 minutes to 1 hour
Servings – 4 – 6
Ingredients
1 head of cauliflower approx. 4 cups of florets
1/2 cup milk for vegan: use water or almond or soy milk
1 cup all-purpose flour (can sub gluten-free rice flour)
1 cup Frank's red hot buffalo sauce
1 tbsp butter (for vegan use earth balance buttery spread)
Instructions
Line a baking sheet with parchment paper or spray with non-stick cooking spray.
Preheat oven to 450
Wash and split cauliflower into medium florets
Mix the liquids, flour and spices together in a bowl to make a paste
Dip the cauliflower into the flour mixture and coat each piece.  Then place on the baking sheet.
Bake 20 – 30 minutes (depending on how brown you want your 'wings' I like to really brown them up – there is flavor in the brown!)  Turn and Flip the wings occasionally.
While the cauliflower is cooking mix up the Frank's red hot sauce with butter in a small saucepan until butter is melted and set aside.
Once the cauliflower has done its first bake take it out of the oven and toss in the wing sauce to coat.  Place back on the baking sheet and put them back in the oven to brown about 10 – 15 minutes. Again I love them nice and brown and crispy so I go for a longer second bake.  Once they reach your desired crispness take out of the oven and serve with Ranch and/or Blue Cheese Dressing or your favorite dipping sauce. I like to add some with some carrots and celery sticks on the plate.
ENJOY!
Pat Fabulous
Pat began her career in fitness 2005. Always having a passion for weight training and helping others with their fitness journey she became a personal trainer. Pat completed her first Yoga teacher training in 2011 and tried many styles of yoga until she became hooked on the Ashtanga method. Pat also is Peak Certified Pilates Instructor and has completed her NASM, PES and CES personal training certifications. Through Yoga Pat discovered that Yoga is the relationship built between the body, the mind and the breath. With practice Yoga builds a steady place to stand as the ebb and flow of our thoughts wash over us. We learn to remain in the quiet space - the gap between our thoughts for longer periods of time through breath and asana.
Related Articles
Read more from LIFESTYLE