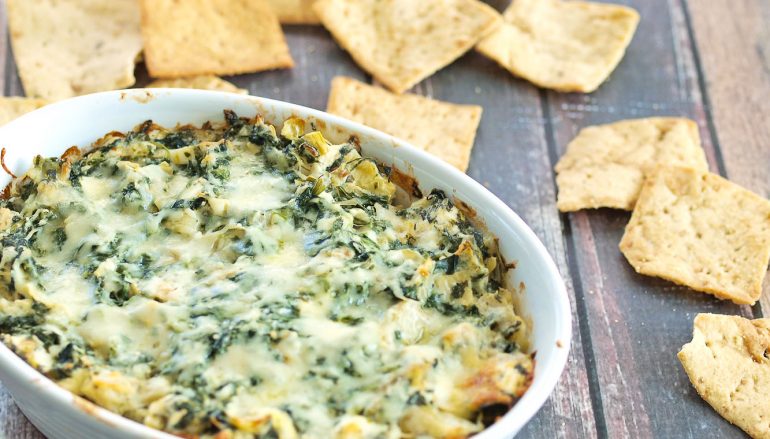 Vegan Spinach Artichoke Dip
Going plant-based can be a challenging decision.  Figuring out where and what to eat takes an enormous amount of planning.  It also can be very intriguing to your carnivorous family and friends, resulting in a lot of explaining.  Many will make a fuss about what to feed you, especially during the holidays.
Thanks to some great new dairy-free products, you can create your favorite comfort foods and your friends and family will not even know the difference.
I tried this recipe at Thanksgiving and it passed "the dad test." It's a crowd-pleaser and hearty appetizer for any gathering.  You can find most of the ingredients at your local grocery, some of the vegan products can be found at specialty stores like Sprouts and Whole Foods.
This Vegan Spinach Artichoke Dip is just as rich and delicious as the original without the guilt!
Prep: 15 Minutes
Cook time: 20 Minutes
Ingredients
1 (10 oz.) package of organic frozen spinach, cooked and drained
1 (14 oz.) can of artichoke hearts, drained and chopped
1 (8 oz.) container of Myoko's Plainly Classic Cream Cheese, room temperature
4 oz. Myoko's Organic Vegan Butter
1 cup of diced organic red onion
8 (oz.) Daiya Shredded Pepper Jack cheese, divided
Directions
Preheat oven to 350 degrees. Melt butter in a large saucepan over medium heat.  Add chopped onion and cook until tender.  Add cream cheese and blend until a creamy mixture forms.  Transfer mixture to a large bowl, add chopped artichoke hearts and spinach, stirring until well-blended.  Add half of the shredded cheese to mixture and place it in an 8×8 glass baking dish. Place remaining shredded cheese over the top. Bake for 20 minutes at 350, until cheese is melted.
Serve with crackers, pita or tortilla chips.
Jenn Bodnar
Jenn Bodnar is the owner of  Yoga Digest and has a genuine belief that yoga can benefit everyone. She is 500ERYT having attended multiple teacher trainings, facilitating yoga teacher trainings and studying and practicing yoga since 1999. Jenn is an avid fitness professional, who has taught and managed group fitness for many years. As a former competitive triathlete, gymnast and dancer Jenn loves the balance of strength, flexibility, perseverance and freedom that yoga provides. She is mom to three awesome young men and loves being active and outdoors with her family and friends. Jenn oversees LifePower Yoga studio in North Dallas, is a self proclaimed health food chef and hopes to leave a positive footprint by inspiring others to choose happiness. "Watching people grow through yoga is one of the most amazing miracles to witness."
Related Articles
Read more from RECIPES