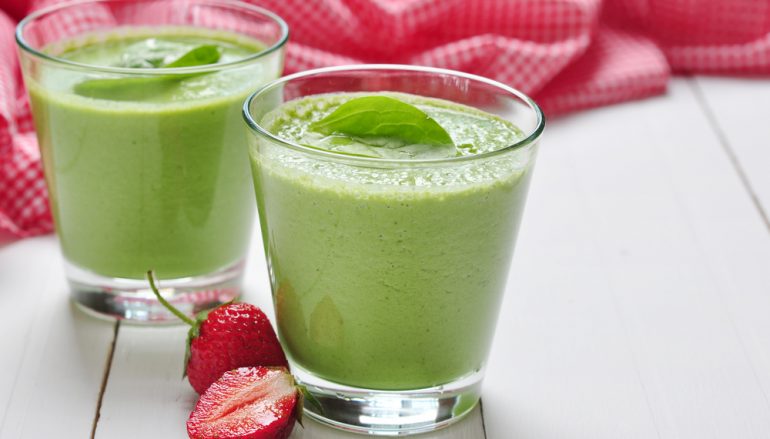 Have you ever been interested in making a smoothie for breakfast, but thought it was too much work? You're not alone! Here is my recipe, and shortcuts, to hopefully make it manageable for your morning routine.
This recipe is chocked full of some of my favorite foods! Kale and spinach are loaded with calcium, iron and beta carotene. Avocado is a healthy source of monounsaturated fats, which will help your brain to function, and keep you feeling full throughout the morning. The avocado alone provides nearly 20 vitamins, minerals and phytonutrients – wow! The fruit adds sweetness (which most people need in order to get the greens in), and nothing better than some ginger to kick start your day!
Easy Green Smoothie
Ingredients
1 bunch kale (shortcut: use frozen kale)
1 bunch spinach (shortcut: use frozen spinach)
1 avocado
1 large piece of peeled ginger (shortcut: use organic ready to use minced ginger in a jar – OR, peel
and freeze your ginger ahead of time, so you can pop it in and go)
1 cup frozen pineapple chunks
1 cup frozen berries (blackberries, blueberries, strawberries or raspberries)
1 juiced lemon (shortcut: can use lemon juice in a jar, but these often contain preservatives)
1 can of coconut water
*Optional: some people may want a protein addition, so feel free to add a scoop of your favorite powder. Just add additional coconut water or regular water to get the desired consistency.
Directions
Blend everything together & add additional ice for a colder smoothie. This usually makes enough to fill my blender, which is about 3-4 drinks. I like to place my blender right into the refrigerator, or pre-bottle the reminder for grab and go enjoyment!
Photo – shutterstock.com
Tags
alkaline
,
cleanse
,
detox
,
energy
,
food
,
green juice
,
green smoothie
,
healthy
,
juicing
,
lifestyle
,
organic
,
raw food
,
recipes
,
vegan
Tammy Schienke
Tammy Schienke is a Certified Health Counselor, as well as a Regional Sales Manager in the wellness industry. Becoming a Health Counselor was a critical first step in her personal journey to find balance in a busy world. She enjoys sharing her knowledge with others, to help them make steps toward a healthier life. Tammy received her training at The Institute of Integrative Nutrition in New York City. She is certified by the AADP, Teacher's College Columbia University and holds a BA in Communications and Psychology.
Related Articles
Read more from RECIPES