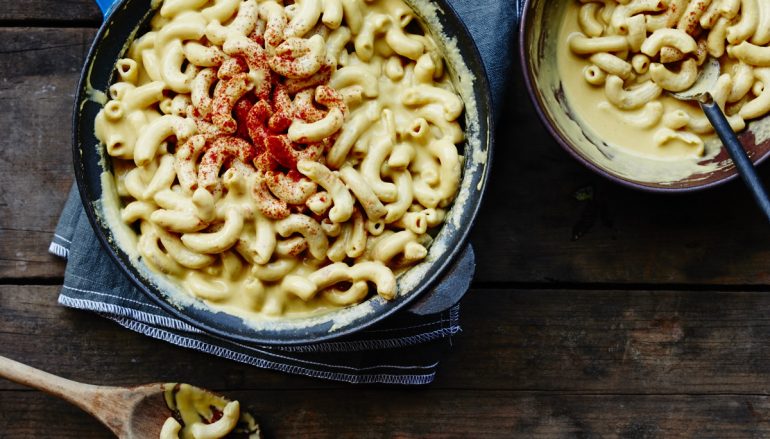 This dairy-free version of mac and cheese is creamy and luscious. We love using nutritional yeast, which is highly nutritious and easily found in powder or flakes at a natural grocer. The yeast acts as the "cheezy" component here, (and we also enjoy sprinkling it on popcorn or eggs!)
---
Serves 4 to 6
RECIPE
– 1 pound brown rice pasta or quinoa
pasta (we like shells or elbows) or
Baked Spaghetti Squash
– 2 cups full-fat canned coconut milk
1 1/2 cups nutritional yeast, plus more
for sprinkling
– Pinch of paprika, for color
– 1/4 teaspoon sea salt, plus more to taste
DIRECTIONS
1. Cook the pasta as directed on the package.
2. Meanwhile, in a saucepan on medium heat, bring the canned coconut milk,
nutritional yeast, paprika, and salt to a rolling boil, then reduce the heat to low
and simmer for 5 minutes, until all of the ingredients are incorporated and the
sauce is creamy and smooth. Remove from the heat and set aside.
3. When the pasta is ready, drain and rinse it well. Add the pasta to the sauce,
tossing to coat. Season with more salt, if needed, and simmer the mac and
cheese on low heat for another 2 minutes.
4. Sprinkle with additional nutritional yeast and serve immediately.
TIP
To make this a heartier main dish, we often add 12 ounces of cooked grass-fed ground beef or turkey for added protein.
Jessica Jill Jennifer Ermich
Shine Restaurant & Gathering Place is a place for locals, travelers, visitors and passersby to celebrate and create community through nourishing food, award winning house-brewed beer, hand-crafted potions and community gatherings. Founded by "The Blissful Sisters"—triplets Jill, Jessica and Jennifer Emich, formerly of the acclaimed restaurant Trilogy Wine Bar & Lounge—Shine was inspired by their desire to celebrate the Boulder experience and keep the community alive and thriving.
Related Articles
Read more from RECIPES