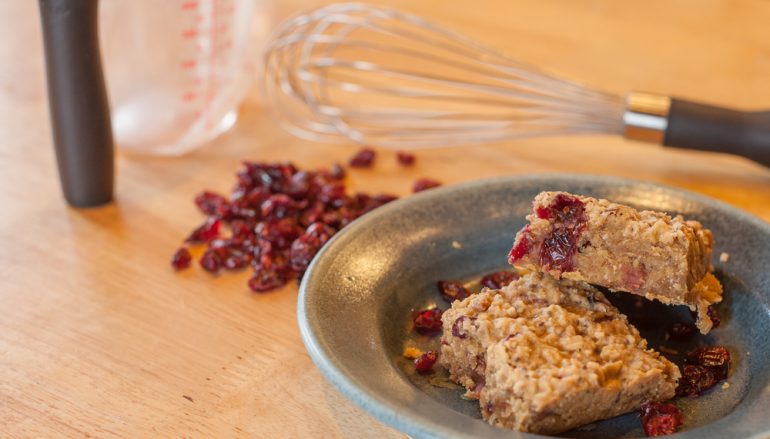 Every cell in the human body contains protein.  It's a major part of the skin, muscles, organs, and glands.  You need protein in your diet to help your body repair cells and make new ones.  Here's a delicious, homemade (gluten free) bar recipe, a great option for a healthy snack on the go!
Ingredients
1 T. Coconut Oil
1 T. Agave Nectar
2 tsp Vanilla Extract
2 tsp Cinnamon
1/4 tsp Salt
4 T Cocoa Powder
1/2 Cup Cinnamon Apple Sauce
1/2 Cup Justin's Honey Almond Butter
1/2 Cup Spectrum Flax Seed Meal
1/4 Cup Chia Seed
2 Scoops Organic/Grass Fed Vanilla Whey Protein
1/2 Cup Bob's Red Mill Gluten Free Quick Oats
1/2 Cup Dried Cherries
Directions
Mix all dry ingredients together in one bowl, mix wet in another, add wet into dry.  It'll seem extremely dry at first, but the longer you stir, the more wet it'll get.  I've found that heating up all the wet ingredients in the microwave for about 30 seconds helps.

Pour into an 8×8 glass dish (spread with a spatula, it's kind of difficult, so be patient.  Make sure the dish is WELL coated with coconut oil, or something).

"Dehydrate" it at the lowest heat your oven will go, with the door slightly open, for 45 min to an hour (this is the part you'll have to play with). My oven goes down to 170 and I've found that 47 min is best. Spread some honey almond butter on them and ENJOY!!
Recipe provided by: Angela Blair, Natural Grocers by Vitamin Cottage employee, Austin, TX
Tammy Schienke
Tammy Schienke is a Certified Health Counselor, as well as a Regional Sales Manager in the wellness industry. Becoming a Health Counselor was a critical first step in her personal journey to find balance in a busy world. She enjoys sharing her knowledge with others, to help them make steps toward a healthier life. Tammy received her training at The Institute of Integrative Nutrition in New York City. She is certified by the AADP, Teacher's College Columbia University and holds a BA in Communications and Psychology.
Related Articles
Read more from RECIPES