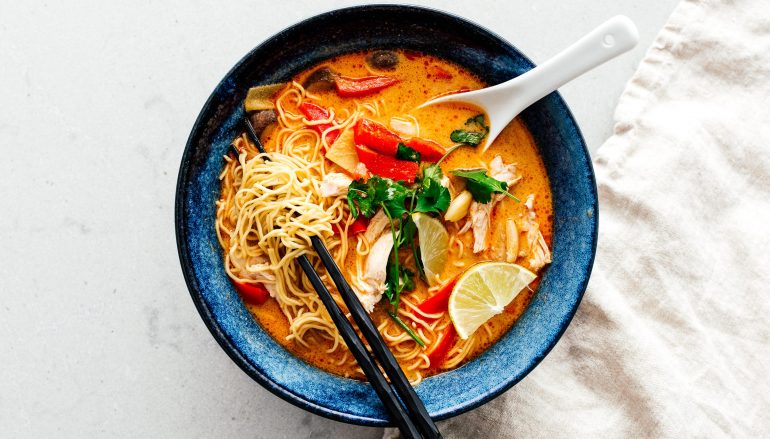 Ramen and Vegetable Curry Recipe
This tasty recipe is plant-based, satisfying and super easy.  All you need are few staples and a little creativity.  For this recipe, we loaded up on the herbs which gave it a pop! Choose your favorite vegetables!  Double or triple it for a bigger crowd.  This recipe is so good, it can easily be a single serving! As always, here at Yoga Digest, we prefer fresh organic ingredients.
Ingredients:
1 Packet organic ramen noodles (these are a Yoga Digest Favorite!)
1 – 13.5 oz can of organic coconut milk, unsweetened
1/4 cup of sliced organic red bell pepper
1/4 cup of sliced organic baby bell mushrooms
1 cup fresh organic spinach leaves
1 tablespoon of ground garam masala
1 teaspoon of ground curry powder
1/2 teaspoon of ground ginger
1/2 teaspoon of ground garlic powder
1/2 teaspoon of ground cayenne pepper (more or less to your taste)
1 teaspoon of minced garlic
2-3 tablespoons coconut oil
1/4 cup chopped organic cilantro
1/4 cup chopped fresh organic basil
1/4 cup chopped organic green onions
1 slice of  lime
Siracha!
Directions:
Prepare ramen as per directions, by boiling for several minutes and place in a bowl.  One medium heat in a  skillet, add coconut oil and minced garlic. Add the vegetables and sauce until soft.  Slide veggies to one side, add additional coconut oil if needed and add spices to create a sticky paste then immediately add coconut milk and whisk, blending in the vegetables.  Pour mixture over the ramen noodles and top with fresh herbs, squeeze with a slice of lime, drizzle with some sriracha and enjoy!
Related Articles
Read more from RECIPES