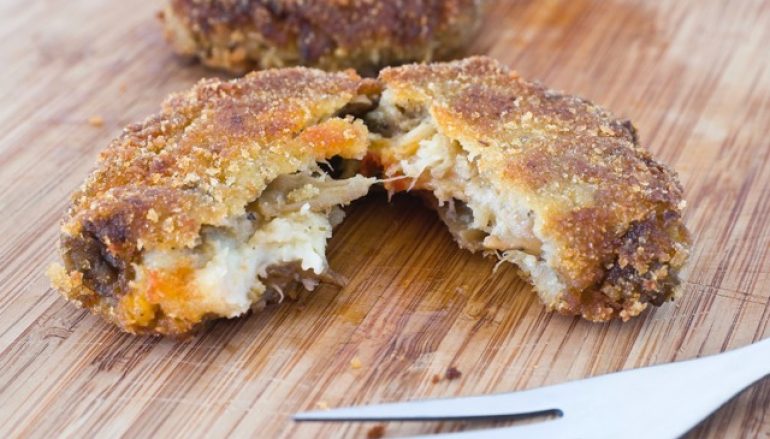 Easy and Delicious Eggplant Burger
This eggplant burger is a quick, easy and delicious treat that will please everyone!
RECIPE
• 2 large eggplants, peeled and cubed cooked and pulsed in food processor.
• 2 Tbs. of a high heat oil, like sunflower, walnut or coconut
• 1 shallot, finely minced
• 1 cup vegan cheese shreds, any flavor (IG's favorite for this is mozzarella)
• 1 tsp of minced garlic
• 1⁄2 tsp. Kosher salt
• 1⁄4 tsp. black pepper
• 1 Tbs. fresh parsley, chopped
• 1 cup of TVP (textured vegetable protein)
• 1 cup gluten-free bread crumbs ( we toast bob's red mill oatmeal, put it in the food processor and toss with Italian seasoning, paprika, salt, pepper, garlic + onion powder) this is for coating at thevend.
Toppings
• 1 cup vegan cheese, either slices or shreds (as long as it melts) • 4 gluten-free buns of your choice or GF english muffins
• 4 slices beefsteak tomato
• 4 leaves romaine lettuce
• 4 slices red onion
• Horseradish Mustard Mayonnaise (recipe above)
Horseradish Mustard "Mayo"
1/4 cup vegan mayonnaise (IG makes ours with cashews, lemon juice + a pinch of salt + agave (op- tional) to taste) you can also use a purchased vegannise
2 Tabs. Dijon mustard
2 tsp. shaved horseradish root or 2 Tabs. jarred horseradish
A pinch of dried thyme
Kosher salt and black pepper to taste
Directions

Whisk all ingredients together and place in air tight container for 30 minutes before using.

Peel Eggplant and cut into 1X 1 inch cubes, Toss your eggplant cubes in a little oil with salt and pep- per place in oven proof dish covered and roast 15 – 20 minutes until they are soft and browned. Stir 1/2 way through the roasting.

Allow the eggplant to cool for 5 minutes then add to the food processor and pulse multiple times until the eggplant all comes together. Turn the eggplant mixture out into a bowl and add the shallot, cheese, garlic, salt, pepper, 1/2 the TVP and parsley. Mix it into the eggplant. Add 1/2 cup of your TVP mix and then slowly add the additional 1/4 cup at a time until you get a mixture that begins to feel firm and will form a burger.

Divide your eggplant mixture into 8 equal parts form into burgers place each burger in the GF bread crumbs and coat well on each side. Place burgers on parchment or a split and refrigerator for 30 minutes before sautéing.

In a heavy skillet over medium high heat carefully slide your burgers into the hot oil and cook for 3 -4 minutes on one side before flipping. To flip the burger gently loosen from the pan with a rubber spatula and carefully flip the burger do this for each burger and allow to finish cooking about an- other 4 minutes .
Chef Note: We used a Teflon coated pan and sautéed in sunflower oil. They didn't stick at all. Allow the burgers to get a nice crust on the first side before trying to flip.
Photo courtesy of Intelligent Gourmet
Linda Baldwin
Linda Baldwin is the team leader at Intelligent Gourmet where she serves as a chef and Certified Health Coach. She decided to become a health counselor to fulfill her passion of working with individuals, family's and children to improve their health and family life. Linda received her training at the Institute of Integrative Nutrition in New York City. She is certified by the American Association of Drugless Practitioners, a member in good standing of the American Association of Nutritional Consultants, and has obtained continuing Education in nutrition from Purchase College, State University of New York. Linda and her team lead workshops on obtaining a healthy lifestyle through food and offers individual health coaching to adults and families. Instagram.com/intelligentgourmet " JUICING = becoming a high-energy, healthy, glowing, nutrient-absorbing machine! "
Related Articles
Read more from LIFESTYLE