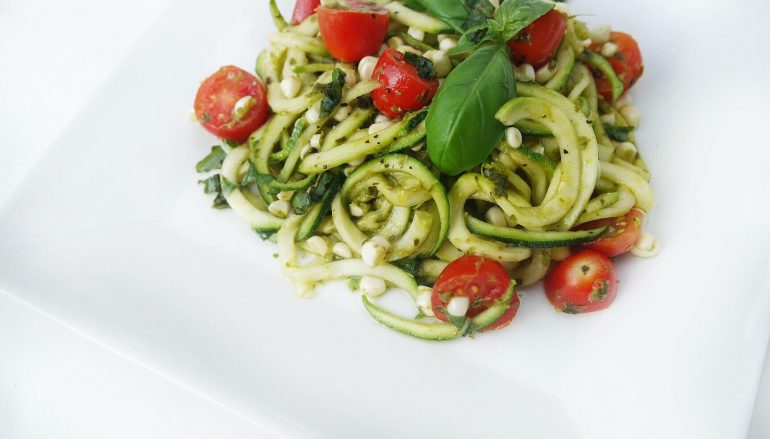 Zucchini Corn Summer Salad
The first weekend my local farmer's market rolls out beautiful produce, I decide it is officially summer.
I love cooking with seasonal produce and fresh herbs. For this dish, I wanted to put together a classic pesto, but make it raw, vegan, gluten free, and packed with not only nutrients, but also quintessential summer staples.
I tossed in cherry tomatoes, sweet white corn fresh off the cob, and aromatic basil. If looking for an additional source of protein and fiber, try adding white beans.
You could also swap the zucchini noodles for chickpea pasta, which is my new favorite gluten free option and add other sautéed veggies.
This recipe is a farmer's-market-to-table salad that requires minimal cooking while allowing natural flavors to shine. It's tasty seasonal food, in pure form.
Why I love this pesto? It's dairy free, nut free, and has additional benefits such as the iron packed greens and omega-3's from the hemp seeds. You can add additional lemon, red pepper, or garlic depending on personal preference. I often sprinkle nutritional yeast or pine nuts on my pesto as well.
If you have leftover pesto- add to as a pizza sauce, use as a dip, spread on toasted bread, etc. Trust me, as delicious as it is I doubt it will go to waste!
---
RECIPE
2 big handfuls of greens (2 cups). Spinach is the most mild, but I love baby kale as well.
1 cup clean basil leaves (about 1 handful)

4 cloves of garlic

1-2 teaspoon sea salt

½ teaspoon of ground black pepper

¼ cup of hempseeds

1/2 teaspoon crushed red pepper, optional (great for added heat!)

juice of 1 lemon and 1 tbsp. of lemon zest. Use organic if using zest! And be careful of seeds!

1/2 cup of extra virgin olive oil. 3 tablespoons additional for blending.
Directions for pesto:
In a high-speed blender, add spinach through lemon juice and ½ cup of the olive oil. Blend for 20-30 seconds. Scrape sides, and add remaining ½ cup of olive oil. Blend for about 30 seconds, then add additional tablespoon 1 at a time and blend until reached desired thickness and all ingredients are well combined.
If not using high speed blender, chop and mince spinach, garlic, and basil thoroughly before blending.
For Zucchini Noodles:
Directions: Using a spiralizer, cut the zucchinis into thin spirals. No spiralizer? It's okay! Try using a peeler along the side to create thick ribbons.
Pour 2-3 tablespoons of pesto per serving (1 zucchini = 1 serving) and toss to combine. Add corn and cherry tomato, top with sea salt, pepper, and any other seasonings.
Garnish with fresh basil and enjoy!
(Note: If you do not enjoy the zucchini served raw, sauté zucchini noodles for 1-2 minutes to soften.)
Kate Van Horn
Kate is a health blogger, vegan recipe developer and mental health advocate. Her blog, kaleinit.com features her journey in recovery as well as plant based recipes, yoga and healthy lifestyle tips. Through yoga, mindfulness and healthy eating, Kate has found a greater sense of balance that allows her to thrive despite mental illness. Her goal is to inspire others to feel comfortable in their skin and feel proud of their journey rather than defined by their struggles. To read more about Kate, visit her blog at www.kaleinit.com! Instagram| @she_be_kale_in_it
Related Articles
Read more from RECIPES