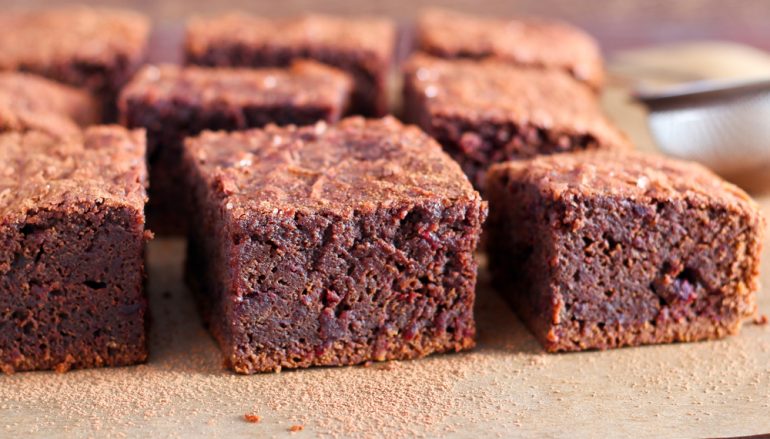 Brownies are a family favorite!  Here is a healthy brownie recipe that is sure to please even the most avid brownie lover!
Ingredients
1-1/2 cups organic chocolate chips (I prefer semisweet which makes it richer tasting, but you can use carob or
regular chocolate chips, depending on what you like)
2 cups organic garbanzo beans (drained and rinsed – this is about one can)
4 organic eggs
3⁄4 cup Organic Raw Agave Nectar – a lower glycemic option
1⁄2 tsp. baking powder (aluminum free)
Directions
1) Pre-heat oven to 350 degrees
2) Melt chocolate on stovetop or microwave
3) In a blender or food processor, combine beans and eggs
4) Add sugar, baking powder and chocolate, and process until smooth
5) Pour batter into a greased 9" or 8×8 non-stick pan, bake for 45 minutes
Tammy's Healthy Side Note:
Your kids will never suspect you are feeding them beans! This is a great way to have a sweet treat, while also getting nutritional benefits. Garbanzo beans, also known as chickpeas, and are high in protein, fiber, iron and potassium.
Tammy Schienke
Tammy Schienke is a Certified Health Counselor, as well as a Regional Sales Manager in the wellness industry. Becoming a Health Counselor was a critical first step in her personal journey to find balance in a busy world. She enjoys sharing her knowledge with others, to help them make steps toward a healthier life. Tammy received her training at The Institute of Integrative Nutrition in New York City. She is certified by the AADP, Teacher's College Columbia University and holds a BA in Communications and Psychology.
Related Articles
Read more from RECIPES