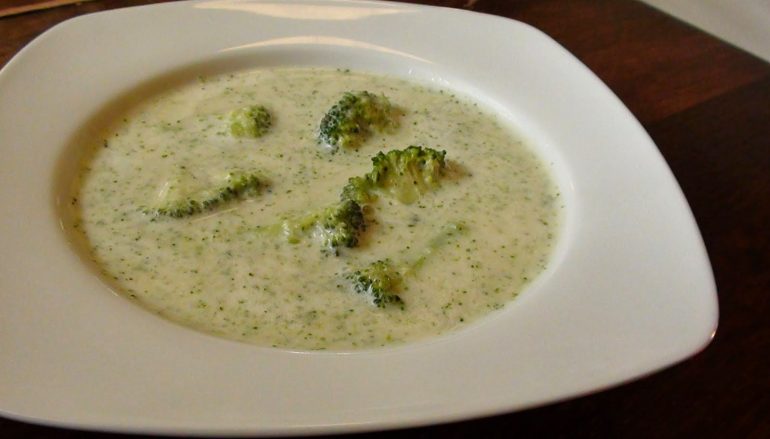 Vegan "Cream" of Broccoli Soup Recipe
Soup is a quick, hot meal that offers plenty of health benefits.  The healthiest soups include fresh, low fat and nutrient dense ingredients.  Broccoli known for it's cancer fighting, cholesterol reducing, heart healthy and antioxidant benefits makes for a great base for your soup recipes.
Try this simple "Cream" of Broccoli Soup recipe that is completely dairy free.  It's satisfying and most importantly, quick and easy!
---
Ingredients
3 bunches of organic broccoli densely chopped
1 red organic onion diced
3 cloves garlic chopped
2 tablespoons coconut oil
1/4-1/2 cup organic flour (can also be prepared with a gluten free flour like brown rice)
1 cup coconut milk
3 cups organic vegetable broth
salt, pepper, cayenne
Directions
Steam broccoli in steamer for 8-10 minutes until tender, remove 1/2 cup and chop coarsely, set aside

In a large sauce pan or stock pot, saute onion and garlic until tender. 

Add one cup of broth to onion mixture and bring to a boil to reduce liquid. 

In a separate bowl, whisk coconut milk and flour until smooth. 

Add flour mixture to onion and broth.  It will thicken quickly. 

Gradually whisk in remaining broth until desired soup like consistency is achieved. 

Add remaining steamed broccoli to broth/onion mixture. 

Blend soup mixture in a blender until all ingredients are smooth. 

Pour mixture back in stock pot and add coursely chopped broccoli, salt, pepper and cayenne to taste.

Serve immediately and enjoy!
Jenn Bodnar
Jenn Bodnar is the owner of  Yoga Digest and has a genuine belief that yoga can benefit everyone. She is 500ERYT having attended multiple teacher trainings, facilitating yoga teacher trainings and studying and practicing yoga since 1999. Jenn is an avid fitness professional, who has taught and managed group fitness for many years. As a former competitive triathlete, gymnast and dancer Jenn loves the balance of strength, flexibility, perseverance and freedom that yoga provides. She is mom to three awesome young men and loves being active and outdoors with her family and friends. Jenn oversees LifePower Yoga studio in North Dallas, is a self proclaimed health food chef and hopes to leave a positive footprint by inspiring others to choose happiness. "Watching people grow through yoga is one of the most amazing miracles to witness."
Related Articles
Read more from RECIPES