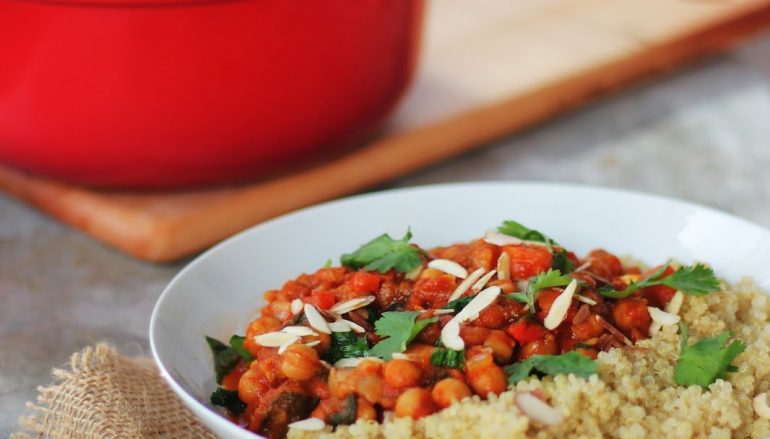 This is fantastic way to spice up Meatless Monday with Marrakesh Chickpea Stew!  Try this out tonight and skip the meat!  This yummy recipe serves 4-6.
Ingredients
1 Tbsp. Oil
1 Medium Onion, Finely Chopped
1 tsp Sea Salt
2 Cups Purred or Diced Tomatoes
1 tsp. Grated Ginger
3 Cloves Garlic, Minced
1 Dried Chilli (optional)
1 Tbsp Ras el Hanout (recipe below)
3/4 Cup Unsulphured Dried Apricots, chopped
4 Cups Cooked Chickpeas
1 Cup Cubed Potato
1 Cup Chopped Carrot
1/2 Cup Diced Red Pepper
1 Bunch Spinach
3 Cups Water
For Serving: Quinoa or Millet, Chopped Cilantro, Slivered Almonds, and Yogurt.
Procedure
Heat a heavy pot to medium, once hot add the oil and the onion, cooking until the onion become soft and translucent. Add the salt, garlic, chilli if using, and ras el hanout. Stir until the spices become fragrant. Add the tomatoes, chopped apricots, chickpeas, potato, carrots, red pepper, and water. Cover and simmer for 30-40 minutes or until the vegetables have become soft and tender. Taste and adjust for seasoning. Just before serving, add the chopped spinach. Serve on a bed of quinoa/millet, or just enjoy as is. Garnish with optional yogurt, almonds, and cilantro.
Ras el Hanout is a spice mix common to North African cooking. The name simply mean "best in the shop", thus making it a combination of each spice shops best ingredients. Each mix can easily consist of a dozen or more different spices, each containing ingredients specific to location.
---
Ras el Hanout (spice)
Ingredients
1/4 tsp Ground Clove
1/2 tsp Cayenne
1 tsp Ground Nutmeg
1 tsp Ground Cinnamon
1 tsp Ground Cardamom
1 tsp Ground Tumeric
1 tsp Smoked Paprika
2 tsp Ground Ginger
1 tsp Whole Black Pepper, ground
1 tsp Whole Cumin, ground
2 tsp Whole Coriander, ground
Procedure
Begin by grinding the whole spices and combine all the ground spices together. Store in an airtight jar in a dark location.
Sophie Mackenzie
Sophie MacKenize is the founder of 'Whole Hearted Eats', a raw food blog. She is whole food enthusiast blogger who calls the rainforests of Vancouver Island home. She has a passion for making raw, vegan, and unprocessed recipes that one can feel good about eating.
Related Articles
Read more from RECIPES