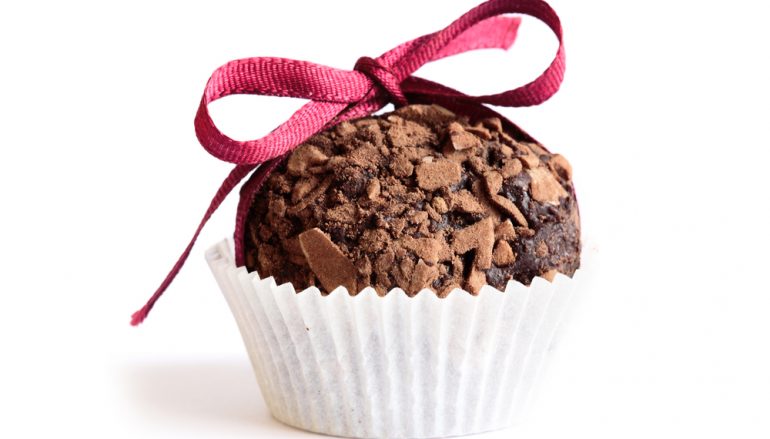 Healthy Chocolate Truffles
Prep Time: 15 minutes
Total Time: 3 hours (including time to set) Yields 8 truffles
Ingredients
• 1 organic dark chocolate bar, at least 70% cocoa (3.2-3.5 ounces)
• 3 1/2 tablespoons organic, virgin coconut oil
• 1 tablespoon raw organic agave nectar
• 1 1/2 teaspoons organic prepared coffee
• 1/2 teaspoon organic vanilla extract (preferable Madagascar vanilla) • 1 small pinch fine sea salt, such as Real Salt
• Organic unsweetened dark cocoa power for sifting, about 1/4 cup
• Optional, crushed nuts, toasted coconut (for coating)
Tip: Use the best quality organic ingredients you an afford. The best quality chocolate will
produce the yummiest truffles.
Directions
Prepare a cup of coffee and reserve 1 1/2 tsp of the coffee (or save 1 1/2 tsp from your morning coffee.)

Create a double-broiler with a small pot and glass bowl.

While you're waiting for the water to boil, cut the chocolate into very small pieces using




a sharp knife to help it melt easily. Once the water in the double-boiler is boiling, add the




chocolate and stir often with a wooden spoon until it's melted; this should take about 3 minutes.

A double-boiler is recommended instead of a microwave to prevent overcooking the chocolate.




(This process is called tempering and prevents the chocolate from seizing; the chocolate should




remain shiny the entire time. If it starts to look dull or matte it's overcooked.) Once the chocolate is almost all melted, add coconut oil and keep stirring until the mixture is well combined and smooth.

Once smooth, remove the glass bowl from the heat and add the rest of the ingredients to the bowl. Stir well, another 2 minutes, until all ingredients are well combine and smooth. At this point, the mixture should be cool enough to taste – but be very careful not to burn yourself. Taste the mixture to check your flavorings.

Put the bowl in the refrigerator for about 1 hour (more if needed) until the chocolate is set. It will be firm but easily scoop-able – a.k.a. the texture of a truffle.

If it becomes too firm, just set it out at room temperature for 10 minutes.

Scoop teaspoon size balls from the mixture and set on a parchment-lined baking sheet. A melon baller works perfect for this, or use a teaspoon and your fingers to shape the balls for a more rustic look. Coconut oil melts on contact with your fingers so using your hands and fingers might get a little messy – just be sure to work quickly so the truffles don't melt too much.

Once all truffles are on the sheet, dust them them all with the unsweetened cocoa powder using a sieve, here you can add finely chopped nuts or coconut as well.

Place the truffles back in the refrigerator at least 2 more hours to set and keep in the refrigerator until served. They will start to melt after about an hour at room temperature so it's important to keep them in the refrigerator until ready to serve.
They'll keep in an airtight container in your refrigerator for up to 3 weeks.
Linda Baldwin
Linda Baldwin is the team leader at Intelligent Gourmet where she serves as a chef and Certified Health Coach. She decided to become a health counselor to fulfill her passion of working with individuals, family's and children to improve their health and family life. Linda received her training at the Institute of Integrative Nutrition in New York City. She is certified by the American Association of Drugless Practitioners, a member in good standing of the American Association of Nutritional Consultants, and has obtained continuing Education in nutrition from Purchase College, State University of New York. Linda and her team lead workshops on obtaining a healthy lifestyle through food and offers individual health coaching to adults and families. Instagram.com/intelligentgourmet " JUICING = becoming a high-energy, healthy, glowing, nutrient-absorbing machine! "
Related Articles
Read more from RECIPES