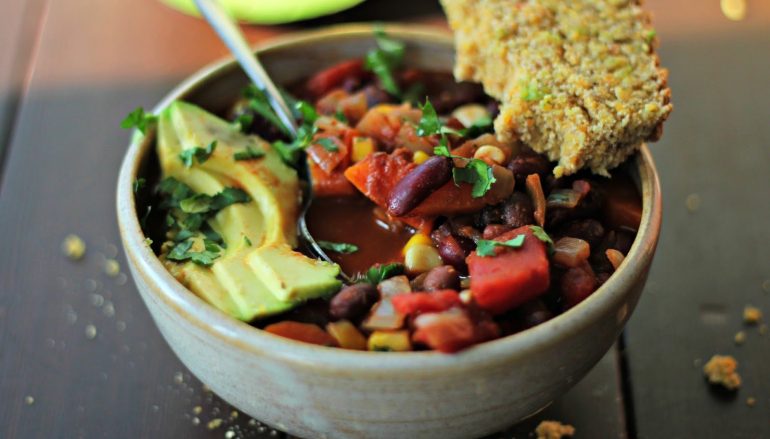 Vegan Cacao Chili and Cornbread
This Vegan Cacao Chili and Cornbread recipe is pretty basic, but it can easily be jazzed up according to whatever you suits your style. Seasonal vegetables added to the chili base add a nice pop of color as well as variety. Look for whatever is locally and seasonally available such as squash, carrots, cauliflower, turnips, sweet potato, zucchini, fresh corn, or fresh tomatoes.
The addition of cacao powder adds a earthy richness to the base, but if you prefer spicier food, extra cayenne, fresh chilli peppers, or smoky chipotle, bring a nice balance of flavors.
Cacao Chili
(Serves 4)
Ingredients
2 Onions, diced (about 3 cups)
1 Tbsp. Oil
1/2 tsp Cayenne
1 tsp Smoked Paprika
1 Tbsp Ground Cumin
Pinch of Cinnamon (optional)
3 Cloves Garlic, minced
1 Cup Chopped Carrot
1 Red Pepper, chopped
1.5 Tbsp Raw Cacao or Cocoa Powder
3 Cups Diced Tomato, fresh or canned
2 Cups Black Beans Cooked (or 15 oz canned beans, rinsed)
2 Cups Red Kidney Beans Cooked (or 15 oz canned beans, rinsed)
Sea Salt to taste (use more for dried beans)
Optional Garnish: Chilli peppers, lime, cilantro, green onion, or avocado
Procedure
Set a large pot to medium heat and add the oil and onions.
Cook the onions, stirring often, until they become soft and begin to caramelise.
Add the garlic and spices and cook for a minute more, or until the spices begin to toast. A
dd the carrot, peppers, cocoa/cacao powder and any other veggies and stir to coat.
Add the beans and tomatoes.
Bring the mixture to a simmer, and leave with the lid mostly on for approximately 30 minutes, or until the are tender.
Season with sea salt to taste
---
Vegan Cornbread
Recipe from Green Cuisine Book
Ingredients
2 1/2 Cups Organic Cornmeal
1 1/3 Cups Sifted Spelt Flour (I have also had success using sorgum to make it gluten free)
1/4 Cup Coconut Sugar
2 tsp Baking Powder
1 1/2 tsp Baking Soda
1 tsp Sea Salt
2 1/2 Cups Water
Procedure
In a large bowl combine all the dry ingredients then mix in the water.
Pour into a oil loaf pan and bake at 205 C (400 F) for about 60 minutes, or until the top springs back when lightly touched.
Let cool before slicing.
Sophie Mackenzie
Sophie MacKenize is the founder of 'Whole Hearted Eats', a raw food blog. She is whole food enthusiast blogger who calls the rainforests of Vancouver Island home. She has a passion for making raw, vegan, and unprocessed recipes that one can feel good about eating.
Related Articles
Read more from RECIPES