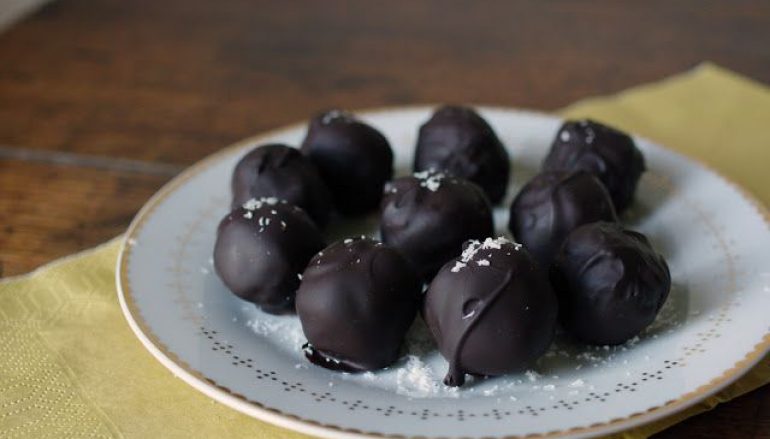 Dark Chocolate Covered Coconut Balls
Dark Chocolate Covered Coconut Balls
This quick and easy treat is great in the summer!  It requires no baking and has only 6 ingredients. Great if you want a quick sweet snack to take to your next pool party!
Ingredients:
2 ½ cups flaked coconut – unsweetened
¼ cup plus 1 tablespoon melted coconut oil
¼ cup honey
¼ teaspoon vanilla
4 cups of dark chocolate for dipping – I use Ghirardelli Melting Chips
Sea Salt to sprinkle
Directions:
Pulse the coconut in a food processor until sticky crumbs form
Mix coconut oil,  honey, and vanilla.. Stir in the coconut from step one. Form the mixture into small balls by squeezing until a ball forms. The mixture will be crumbly, so it doesn't work to put the mixture in your hands and roll it. You have to squeeze it. There will be a little bit of excess oil – that's okay.
Once you have the balls rolled, refrigerate for 1 hour or so until they are firm. At this point, if you want, you should be able to take them out and re-roll them to get the shape just right since the mixture will be firm.
Melt the dark chocolate.  Dip each of the rolled coconut balls in chocolate and use a fork to remove balls from chocolate to allow the excess to drain off.  Place on a baking sheet lined with parchment paper. Dust with a pinch of Sea Salt. Freeze or refrigerate until ready to serve.
Pat Fabulous
Pat began her career in fitness 2005. Always having a passion for weight training and helping others with their fitness journey she became a personal trainer. Pat completed her first Yoga teacher training in 2011 and tried many styles of yoga until she became hooked on the Ashtanga method. Pat also is Peak Certified Pilates Instructor and has completed her NASM, PES and CES personal training certifications. Through Yoga Pat discovered that Yoga is the relationship built between the body, the mind and the breath. With practice Yoga builds a steady place to stand as the ebb and flow of our thoughts wash over us. We learn to remain in the quiet space - the gap between our thoughts for longer periods of time through breath and asana.
Related Articles
Read more from RECIPES