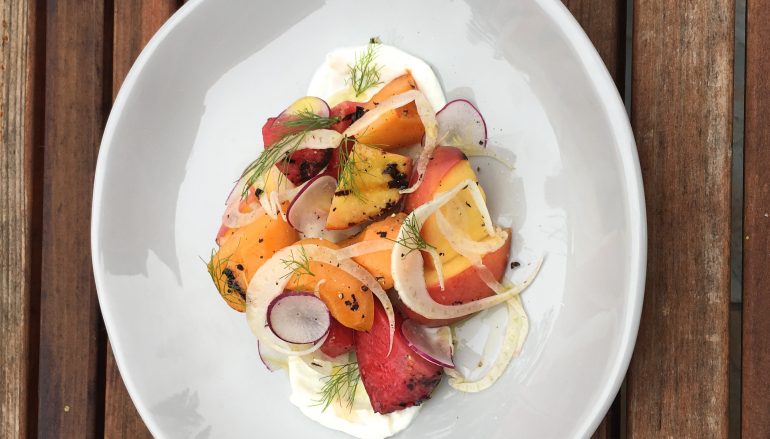 Grilled Stone Fruit Salad
Ingredients
1 ripe peach, halved and pit removed
1 ripe apricot, halved and pit removed
1 ripe red plum, halved and pit removed
¼ bulb fennel shaved thin and fronds saved for garnish
1 radish, shaved into coins
1 lemon, for zesting
¾ c vegan coconut yogurt
½ c olive oil
Pinch salt
Fresh cracked pepper
Heat grill to high heat and let temperature grow. On a clean cutting board cut stone fruit.
Follow the seed slowly, then twist each side of the fruit, breaking into two pieces.
Remove pith and discard. In a small mixing bowl, add stone fruit, olive oil, salt, and pepper.
Toss stone fruit to cover with oil and seasonings.
When grill has reached high heat you are ready to cook the stone fruit. Before grilling the fruit, make sure you allow extra oil to drip off. If you miss this step you will cause flare-ups. Grill peach flesh side down, creating dark grill marks. Once the stone fruit is grilled, place in a small bowl, do not cover, keep at room temperature.
In a small bowl place coconut yogurt and zest ½ the lemon into the yogurt or to taste. Mix well with a spoon, set aside. Gather fennel and radish. Cut the top off from the fennel, saving the greens (fronds). Using a Japanese mandoline, shave the radish and fennel paper thin, and set aside for plating. Gather all ingredients and your desired plate for the salad.
Kenny Woods
Kenny Woods got his start in the kitchen as a young boy, standing on a chair helping his Italian grandmother stir soups for the family. As a teen, he taught himself to cook from watching cooking shows, finding recipes, and taste testing along the way. By 13, he loved cooking and knew he wanted to be a chef. From dishwasher, to prep cook, to sous chef by the age of 19, Kenny has been developing his craft throughout his life. He was executive chef at North in Arcadia, Arizona, where he started hosting community dinners consisting of several creative courses using local, sustainable, and seasonal ingredients. From there, he became executive chef at Flower Child in Scottsdale, Arizona, developing his leadership style to bring out the best in others. Kenny's philosophy is to believe in the ingredients and showcase them with integrity, while loving the process, so food sustains its living energy and the care of those who prepare it. Kenny supports local communities and farmers and creates meals with the hope of inspiring guests to cook simply prepared, delicious meals at home. Instagram
Related Articles
Read more from HEALTH