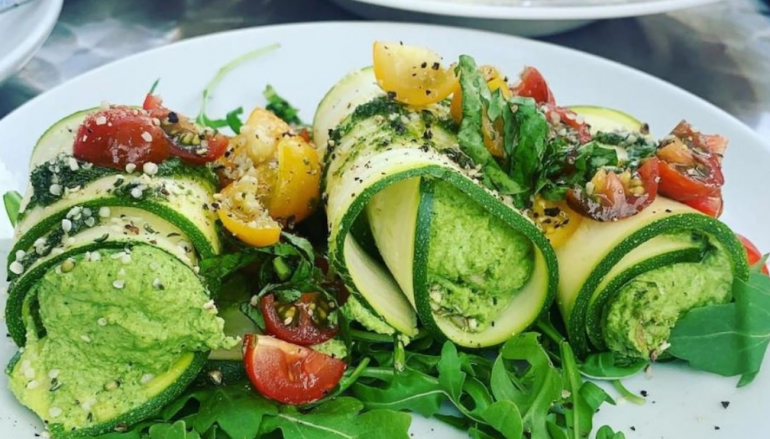 Raw Vegan Manicotti Rolls
Prep Time: 25 minutes
Cook Time: none
Yield: 4 servings
Ingredients
For the Noodles:
● 4 medium zucchini
● 2 tablespoons olive oil
For the Spinach & Sunflower Cheese Filling:
● 2 cups of sunflower seeds
● ½ to 1 cup water as needed
● 1/4 cup lemon juice
● 2 cloves of garlic
● 1 teaspoon Himalayan salt
● 3 cups spinach
● ½ bunch parsley
● 6 basil leaves, plus more for garnish chopped
For the Herb Tomato Sauce:
● 1 cups of sun-dried tomatoes, soaked in water ( preferably not oil packed )
● 1 cup water for soaking
● 1 pint of multi-colored cherry tomatoes, chopped in quarters
● ¼ cup cold-pressed olive oil
● 2 cloves of garlic, shaved
● 1 teaspoon oregano
● 1 teaspoon basil
● 1/2 teaspoons rosemary
● 1 teaspoons thyme
● 1 teaspoon fennel seed (optional)
● ½-1 teaspoon salt, only if your sun-dried tomatoes are unsalted
Garnish
● 2 teaspoons hemp seed
● pesto or olive oil drizzle
Methods/Steps
Advanced Prep
1. Soak 2 cups of sun-dried tomatoes in pure water while you prep the rest of the
ingredients.
2. Drain
For the Noodles
1. Cut off both ends of each zucchini. Using a mandoline, slice the zucchini the long way
so that you have long, wide noodles. If a mandoline is not available, use a knife, cutting
as thinly as possible.
2. Place in a bowl, drizzle with olive oil, and toss very gently.
For the Spinach & Sunflower Cheese Filling
1. In a high-speed blender, combine sunflower seeds, water, lemon, garlic, italian
seasoning and salt, pulse several times to blend, add in spinach and parsley in batches
and blend in but do no puree or liquify. The consistency should be that of actual ricotta
cheese.
2. Put the "cheese" filling in a bowl and stir in chopped basil.
For the Herb Tomato Sauce
1. Drain sun-dried tomatoes place in a bowl, add in all other ingredients, combine
To Assemble,
1. Arrange 4 zucchini noodles horizontally on a cutting board, slightly overlapping one over
the next by about 1/4".
2. Place ¼ cup (or more depending on size) of the spinach & sunflower cheese filling on
the end closest to you and carefull roll the zucchini to create a filled manicotti.
3. Place two manicotti on a plate and top with ¼ cup of tomato sauce.
4. Garnish with a drizzle of olive oil or pesto and a sprinkling of hemp seeds and additional
chopped basil.
Enjoy great juice recipes from my book!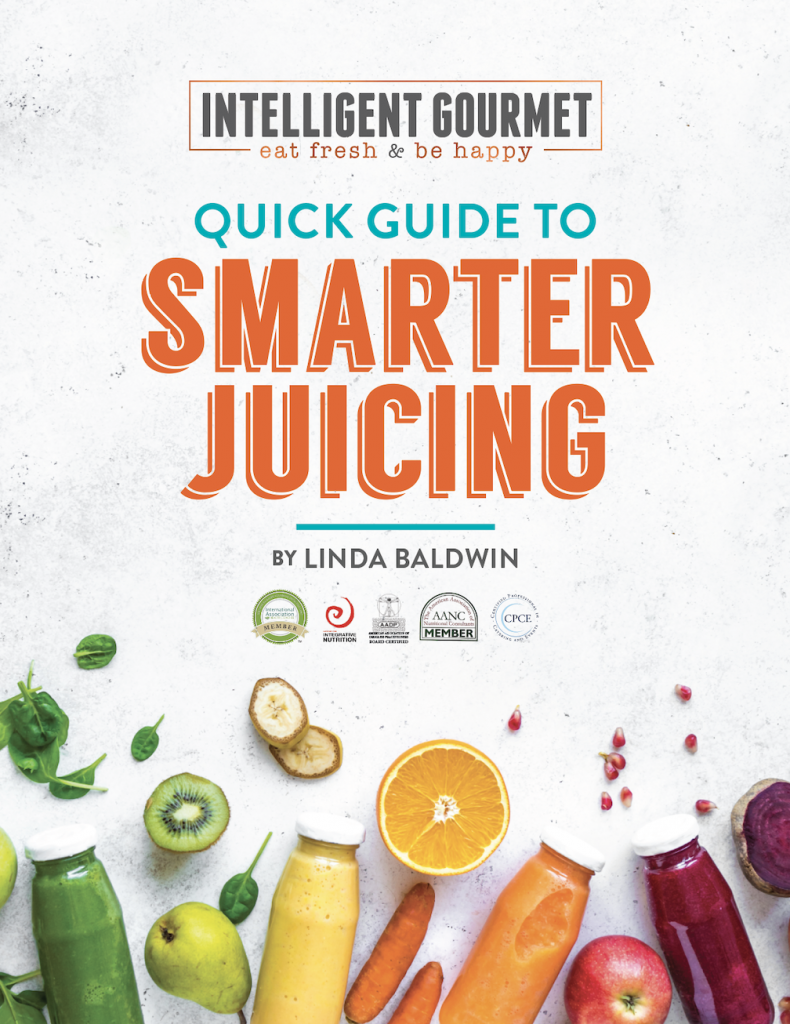 Linda Baldwin
Linda Baldwin is the team leader at Intelligent Gourmet where she serves as a chef and Certified Health Coach. She decided to become a health counselor to fulfill her passion of working with individuals, family's and children to improve their health and family life. Linda received her training at the Institute of Integrative Nutrition in New York City. She is certified by the American Association of Drugless Practitioners, a member in good standing of the American Association of Nutritional Consultants, and has obtained continuing Education in nutrition from Purchase College, State University of New York. Linda and her team lead workshops on obtaining a healthy lifestyle through food and offers individual health coaching to adults and families. Instagram.com/intelligentgourmet " JUICING = becoming a high-energy, healthy, glowing, nutrient-absorbing machine! "
Related Articles
Read more from RECIPES