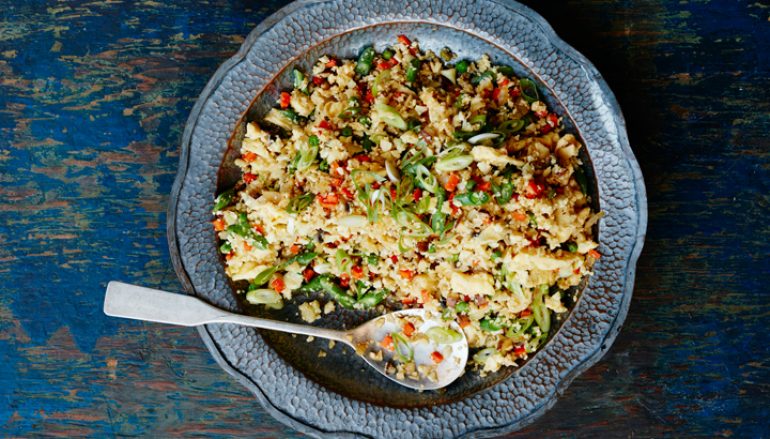 A Paleo alternative to rice, this has a very similar texture and holds juices and flavors really well. We love serving it with roasted veggies or as a side dish to any protein, with eggs, or anywhere else you would use rice.
---
Makes 2 cups
RECIPE
1 head cauliflower, outer leaves removed
1 tablespoon extra-virgin olive oil, coconut oil, or butter
Sea salt to taste
Directions
1. Using your hands, break apart the cauliflower into large florets. Chop the core into smaller pieces.
2. Working in two or three batches, process the cauliflower for 30 seconds, stopping to mix in the larger pieces. Continue for 2 to 3 minutes until the cauliflower resembles small pieces of rice. Repeat with the remaining batches. At this point, the rice can be eaten raw (see Tip), or proceed with
the cooking instructions below.
3. Place a large pan over medium heat. Add the coconut oil and sauté the cauliflower rice for 10 to 12 minutes, stirring frequently, until the rice is softened and cooked through.
4. Stir in salt to taste and serve immediately, or store in the refrigerator for up to 5 days.
TIP
Add raw Cauliflower Rice to salads and soups for additional crunch.
Jessica Jill Jennifer Ermich
Shine Restaurant & Gathering Place is a place for locals, travelers, visitors and passersby to celebrate and create community through nourishing food, award winning house-brewed beer, hand-crafted potions and community gatherings. Founded by "The Blissful Sisters"—triplets Jill, Jessica and Jennifer Emich, formerly of the acclaimed restaurant Trilogy Wine Bar & Lounge—Shine was inspired by their desire to celebrate the Boulder experience and keep the community alive and thriving.
Related Articles
Read more from RECIPES