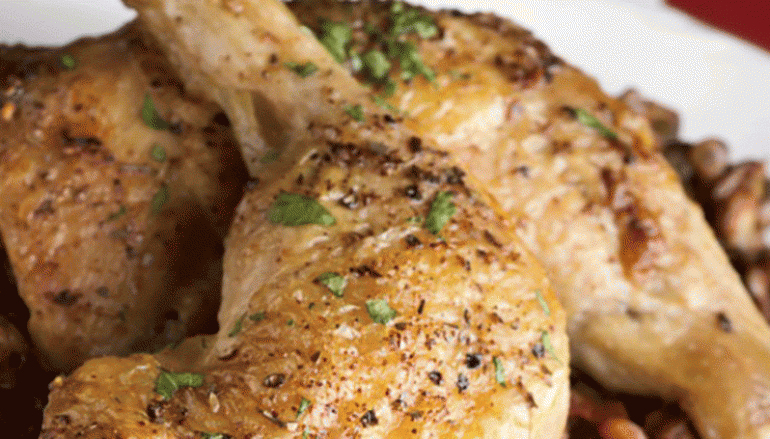 Braised Chicken with Za'atar Yogurt Sauce

3 tablespoons coconut oil

1 pound bone-in organic chicken legs and thighs

1 cup onion, small dice

½ cup celery, small dice

½ cup carrots, small dice

2 tablespoons sumac

1 teaspoon smoked paprika

1 tablespoon garlic, minced

2 tablespoons tomato paste

1 cup French lentils

¼ cup red wine

¼ cup green olives 

4 cups vegetable or chicken stock

salt and black pepper to taste
For Za'atar Yogurt Sauce

¾ cup yogurt

1 tablespoon za'atar

1 teaspoon ginger
salt and black pepper to taste

1 tablespoon cilantro, chopped
In a  large braising pan, heat coconut oil, season chicken with sea salt, and sear for 1 minute on each side or until golden brown. Remove and reserve chicken.
In the same pan, sweat the onions, celery, and carrots on low heat with the lid on until tender. Add the sumac and smoked paprika and raise the heat to medium to allow the spices to bloom. Add garlic and cook for 30 seconds, then add tomato paste and cook on low for 2 to 3 minutes.
Mix in lentils and deglaze with the red wine. Spread lentil mixture evenly across the bottom of the pan. Sprinkle olives across the mixture and place chicken on top. Add stock and bring to a simmer. Place a lid on the pan and finish in a 350-degree oven for 1 hour, or until lentils are tender and chicken has reached an internal temperature of 165 degrees F.
To make the sauce, combine all ingredients. When chicken is finished, remove from pan. Reduce lentil mixture to desired consistency. Adjust seasoning with salt and pepper. To serve, spoon lentil mixture onto a plate, then place chicken on top and drizzle with za'atar sauce.
Jeremy Smith
As Executive Chef  at Kripalu Center for Yoga & Health in the Berkshires, Chef Rock nourishes guests with 1,200 healthy meals a day. He graduated from the Culinary Institute of America, and has cooked in fine-dining kitchens from Colorado to London. In 2006, he took over as Demonstration Chef at Canyon Ranch, and during that time Conde Nast Traveler rated the resort #1 for food and cooking classes.. Jeremy is a Faculty Member of the Center for Mind-Body Medicine in Washington, DC, and a national presenter. He has been featured in the Food Network, Vegetarian Times, Yoga Journal, and more.
Related Articles
Read more from RECIPES