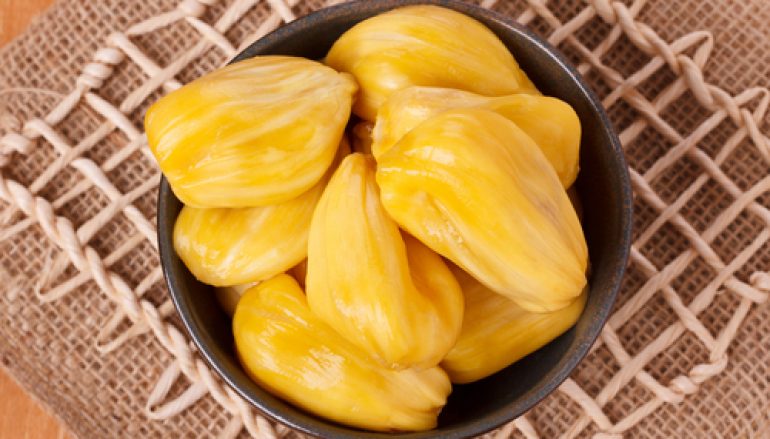 All Jacked Up: Jackfruit Benefits and Recipe!
All jacked up on jackfruit! This trendy weird fruit is taking over your local grocery store! You'll find it preserved in a can, in a pre-cooked/ready to eat package with the other meat alternatives, as an ingredient in a vegan pre-made meal or fresh in the produce department. But have you heard of it?
Grown in South Asia this is the largest tree-growing fruit in the world – reaching up to 80 lbs in weight! It's a relative of the mulberry and fig family and has a similar structure, so in other words, it's ugly. It has a strong complex aroma with musky, berry, pineapple, and caramel notes…if that narrows it down.
So, why should you eat it? To be trendy? Yes! For nutrients? Yes! Jackfruit contains a good amount of potassium, vitamin A and fibre. As a meat substitute? No! Despite its current claim to fame being a vegan substitute for pulled pork, jackfruit does not contain any protein. Enjoy it for the texture but please add some protein to the meal (beans or tofu).
Here's a delicious salad using jackfruit:
1 can of young jackfruit
4 cloves of garlic, sliced
1-inch fresh ginger, cut into matchsticks
1 tbsp avocado oil
2 tbsp tamari
2 tbsp sesame oil
2 tsp maple syrup
Juice of 1 lime
¼ cup fresh basil, chopped
¼ cup fresh cilantro, chopped
4 stalks green onion, chopped
½ red onion, diced
1 red pepper, diced
In a large frying pan, heat oil over medium heat. Cook the rinsed & dried jackfruit for 10mins then add the garlic and ginger for another 5mins.
In a large bowl, add tamari, sesame oil, syrup and lime juice and whisk well. Add the cooled jackfruit along with the herbs, onion and red pepper and toss until well combined.
Don't forget to add your favourite protein!!
Jess Pirnak
Jess is a Registered Dietitian working in Vancouver, BC. She is registered with the College of Dietitians of British Columbia and is an active member of Dietitians of Canada. Jess graduated from the University of British Columbia's Food Nutrition and Health program, and completed her dietetic internship with Provincial Health Services Authority after finishing a Psychology degree from Simon Fraser University. Jess is passionate about education, prevention and creating a healthy community. In her spare time she updates her personal food blog where she discusses hot topics in nutrition. She loves working with kids and parents helping them create a positive relationship with food and enjoys discussing sustainable farming practices with anyone who will listen!
Related Articles
Read more from HEALTH