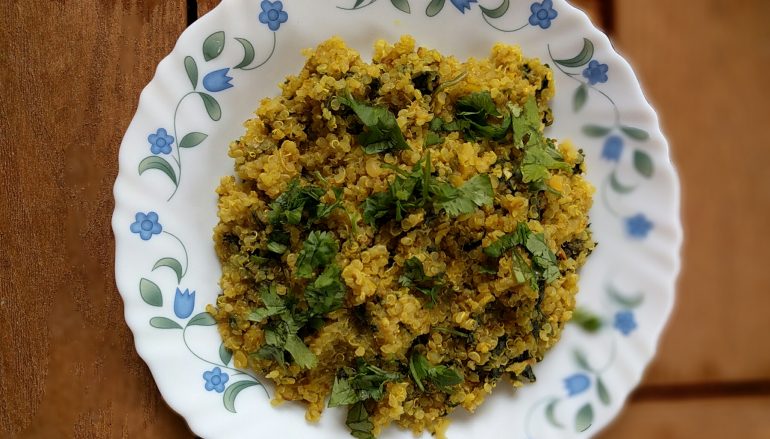 Spinach Lentil Quinoa Khichari
Savor the essence of Ayurveda with this simple and yet delicious Spinach Lentil Quinoa Khichari. Energize mind and body with the subtle flavors of spices mixed with nourishing lentils and quinoa.A complete meal by itself for you and your family.
6 servings
One serving: Calories: 246 gm Carbs: 37 gm
Protein: 12 gm Fat: 6 gm
Ingredients & Materials
1 cup Masoor Dal (Red Lentils)
1 cup Organic quinoa
1 cup chopped raw organic spinach
2 tablespoon organic ghee
½ teaspoon turmeric
1 teaspoon Ginger grated
4-6 cups water
Cilantro for garnish
1 large saucepan
1 lid to cover
1 wooden ladle
Stove
Prep Time: 10 minutes
Cooking time: 30 minutes
Directions
1. Soak Masoor Dal 1 hour before using. Wash and rinse dal and keep aside.
2. Wash and rinse Quinoa and keep aside.
3. Put the sauce pan on the stove, keep the heat on medium. Add ghee, then add turmeric.
4. Make sure the spices don't burn. Reduce the heat to low if needed.
5. Add grated ginger and sauté it. Then add chopped spinach and sauté.
6. Add Masoor dal and quinoa, salt to taste and mix well.
7. Add 4 cups water and let it come to a boil. Cover the saucepan with the lid, reduce the heat to low. Watch for the water content. After cooking on low for 20 mins, open the lid and gently stir.
8. Check if masoor dal and Quinoa are cooked, if not add 1 cup water, cover and cook until dal and quinoa cook completely. The khichari consistency should be close to a rice casserole.
9. Garnish with cilantro on top.
10. Serve hot yummy khichari with ghee on top. Eat with coconut chutney for added flavor.
Gauri Junnarkar
Gauri Junnarkar is the founder of 'Ayurnutrition' an integrative wellness & nutrition practice. She is a highly accomplished Ayurveda Practitioner (Vaidya), Registered Licensed Dietitian, Panchakarma Specialist, Certified Diabetes Educator and Licensed Massage Therapist. She has a Bachelor's degree in Ayurveda and a Master of Science degree in Nutrition. She provides Ayurveda and Nutrition consults, Panchakarma therapies and Ayurvedic Massages at her wellness office. Gauri loves conducting workshops, cooking classes, presentations, webinars, lunch and learns and grocery store healthy food tours. She is a faculty member at International University of Yoga and Ayurveda, American Institute of Ayurveda and Tarrant County College.
Related Articles
Read more from RECIPES