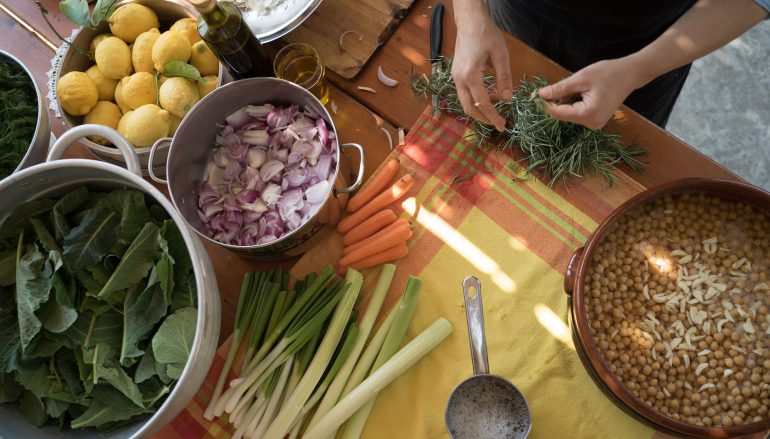 Total Cook Time: 1 Hour 50 minutes if using dried beans | Makes 6 Servings
Low in fat and packed with fiber and protein, beans and pulses (a term for edible legumes including lentils and chickpeas) are the cornerstone of every blue zones diet in the world. Historically, Ikarians have found plenty of ingenious ways to prepare beans—including slow cooking, which browns the beans and caramelizes onions, giving a rich, slightly sweet element to this hearty recipe. With a little patience, this rustic dish is easy for anyone to make, and the payoff is phenomenal: the elevation of everyday ingredients into an incredible crowd-pleaser.
Ingredients:
1 pound dried chickpeas soaked in water and salt overnight with skins on (or four 15-ounce cans, drained)
1 bulb garlic, core removed
1/2 cup fresh rosemary leaves, stems removed
5 small red onions, thinly sliced
3 tablespoons extra-virgin olive oil, plus more for serving
¼ cup grape syrup*
Juice of 2 lemons, plus zest
Salt and pepper (optional)
Directions:
Preheat oven to 450 degrees.
If using dried chickpeas: Drain chickpeas from soaking water; boil in new
water for about 20 minutes until soft. Drain and then transfer chickpeas to a clay pot or heavy baking dish.
If using canned chickpeas, start here: Bring 6 cups water to a boil. Pour boiling water over chickpeas so the beans are just covered.
Add garlic and rosemary leaves; stir to distribute.
Using your hands, massage onions with extra-virgin olive oil until slightly softened.
Add onions and grape syrup to the chickpeas, mix to combine.
Cover the pot with foil and bake for one hour; remove cover and bake for another 30 minutes uncovered. Stir from time to time if onions are burning.
When finished, top with drizzle of olive oil, freshly squeezed lemon juice, and lemon zest. Season with salt and pepper to taste.
*Grape syrup is a condiment made from grapes cooked down into a thick syrup. It is common in Greece and other Mediterranean countries. Thick and sweet without added sugar, it's used on pancakes and bread, as well as in baking. It's often available in Italian or gourmet markets, or at online retailers; if you can't find it, substitute with 2 tablespoons brown sugar, maple syrup, or honey.
Dan Buettner
Dan Buettner is an explorer, National Geographic Fellow, award-winning journalist and producer, and a New York Times bestselling author. He discovered the five places in the world—dubbed Blue Zones—where people live the longest, healthiest lives. His articles about these places in The New York Times Magazine and National Geographic are two of the most popular for both publications.
Related Articles
Read more from RECIPES