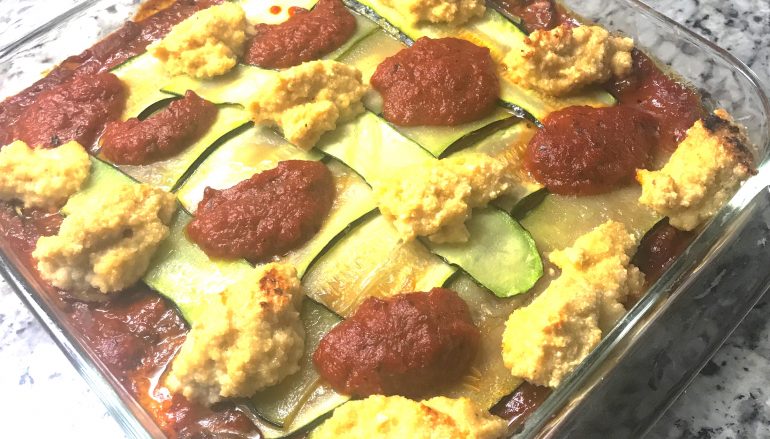 Vegan, Gluten-Free Vegetable Lasagna
After returning from a trip filled with healthy meals morning, noon and night, I was inspired to eat a more clean diet at home.  Usually, it's the other way around:  you get back from vacation feeling a little indulgent and in need of a detox. This time, as soon as I got back in the states, starting with airport food, my body reacted with severe stomach pain.  I already was missing the organic, fresh and local foods I enjoyed while traveling.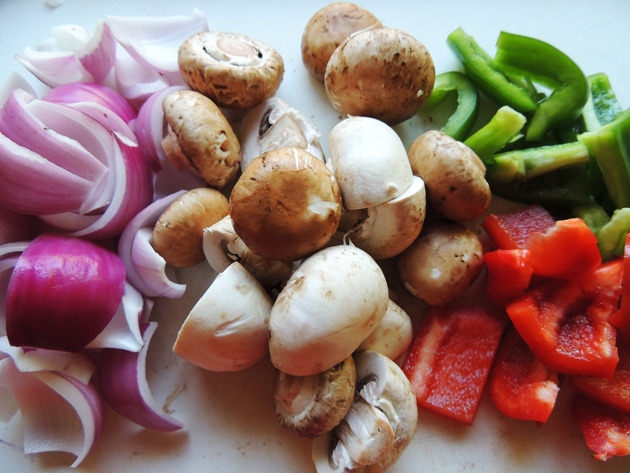 Over the years our bodies change and what used to be satisfying and healthy can create inflammation, bloat and indigestion.  Meat, grains, legumes, and dairy are large contributors for many people.  It's sort of a cruel joke!  Most recipes include a lot, if not all of these ingredients.
It can take a little work, but really it's just determination, and that's what lead me to create this recipe. You will want to plan ahead to prepare your ricotta "cheese."  It's made of cashews that need to be soaked in water for at least 2 hours, 3 if possible.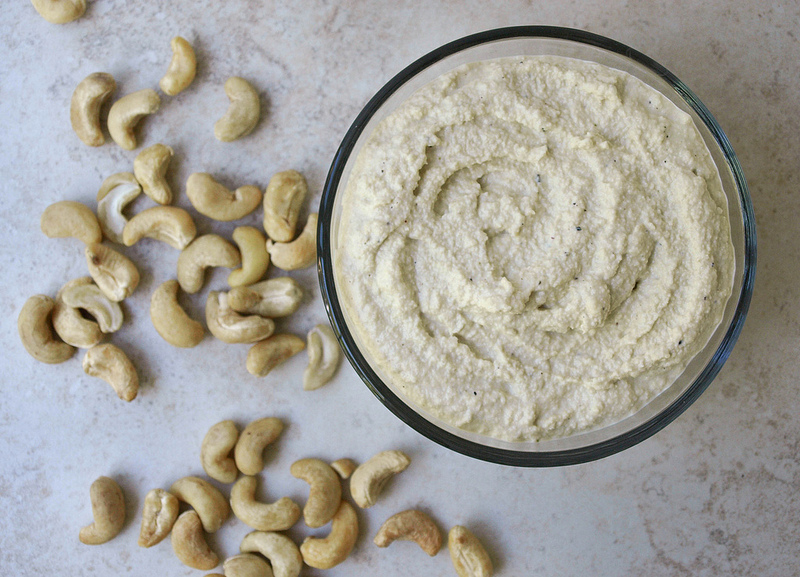 I'm not a gadget person, but a mandoline slicer is necessary for this recipe as the "lasagne" noodles are actually thinly sliced zucchini.   Just like cars, they come in all shapes, sizes and prices.  I recommend getting one with the finger guard feature!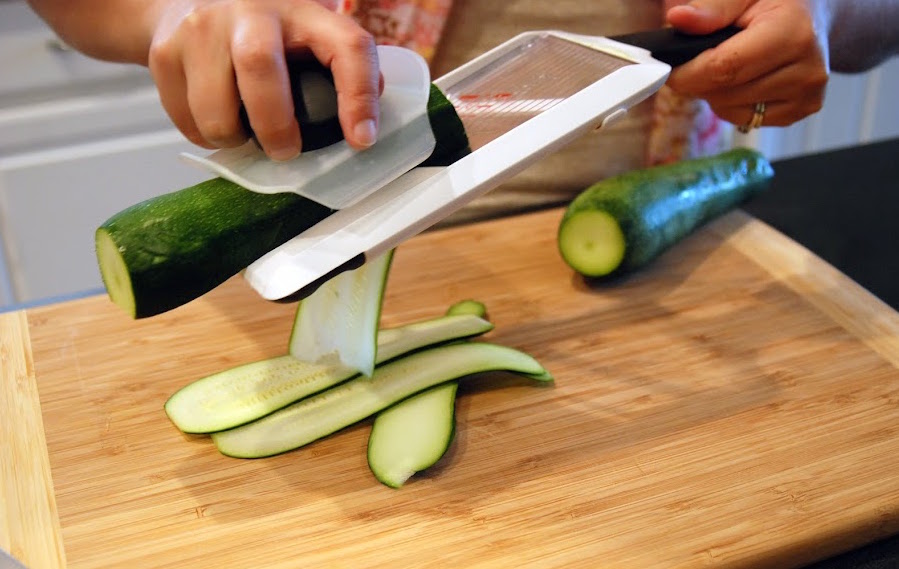 There is clearly a lot of room for your creativity and imagination with this recipe, so feel free to switch up your seasonings and veggies!
Ingredients
Ricotta Cheese
1 1/2 cups of raw organic cashews, soaked in water for 2-3 hours
Juice of 1 lemon
1/2 cup of water
2 Tbsp nutritional yeast
2 Tbsp chopped or minced garlic clove
1/2 tsp of each: cracked pepper, Himalayan salt, garlic powder, dried parsley
Vegetarian Marinara Sauce
8 oz. (small package) of organic Bella mushrooms, sliced
1/2 cup organic bell pepper, chopped
1 medium organic red onion, diced
2 Tbsp organic coconut oil
25 oz. jar organic marinara sauce (reserve 1/2 cup)
1/2 tsp each: cayenne, oregano, Himalayan salt, cracked black pepper
Lasagna Zoodles
3 medium size organic zucchini, thinly sliced
2 Tbsp organic coconut oil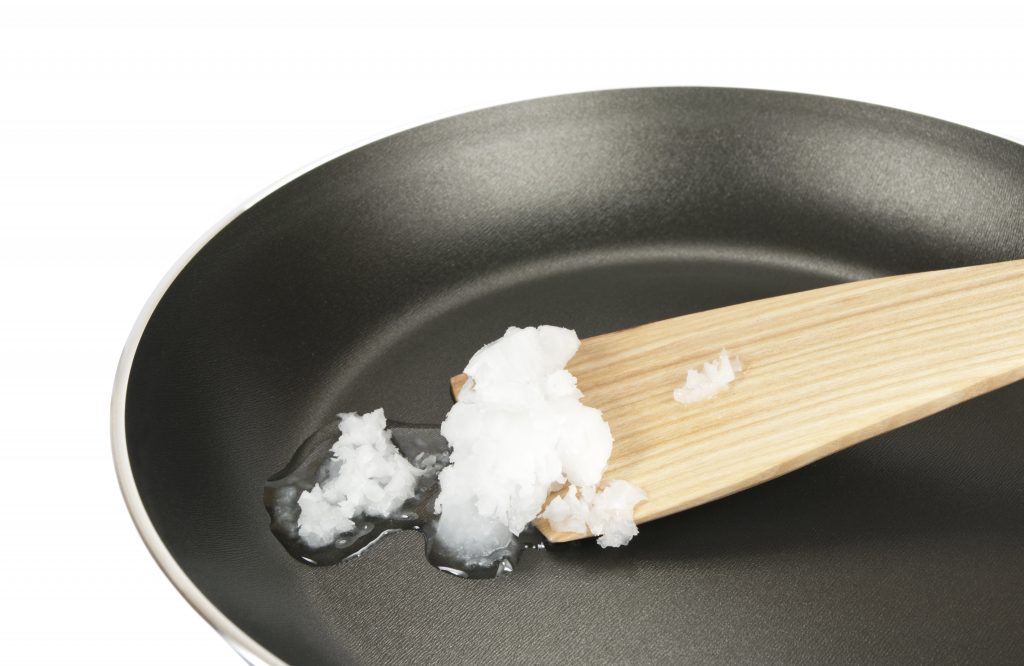 Directions
Ricotta Cheese
Drain and rinse cashews and place into food processor or blender.  Add lemon juice, garlic, nutritional yeast, seasonings, water and blend until a creamy texture is formed.  You may need to add more water for desired consistency. Set aside or store in fridge.  You can make this ahead of time!
Vegetarian Marinara Sauce
Melt coconut in  large skillet.  Add all vegetables and saute until soft.  Add sauce (reserve 1/2 cup)  and simmer on low heat while prepping your "noodles."
Lasagna Zoodles
Melt coconut oil in a large skillet.  Place sliced zucchini in a single layer and briefly saute. Flip to slightly brown both sides and soften to crisp tender.  Remove and set aside on paper towels. Repeat until all  zucchini has been prepped.
Assemble:
Pre-heat oven to 350. In an 8×8 baking pan, spread 1/2 of reserved marina sauce, save some for final layer. Cover with 1/3 of sliced zucchini. I did 2 layers overlapping. Spread 1/3 cashew ricotta to cover zucchini.  Add half of the vegetable sauce.  Repeat Zucchini layer, ricotta and other half of sauce.  Cover with remaining zucchini (you could lattice this layer!) and dot with reserved sauce and remaining cashew ricotta.  Bake at 350 for 20 minutes, Broil at 450 for 1-2 minutes.
Jenn Bodnar
Jenn Bodnar is the owner of  Yoga Digest and has a genuine belief that yoga can benefit everyone. She is 500ERYT having attended multiple teacher trainings, facilitating yoga teacher trainings and studying and practicing yoga since 1999. Jenn is an avid fitness professional, who has taught and managed group fitness for many years. As a former competitive triathlete, gymnast and dancer Jenn loves the balance of strength, flexibility, perseverance and freedom that yoga provides. She is mom to three awesome young men and loves being active and outdoors with her family and friends. Jenn oversees LifePower Yoga studio in North Dallas, is a self proclaimed health food chef and hopes to leave a positive footprint by inspiring others to choose happiness. "Watching people grow through yoga is one of the most amazing miracles to witness."
Related Articles
Read more from HEALTH