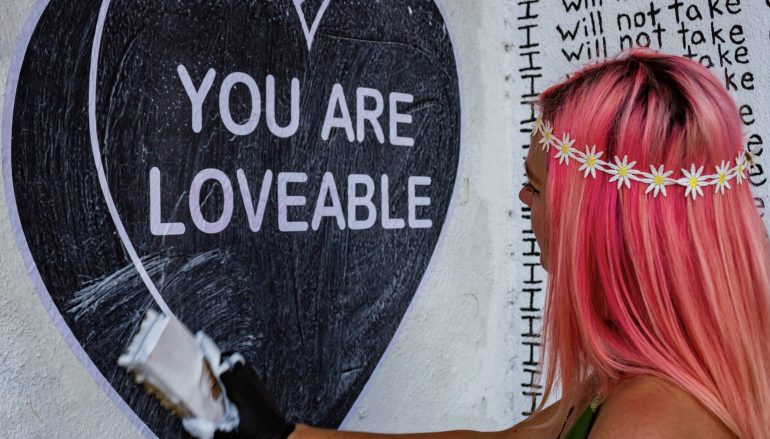 Amberella & Spiritual Gangster – Change Maker Spotlight
  Spiritual Gangster started as a t-shirt and became a movement. Inspired by yogis, athletes, artists and musicians worldwide, we create collections to encourage the high vibration practices of living in gratitude, giving back and choosing kindness. Our mission is to inspire positivity, generosity, kindness and connectedness with this goal in mind: may all beings everywhere be happy and free. For every item we sell, Spiritual Gangster donates proceeds to provide a meal to a person in need through our partnership with Feeding America. With over 11 million meals donated to date, we are collectively impacting the fight against hunger.
Amberella is a Philadelphia and Los Angeles  based mixed media and street artist. Most of her work is conceptual and often comments on popular culture, body image, social justices, or lady drama. She draws inspiration from past and present personal life experiences. Her work, raw and vulnerable, seeks to touch on the viewer's emotions and evoke feeling upon first glance.  Amber Lynn holds a BFA in Photography from the University of the Arts, where she has also taught. She has been showing her work in Philadelphia and beyond since 1999 and also other artists works at her prior gallery and boutique, Amberella. She was awarded Rad Girls Artist of the Year 2016.
 Spiritual gangster emailed me about a year ago asking if I'd be interested in a collaboration. I had been following their brand for a while and recognized them as people that actually had meat behind what they were doing. A lot of intention, thoughtfulness, and meaning in what they were sharing, -much like my work. I knew that sharing a message with them would be a special opportunity for me to touch more people's lives. I cried when I got that email because I knew it was a match for us to join together.
The idea of taking a heart from the street and being able to have it sit against someone else's heart felt powerful to me.
I knew that I was joining forces with people that live their lives the way I strive to live mine and want to share that with the world.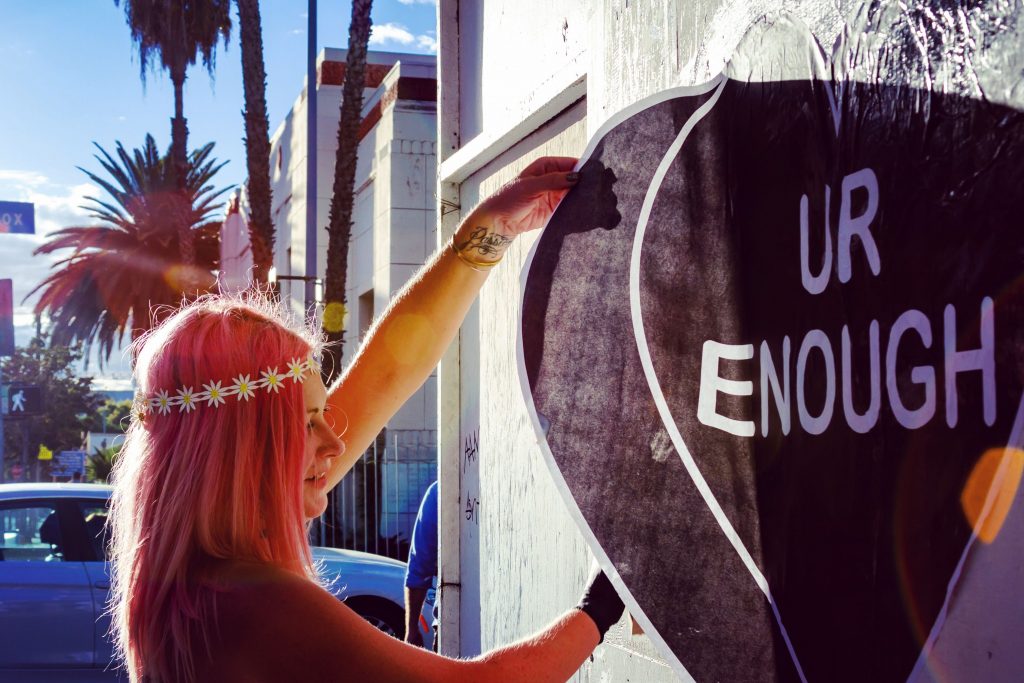 YD: What does Ur All U Need mean to you?
Amberella: The message UR ALL U NEED  is a reminder to first love yourself and be rooted strongly in your self. The idea is that you must first embody that self love and care before you can truly share that love (your gifts, light, and talents) with others.
YD: What does it mean to you to be a spiritual gangster?
Amberella: Being a Spiritual Gangster is being invested in personal growth.  It's the willingness to be authentic and look within first.  It's putting  in the work and effort to become a better version of yourself. I believe its realizing that happiness is a choice. Living a life out of love is a choice. Being kind is a choice. The way that you perceive things is your very own choice.  Taking responsibility for your overall well being -(soul, body, and mind), allows you to not only share joy with others but also contribute to the overall well being of the community and our world.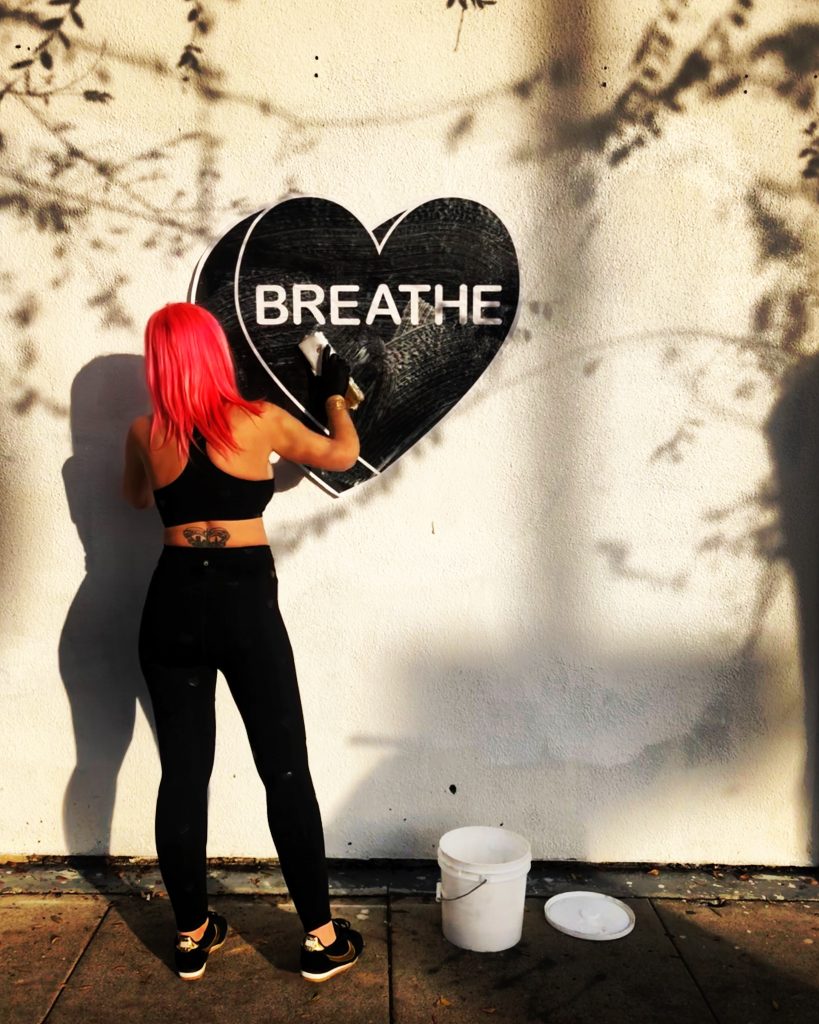 YD: Additional info about current popular body of work:
Amberella: The body of work I refer to as the POWER HEARTS are positive affirmations that I created for myself. After coming out of a very unhealthy relationship I chose to take the power of the situation in my own hands to make a huge change. I got into therapy to get to the root of things. I made huge lifestyle changes and studied many different practices. I began pasting the power hearts for myself in places I frequented as reminders for myself to keep going. As I worked on my self worth and navigated life's challenges I found strength in myself to move forward. As this body of work became popular and the letters from bystanders flooded in ….  I realized that I was not alone on my journey at all. That we are all one. UR ALL U NEED feels like a culmination of the power hearts. The heart that says it all. I finally found myself.
YD: How do you stay motivated and inspired to be the best you?
Amberella:I read a lot -in a fashion that is more like studying. I look towards any words of wisdom that provide my soul and spirit with insight that feels like shiny light. And I put those words into motion. I look towards nature daily to feed, and when in need, mend my soul. I am in absolute awe with the people I interact with daily. When you take a moment to get to know the person that's standing in front of you at the grocery store, just wait and be AMAZED. I am motivated by the strength and brilliance I see in others. And there is no special club. You can really find a very motivational aspect of every person you come across if you open your heart and mind to that. Get to know people. Listen to their stories. You will find inspiration where you could have least expected it. Over the years, I've found that forming healthy non negotiable habits for myself have been life changing for me physically, mentally, and emotionally.  Some non negotiables include Barre -daily, saying no and not feeling guilty about it, going to sleep even when the list is not complete. I also stay inspired by remembering that failure is an opportunity to learn and grow. If you think about your failures or trials as a chance to develop or strengthen yourself you can obtain an incredible gift from a seemingly sour experience.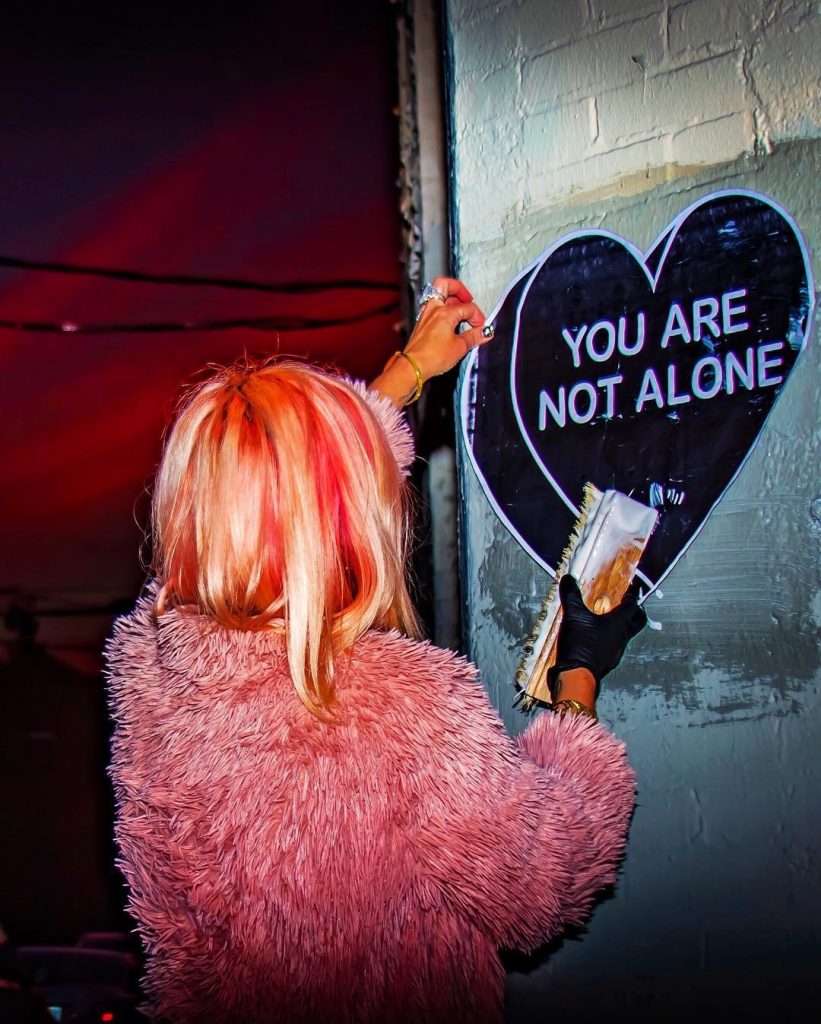 YD: Why is it important to have a message, mission and intention? 
Amberella: Having a mission, message, and intention is truly fulfilling. It provides me with a purpose driven life that at the end of the day I can reflect upon with extreme gratitude. When something is authentic it's significance automatically sharpens and I feel a deeper connection. Overall I believe the authenticity of my work and spirit as a person has contributed to a type of organic success.  I truly believe people can sense and feel authenticity. Authenticity is powerful because its not easy, takes courage, and people can connect to vulnerability.
YD: What do you like most about the opportunity to partner with companies such as Spiritual Gangster?
Amberella: Working with a brand that has likeminded beliefs, intentions, and practice is extremely important to me. I only work with companies that apply to who I am or what I practice. It's also incredible to work with a brand that has a reach to an audience of people interested or invested in the message that we are sharing. It's also fun to play with taking a message from the street and putting onto a piece of clothing.
YD: Where do you see yourself in the industry in 5 years?
Amberella:Working at a much larger scale, world wide, with an all female team. The most important goal will always be that my work ,in whatever medium, stays authentic to who I am and what I'm feeling at the time. Also, trusting and surrendering to what the Universe has in store for me and leaning into that. It may be nothing like I imagine and I'm okay with that!
YD: What is your life motto?
Amberella: Living a life of gratitude under any and all circumstances is my goal. Gratitude leads to love. Gratitude leads to peace.  Gratitude leads to joy.  Gratitude can heighten a great experience or calm any storm. Finding the silver lining and joy in the journey leads to a FULL heart.
Related Articles
Read more from COMMUNITY