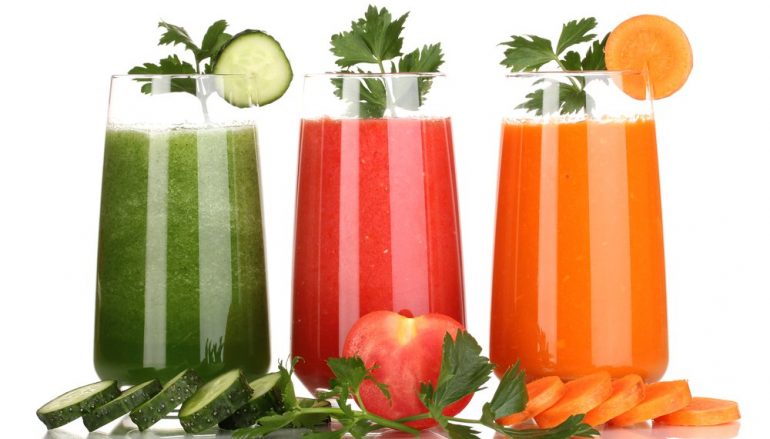 Congratulations! If you are reading this article then you are already on your way to a healthier lifestyle!  You have probably already made some great changes to your life.  Another step will be to implement a juicing plan.  I am firmly convinced that the benefits of juicing are the keys to giving you a radiant, energetic life, and truly optimal health.
Virtually every health authority recommends that we get 6-8 servings of vegetables and fruits per day and very few of us actually get that.  Juicing is an easy way to virtually guarantee that you will reach your daily target for vegetables.Juicing helps you absorb all the nutrients from the vegetables.  This is important because most of us have impaired digestion as a result of making less-than-optimal food choices over many years.  This limits your body's ability to absorb all the nutrients from the vegetables.  Juicing will help to "pre-digest" them for you, so you will receive most of the nutrition, rather than having it go down the toilet.
Juicing allows you to consume an optimal amount of vegetables in an efficient manner.  If you are a carb type, you should eat one pound of raw vegetables per 50 pounds of body weight per day.  Some people may find eating that many vegetables difficult, but it can be easily accomplished with a quick glass of vegetable juice.
You can add a wider variety of vegetables in your diet.  Many people eat the same vegetable salads every day. This violates the principle of regular food rotation and increases your chance of developing an allergy to a certain food.  But with juicing, you can juice a wide variety of vegetables that you may not normally enjoy eating whole.
So make a trip to your local market and load up on some of your favorite produce.  Get creative! Yoga Digest recommends using organic fruits and vegetables.  Some of our favorite recipes can be found here.
Photo – shutterstock.com
Linda Baldwin
Linda Baldwin is the team leader at Intelligent Gourmet where she serves as a chef and Certified Health Coach. She decided to become a health counselor to fulfill her passion of working with individuals, family's and children to improve their health and family life. Linda received her training at the Institute of Integrative Nutrition in New York City. She is certified by the American Association of Drugless Practitioners, a member in good standing of the American Association of Nutritional Consultants, and has obtained continuing Education in nutrition from Purchase College, State University of New York. Linda and her team lead workshops on obtaining a healthy lifestyle through food and offers individual health coaching to adults and families. Instagram.com/intelligentgourmet " JUICING = becoming a high-energy, healthy, glowing, nutrient-absorbing machine! "
Related Articles
Read more from HEALTH