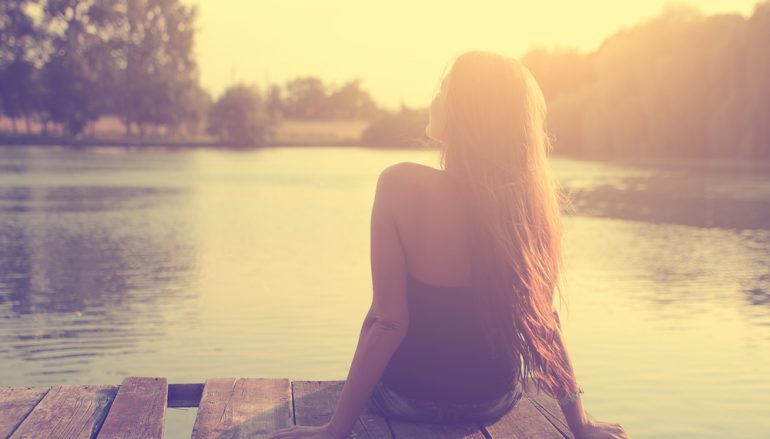 Making A Life Map Is Simple as 1-2-3
"Yoga hasn't changed me.  It is me.  Like a soul mate; always meant to be.  It was always there.  I just never noticed it before."  – Unknown.
I guess you can say I've been excessively living in the moment; consumed with trying not to worry about, plan or control things.  The practice of letting go is a great practice indeed, but it doesn't mean we should leave our lives in the hands of the universe and others to every extent.
There always has to be that balance of holding on and letting go, breathing in and breathing out and accepting with clarity.  Let me explain that last one.  We can't control everything around us and we definitely cannot control the actions of others.  We must accept the ways of the world around us but only with a clear understanding of how it impacts our life.  If the impact takes a positive direction then keep that going, if not, then it's time to redirect.
It's never too late to re-write your story.
Here's a few ideas to creating your life map:
1.  Take a quick analysis.  What have you accomplished in the past 6 months, 12 months, 2 years?  What are some significant events that have taken place?  If you are having a hard time thinking of anything then we have some serious work to do.  Chances are you can think of something.  When you write these accomplishments and good memories down, briefly describe how they made you feel.  There's a life changing book called  "The Desire Map" by Danielle Laporte who gives an in depth look at basing all decisions on how you wish to feel.   It's important to make sure you are feeling the way you want to feel in order to live the life you want to live.  It's important to feel the way you want to feel in every single moment and part of your life: professionally, socially and personally.
2.  Make it happen today.  "Impossible" you say?  In Oprah"s "Create Your Own Life Map" she advises gathering a stack of magazines, catalogs, etc., a poster board and some glue.  Cut out any pictures, words or phrases that speak to you.  Arrange them on your board in any way you see fit.  Look for patterns and lessons and think about how you would accept these things in your life, who you would need to become in order to achieve it and what commitment towards that you can make today.
3.  Share it.  It doesn't have to be blasted in your status update…necessarily, but be proud of what you want, know who you are and let people know.  Once a word has been spoken aloud it's like a promise to yourself to make it happen.  I can remember telling my uncle long ago that I wanted to be a college professor of Mass Communication.  Life does take turns and my path became that of yoga.  This path lead me to become a yoga teacher trainer where I will be teaching students who want to become yoga teachers.  I feel like everything is mapping out as planned, a little different, but even better!  There are plenty of examples where this type of exercise can be very powerful.  Check out our article on Manifesting the Life You Deserve.
Finally, you have to be open to bumps in the road, redirection and responsibilities.  It all comes back to balance and not losing yourself in someone else's dream. Wake up everyday and say to yourself, just like the song "This is gonna be the best day of my life" because I'm at peace with where I have been, happy with where I am and inspired by where I'm going!
Photo – shutterstock.com
Jenn Bodnar
Jenn Bodnar is the owner of  Yoga Digest and has a genuine belief that yoga can benefit everyone. She is 500ERYT having attended multiple teacher trainings, facilitating yoga teacher trainings and studying and practicing yoga since 1999. Jenn is an avid fitness professional, who has taught and managed group fitness for many years. As a former competitive triathlete, gymnast and dancer Jenn loves the balance of strength, flexibility, perseverance and freedom that yoga provides. She is mom to three awesome young men and loves being active and outdoors with her family and friends. Jenn oversees LifePower Yoga studio in North Dallas, is a self proclaimed health food chef and hopes to leave a positive footprint by inspiring others to choose happiness. "Watching people grow through yoga is one of the most amazing miracles to witness."
Related Articles
Read more from LIFESTYLE