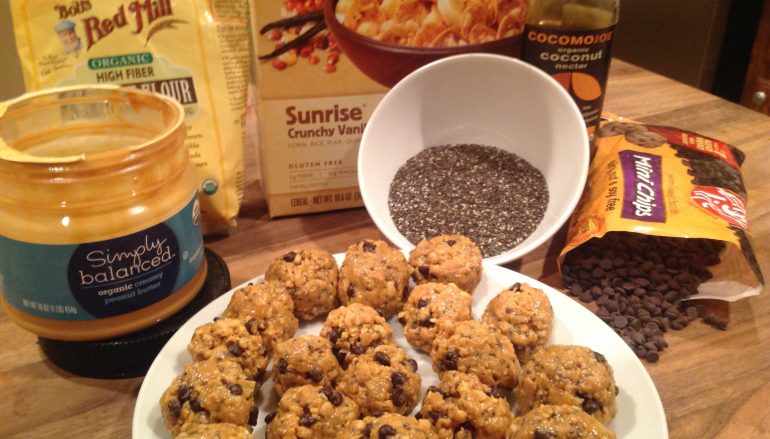 Crunchy Chocolate Chia Peanut Butter Balls
Vegan, Gluten-Free, and Delicious!  These chia peanut butter balls are a quick and healthy on-the-go treat your friends will be snagging from you!
Ingredients
2 cups Organic, gluten free cereal – I used Nature's Path Sunrise Crunchy Vanilla
1/4 cup Coconut Flour
3/4 cup organic creamy or crunchy peanut butter
2 Tablespoons Organic Raw Coconut Agave
2 Tablespoons Organic Chia Seeds
1/4  cup Enjoy Life Dairy free MINI chocolate chips
Directions
In a food processor mix cereal and coconut flour to a medium, workable texture.
Place cereal mixture in a bowl and add peanut butter and Coconut Agave.
Stir to blend until mixture becomes moist.  Add Chia Seeds and chocolate chips.
Form into 1-inch balls, refrigerate to set and serve!
Jenn Bodnar
Jenn Bodnar is the owner of  Yoga Digest and has a genuine belief that yoga can benefit everyone. She is 500ERYT having attended multiple teacher trainings, facilitating yoga teacher trainings and studying and practicing yoga since 1999. Jenn is an avid fitness professional, who has taught and managed group fitness for many years. As a former competitive triathlete, gymnast and dancer Jenn loves the balance of strength, flexibility, perseverance and freedom that yoga provides. She is mom to three awesome young men and loves being active and outdoors with her family and friends. Jenn oversees LifePower Yoga studio in North Dallas, is a self proclaimed health food chef and hopes to leave a positive footprint by inspiring others to choose happiness. "Watching people grow through yoga is one of the most amazing miracles to witness."
Related Articles
Read more from RECIPES