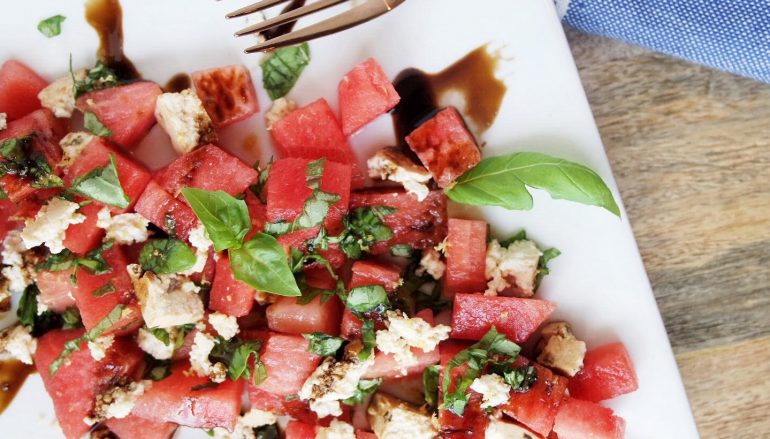 Tofu Feta + Watermelon Salad
Feta has always been a perfect salad topping. The flavor of tofu is strong and unique and pairs well with Mediterranean flavors. When becoming dairy free, I realized quickly that I missed this cheese on Greek Salads. Luckily, a vegan alternative can be made using tofu! This tofu feta packed with plant-based protein and well flavored with herbs and miso. It makes a great accompaniment to a summer salad like this watermelon and basil salad. Below find the simple recipe for this tofu feta to keep in your fridge and up your vegan salad game.
---
Tofu Feta
RECIPE
1 package of extra firm tofu (12 oz)
Marinade
2 tbsp white miso
1 tbsp lemon juice
1 tbsp apple cider vinegar
2 tbsp extra virgin olive oil
4 tbsp water
2 tbsp nutritional yeast
1 tbsp dried parsley (optional)
1 tbsp oregano (optional)
1 tsp garlic powder
1 tsp salt
black pepper to taste
red pepper flakes (optional)
Directions
First, press the tofu. This can be done with a tofu press, but if you don't have one, not to worry! Drain all liquid from the package of tofu.
Next, wrap block of tofu with paper towels or a dishtowel entirely and set on a plate. Place something heavy on top. I use my cast iron skillet, but any pan would do.
Allow tofu to sit in the fridge for at least one hour to dry. The drier the tofu, the better the feta texture.
While tofu is drying, mix all ingredients for the marinade until well combined.
Once dry, cut the tofu into cubes.
Add tofu into a mason jar, or other container with a lid, and pour marinade over the cubes.
Shake well, and place container in refrigerator for at least 2 hours for best flavor.
Tofu will keep in the fridge for 4-5 days.
---
Watermelon, Tofu Feta & Balsamic Salad
This salad has become my absolute favorite for summer. With chilled sweet watermelon, tangy tofu feta and fragrant basil it's fantastic served as a side or main dish.
RECIPE
½ cup tofu feta, crumbled
¼ cup of fresh basil, chopped
2 cup fresh watermelon, cubed
sea salt and pepper to taste
2-4 tbsp balsamic reduction
Directions
Crumble tofu feta over cubed watermelon. Top with salt, pepper and chopped basil. Lastly, drizzle with balsamic glaze or balsamic reduction.
Looking for other ways to enjoy this vegan tofu feta? Top a classic Greek salad with this flavorful dairy free substitute, or crumble over a spinach salad and add blueberries, red onion and lemon Dijon vinaigrette.
Kate Van Horn
Kate is a health blogger, vegan recipe developer and mental health advocate. Her blog, kaleinit.com features her journey in recovery as well as plant based recipes, yoga and healthy lifestyle tips. Through yoga, mindfulness and healthy eating, Kate has found a greater sense of balance that allows her to thrive despite mental illness. Her goal is to inspire others to feel comfortable in their skin and feel proud of their journey rather than defined by their struggles. To read more about Kate, visit her blog at www.kaleinit.com! Instagram| @she_be_kale_in_it
Related Articles
Read more from RECIPES