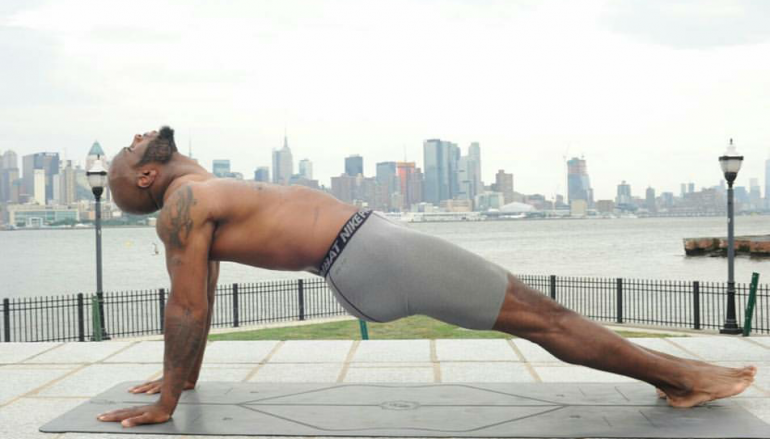 NFL Veteran Safety, Mike Adams, Says Yoga Helps Him Keep Grindin'!
Indiananapolis Colts Safety, Mike Adams remembers playing football in the streets of his hometown, Pateson, New Jersey, when he was just 10 years old. According to the NFL Players Association, the average NFL career length is about 3.3 years so as a pro athlete whose career has spanned 13 years, Adams contributes much of his success to strategic eating habits and a series of daily yoga routines. He truly believes that healthy living and staying fit are essential to the longevity of his NFL career.
As a child he knew he wanted to play sports. It didn't matter if it was football, baseball or basketball. He played Safety at the University of Delaware and from there went to the NFL where he played for the San Francisco 49ers, the Denver Broncos and the Cleveland Browns. He says football and sports was just part of his culture growing up. It was so inspiring to talk with Adams about yoga, nutrition, giving back and being an entrepreneur!
JB: You started playing sports so young and you were playing so many. During practice and training, was there ever much emphasis put on flexibility or stretching?
MA: Not when I was younger. I started to realize flexibility was important around my junior or senior year of college. In the NFL, I definitely knew how important it was because everyone was so big and fast. I knew I had to get an edge. I knew I had to be flexible, fast and strong. My NFL coach told me about yoga and we started to practice so I began to try it out.   Not only did I enjoy yoga, but I noticed a difference in my movements and flexibility.
Not only did I enjoy yoga, but I noticed a difference in my movements and flexibility.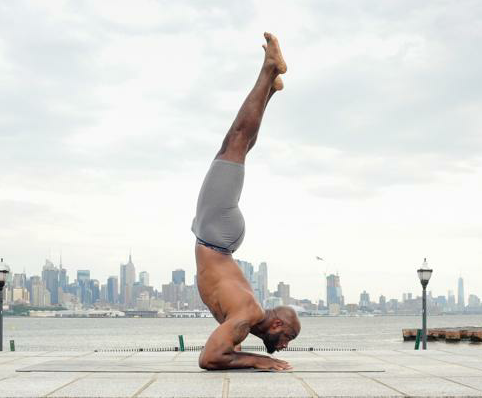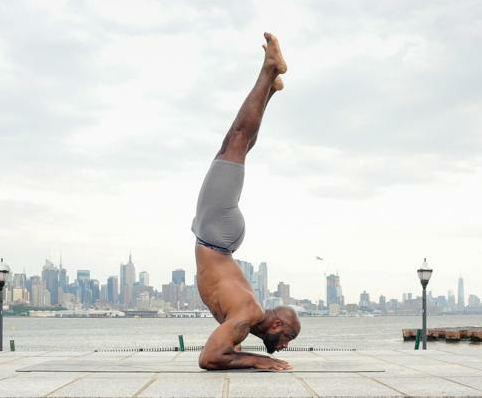 JB: Aside from the physical feelings and benefits of yoga, what can you say about the mental aspects of practicing?
MA: I feel it is very calming. As an athlete you have a lot going on. You have people pulling you this way and that. It's a whole other realm, where people just flock to you and it can be overwhelming. For me, just 15, 10, even 5 minutes of meditation, keeping to yourself, calm and in the moment where nothing else matters.
JB: Do you think yoga can make you a better football player?
MA: ….I think it can give you longevity, I think it can minimize injury, I think it helps you out movement wise, but I don't think it can make you a better football player. I think either you have it or you don't when playing football. It's a different realm and a different mentality.
JB: What is your diet like and how does it differ from other athletes?
MA: All athletes try to eat small portions 6 times a day with larger portions at lunch and dinner. What's different for me is I only eat fish, turkey and all types of vegetables, I love vegetables. But the only meat I eat is fish and turkey, no red meat, no pork. It started as an experiment for a season, then it became two and a half seasons and I was feeling great and running well so I stayed with it. They say you are what you eat, so I try to be mindful about what I put in my body.
JB: Speaking of being mindful, I understand you are quite the philanthropist. What kind(s) of philanthropy are you into?
MA: Giving back to the community. I think it's important because of the way I grew up in a single parent household, where resources were limited. I try to show the youth something different. Every year I have a free football camp for about 200 kids.   I also my annual Boxing in the Park event, turkey drives, backpack drives, free haircuts and hair-dos for boys and girls before the new school year begins and Christmas giveaways. I do a lot! In the off season, I visit different schools in the area and ask the principal if I can visit a couple class rooms and just talk to the kids. Right now I am working on a Charter School, M.C. Adams Charter School, and our target date for the grand opening is 2018.
JB: 13 years! You have been playing nearly 4 times longer than the average NFL player. That's really inspiring! How long are you going to keep playing?
MA: I want at least two more. We will see how it goes. At times, I get little bumps and bruises that limit me. My goal is 15, once I'm at 15, I'm gonna throw the mic down!
JB: What's your motto? Mantra? Any advice?
MA: I always say just keep grindin'! That's my thing. That's it!
I always say just keep grindin'
JB: Who's gonna win the Super Bowl?
MA: I got Atlanta. I want Atlanta to win!
Jenn Bodnar
Jenn Bodnar is the owner of  Yoga Digest and has a genuine belief that yoga can benefit everyone. She is 500ERYT having attended multiple teacher trainings, facilitating yoga teacher trainings and studying and practicing yoga since 1999. Jenn is an avid fitness professional, who has taught and managed group fitness for many years. As a former competitive triathlete, gymnast and dancer Jenn loves the balance of strength, flexibility, perseverance and freedom that yoga provides. She is mom to three awesome young men and loves being active and outdoors with her family and friends. Jenn oversees LifePower Yoga studio in North Dallas, is a self proclaimed health food chef and hopes to leave a positive footprint by inspiring others to choose happiness. "Watching people grow through yoga is one of the most amazing miracles to witness."
Related Articles
Read more from YOGA