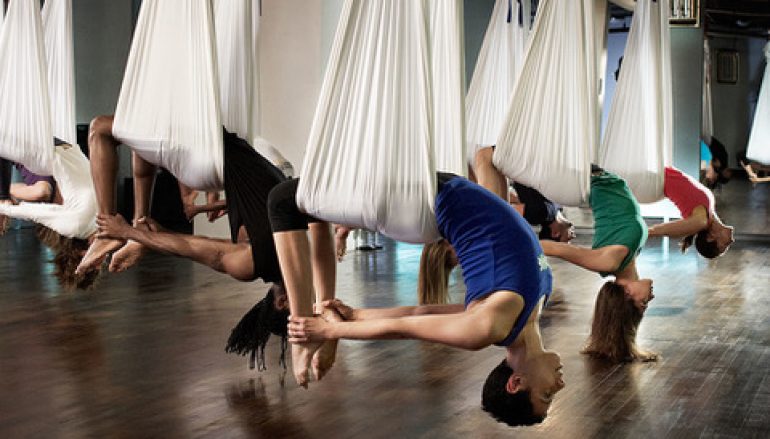 Flip your Perspective w/ Aerial Yoga!
You've probably heard that gravity accelerates the aging process, but do you know what slows it down? Flipping upside down. By taking your feet above your heart, you unlock an abundance of health benefits that can only be reached by ascending off your yoga mat and into an aerial hammock or silks set.
Aerial Yoga has been around for a while; however, few people still know about the benefits that come with an aerial practice. As a registered aerial yoga teacher, I have seen the benefits, in my students, that range from strength, to weight loss, to reduced spinal pain, to more energy throughout the day, and better sleep!
There are even more benefits that you may not be able to see with your eye, too. Benefits like pumping freshly-oxygenated blood through your body and systems. By simply practicing daily inversions, you can improve your Venous return. The Venous return is when your body processes fluids, in an efficient manner. Sometimes, due to gravity and strain, our blood can become stagnant, affecting proper blood and oxygen flow to cells, and this can lead to toxic build-up. By flipping upside down, in a supported way, you help repair any stagnation that may exist in your body.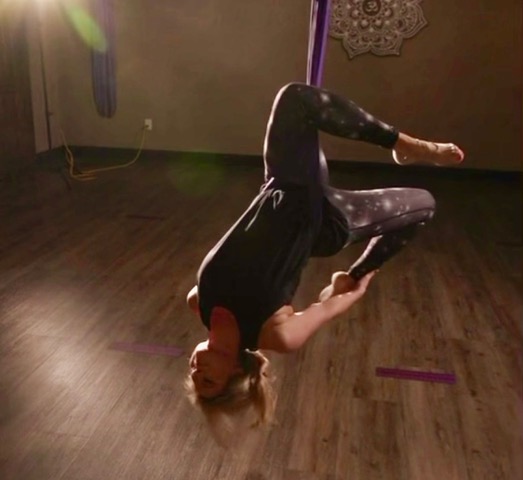 Who likes feeling stuck? Nobody does, which is why a consistent aerial practice could be the best addition to your fall season. Feel the need to decompress? So does your spine. We spend a lot of our days upright, and as we continue to age, the constant compression on our spine starts to lead to pain. Weak core muscles can add to this strain, and even create chronic illness and pain that makes life even more stressful for us. The compression squeezes the nerves and arteries in between the spinal disks. This also leads to herniated disks, nerve pain, and reduced energy flow. So, let's decompress a bit—take a deep inhale, lean into the aerial hammock, and as you exhale, let go and invert. Ahhh… As you continue to hang and breathe, your body starts to decompress, which allows for all of the toxins to flow out and all of the good stuff to start working. Our bodies are made up of roughly 65-70% water, which makes us more susceptible to the gravitational pull. Shifting the pull, and the cellular pathways through inversions allow us to support our body and its systems.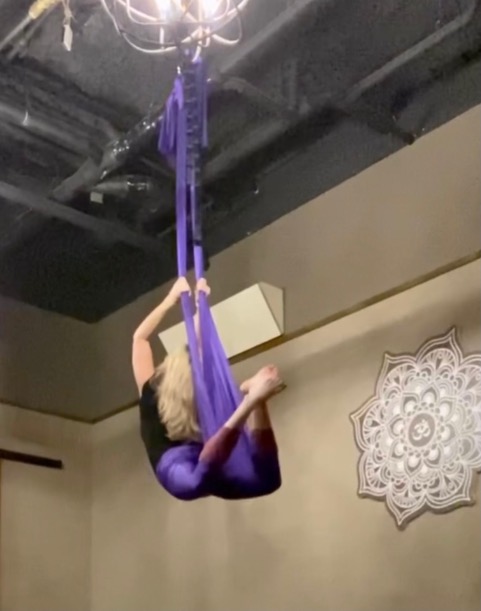 Flipping upside down also supports better heart and brain functionality by increasing that blood and oxygen flow to our cells, as mentioned above; however, students have claimed better moods, and a boost in mental wellness, with regular aerial practice.
Depression, anxiety, fatigue, stiffness, and headaches have all been mentioned, by students, as conditions that have seen improvement with a regular inversion practice. Get a jump start on any holiday stress or strain, by flipping upside down, and supporting improved health.
*Urban Vybe has new beginner aerial yoga class and private aerial instruction classes. Come check us out! www.urbanvybe.com
Lacey Pruett
Lacey Pruett is an author, business owner and yoga teacher, passionate about helping women find their authentic self. Serving as a communicator, TV host, speaker and educator for over 20+ years, she's equipped to mentor women of all ages. Her efforts gained momentum in 2012, when she served as Mrs. Texas United States, and spoke to a broader audience about healthy living and mindfulness. She and her husband live in the Dallas, TX area, have a Doberman (Maximus) and a Corgi-mix (Samson.) She is active in animal rescue efforts around Texas. Check out more about Lacey and her work at: www.laceypruett.com. She's on Instagram and Twitter @Laceypruett and on Facebook at /laceyfit.
Related Articles
Read more from YOGA