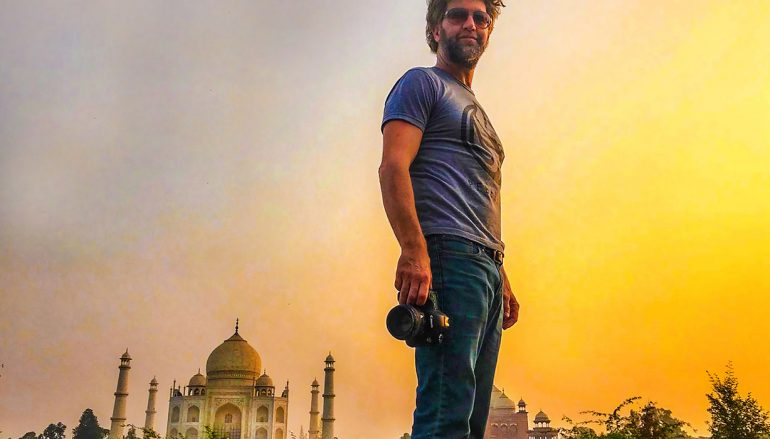 Change Maker Spotlight: Robert Sturman
A dedicated yoga practitioner, photographer Robert Sturman has increasingly focused on capturing the timeless grace and embodied mindfulness of asana in his work.
I originally was drawn to his work on Instagram, noting right away this was no ordinary photographer.  Eventually, I got to meet Robert and have had the pleasure of working with him on various projects over the years.  His passion and kindness are infectious!
His portraits, whether set in the lively streets of Manhattan, the expansive beaches and canyons of Malibu, the foothills of Mount Kilimanjaro, the timeless elegance of Walden's New England, or the bleakness of San Quentin Prison, remind us that there is beauty everywhere.
His stunning repertoire runs the gamut from yogis perched on rocks surrounded by the Pacific Ocean, to African orphans practicing yoga in Kenya, to breast cancer survivors, bare-chested and scarred. In addition, Sturman has worked extensively photographing war veterans who have embraced the practice of yoga to heal PTSD, in an effort to help change the heartbreaking statistics of veteran suicides each day.
In Sturman's own words, "I often think of Rumi's words 'I can't stop pointing to the beauty.' That feels right to me." Sturman's honors include Official Artist of the 47th Annual Grammy Awards, 2010 FIFA World Cup Artist Representing America, and Official Artist 2008 United States Olympics. Sturman has been the subject of two separate New York Times articles celebrating his photographs of yoga from around
the world.
As someone who is usually behind the scenes and behind the lens, it's such a pleasure to highlight this special human in our Change Maker Spotlight and express our gratitude for pointing out the beauty we sometimes overlook.  I'm grateful for the gift of his work and want everyone to know how special he is!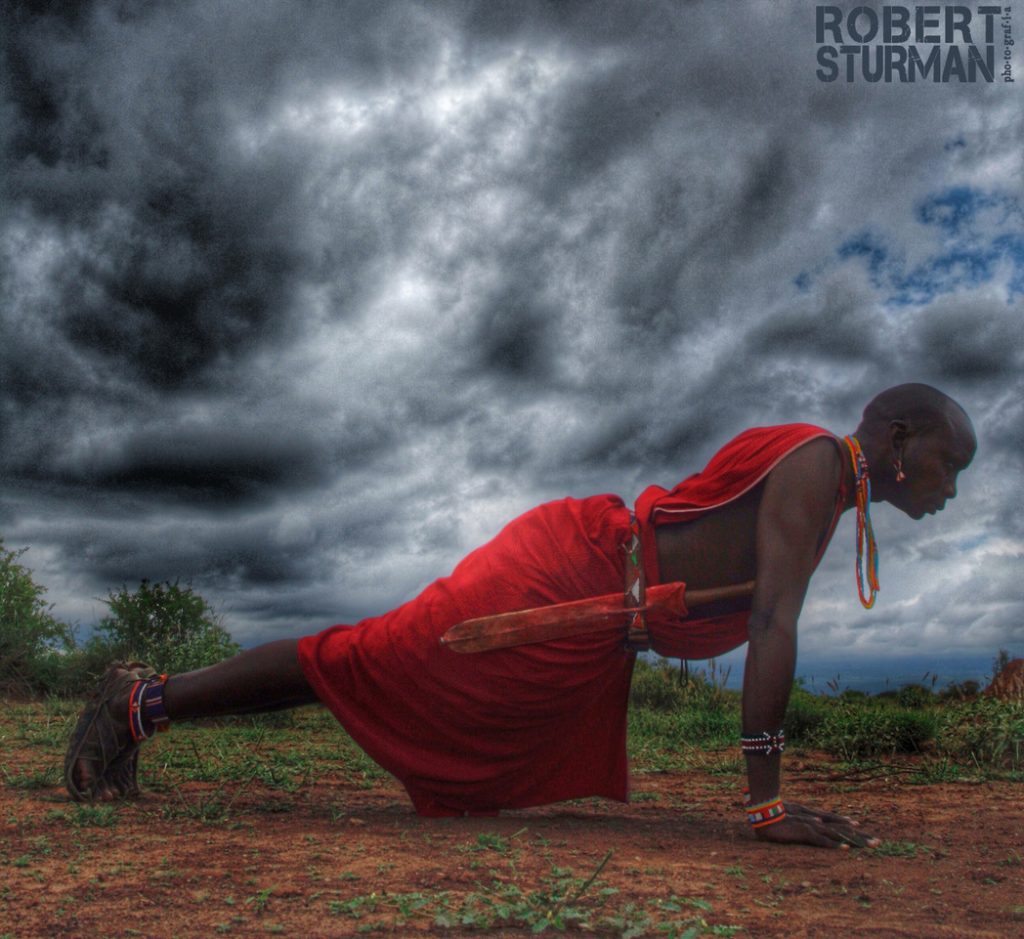 Maasai Warrior — The Foothills of Mount Kilimanjaro
Yoga Digest:  What inspired you to create your mission? What brought you here?
Robert Sturman:  The human spirit is what has inspired me to do what I do. Our desire to reach towards excellence and awaken to our full potential. I see human beings all over the world doing their best, in pursuit of being better at being human. It is a remarkable story occurring right now and as an artist, it is an honor to tell our story and point towards something so immensely positive. It is not a fantasy of a better world somewhere else that I am celebrating — it is our world, right here, right now. And when we point towards great ideas, it is like watering the flowers and watching the ideas further blossom into reality.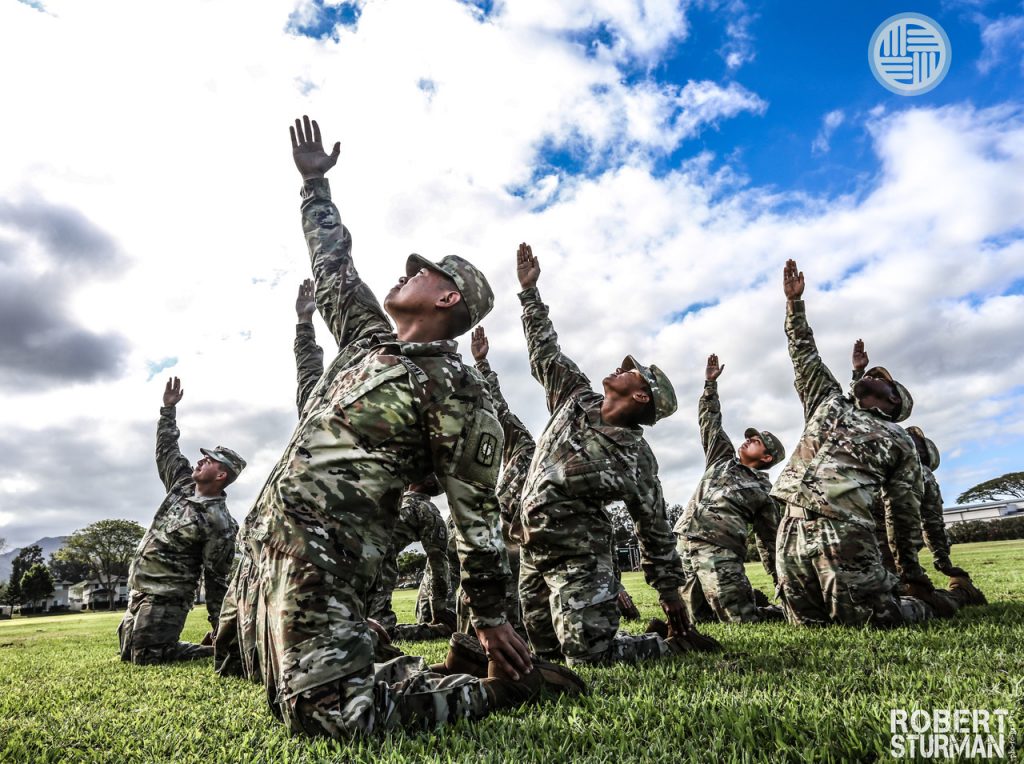 The United States Army — Pearl Harbor, Hawaii
YD: How do you stay motivated and inspired to be the best you and deliver such amazing work?
RS: I live simply. Da Vinci eloquently stated that simplicity is the ultimate sophistication. That statement lives in my heart. I have a daily practice in which I have the opportunity to continuously slow down so that I can relax enough to be deeply enchanted by simple things in life, like the quality of light, the ocean breeze, looking up at the clouds. I take care of myself which makes me want to live and wake up tomorrow and live. I love life and that is my greatest inspiration, as the artist is like a little kid trying to get everyone's attention to share how incredible things are.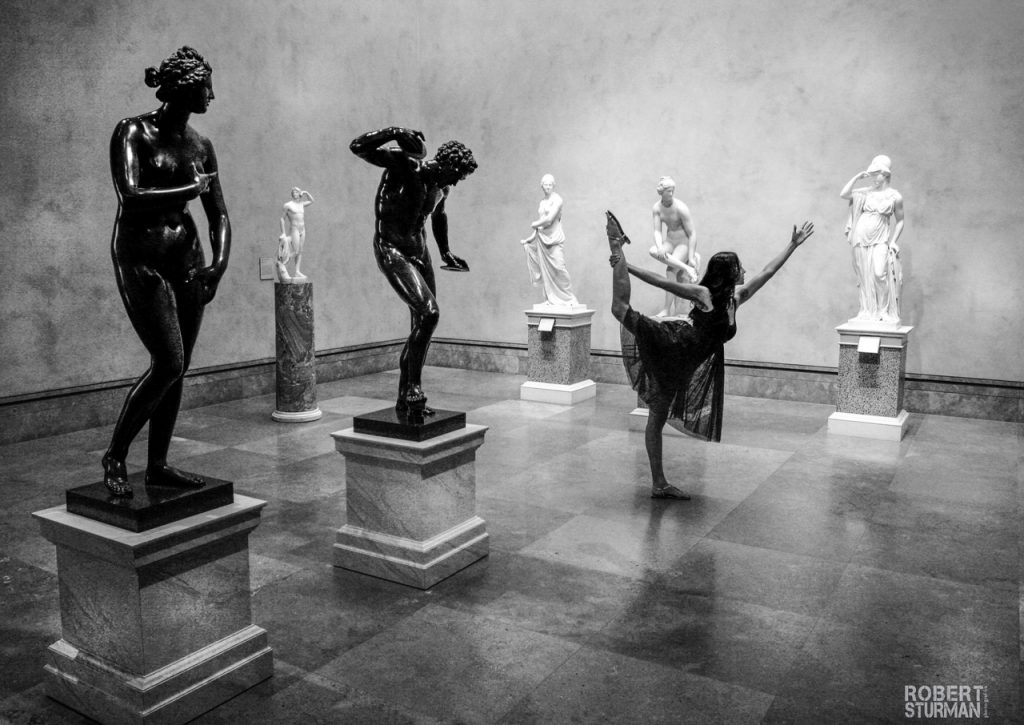 J. Paul Getty Museum of Art, Los Angeles, California
YD: Why is it important to have a message, mission and intention in everything you do?
RS: Ironically, I read today that anything we do is like everything we do. That makes so much sense. It is the quality we bring to everything. For me, far beyond my life as an artist making photographs, it is the seed beneath that — my sincerity, the fact that I care about life. It's no joke. Everything else is a detail. The core is what drives it all. And it can be as simple as 'I care."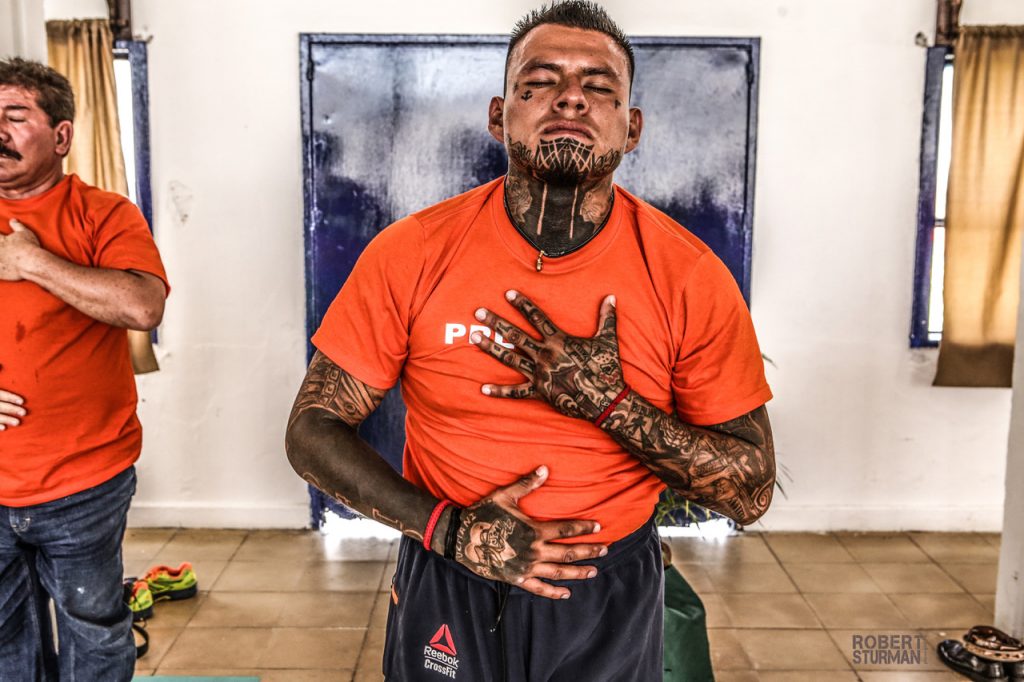 Yoga at Pacho Viejo Penitentiary — Veracruz, Mexico
YD: What is the biggest challenge in your industry?
RS:  Well, everyone knows that photographers have had a tough time since everyone became a photographer. We lost a lot of sacredness after the whole world started to become photo obsessed. Many photographers have thrown in the towel. For me, it pushed me to find a much deeper and expansive meaning behind what this picture making thing is all about. It pushed me into vaster projects as a global artist telling stories of our evolution — it pushed me deeper into prisons, working with the military, firefighters, police officers, cancer survivors, housepainters, teachers, electricians, children, and everyone else in this world.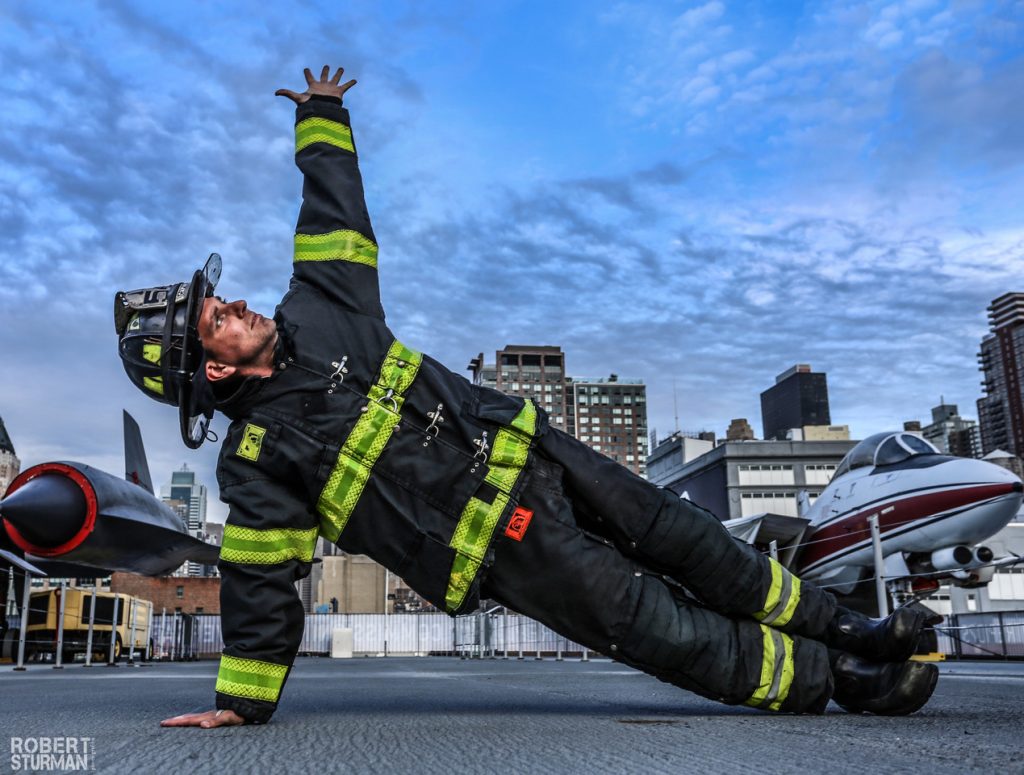 Firefighter Eric Brenneman — New York
YD: Where do you see yourself in 5 years?
RS: I see myself filling museums with exhibitions of my work, sharing the remarkable story of us, collectively all over the world, doing our best to touch upon our greatness. It is theme in the work of the artist throughout the ages when there is a cultural awakening. I repeat, it is a remarkable story and we are living it right now. Take notice.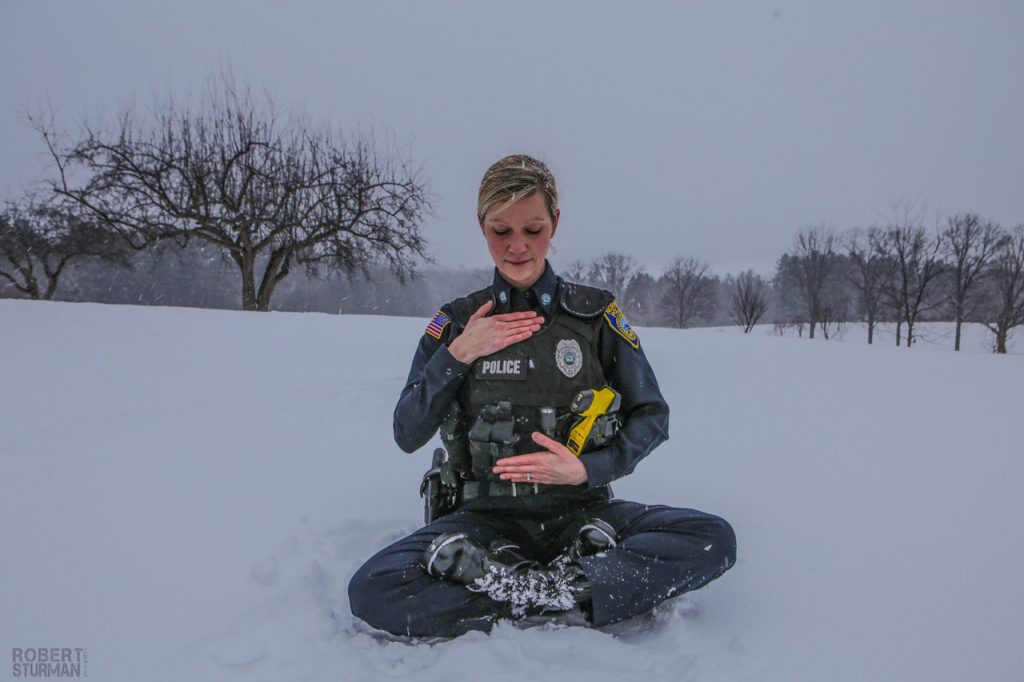 Officer Michelle Palladini — Massachusetts
YD: What advice do you have for others in your industry?
RS: Nice guys don't necessarily finish last. Never cheat, manipulate, steal or use others. Take your time. Take care of yourself. Concern yourself simply with finishing, rather than being first.
YD: What is your life motto?
RS: Simplify, pay attention and appreciate all that we love.
Jenn Bodnar
Jenn Bodnar is the owner of  Yoga Digest and has a genuine belief that yoga can benefit everyone. She is 500ERYT having attended multiple teacher trainings, facilitating yoga teacher trainings and studying and practicing yoga since 1999. Jenn is an avid fitness professional, who has taught and managed group fitness for many years. As a former competitive triathlete, gymnast and dancer Jenn loves the balance of strength, flexibility, perseverance and freedom that yoga provides. She is mom to three awesome young men and loves being active and outdoors with her family and friends. Jenn oversees LifePower Yoga studio in North Dallas, is a self proclaimed health food chef and hopes to leave a positive footprint by inspiring others to choose happiness. "Watching people grow through yoga is one of the most amazing miracles to witness."
Related Articles
Read more from LIFESTYLE