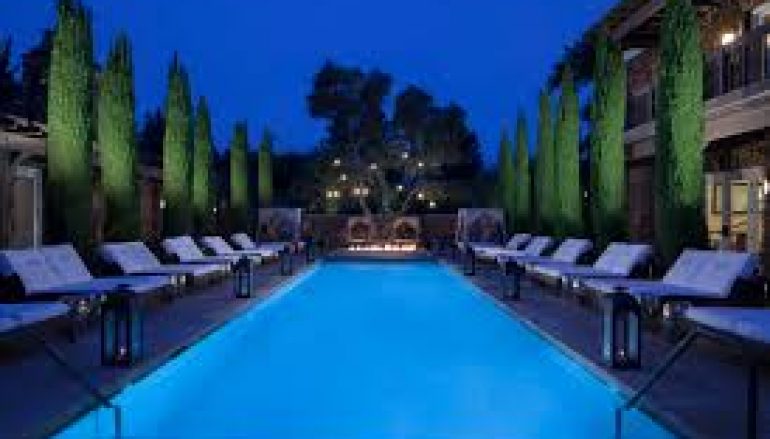 Wellness in the Wine Country
Tucked away in the historic Napa Valley, the town of Yountville and the luxurious hotel
and spa, Hotel Yountville, await your arrival. Part of what attracts a person to practice yoga is
the combined nurturing of the mind, body, and spirit. Similarly, the hotel staff is committed to
making sure your stay and experience are refreshing to your whole being. The lush greenery
surrounding the resort reminds you to begin breathing, just like walking into your favorite yoga
practice.
Surrounded by nature, you'll notice the towering oak trees that hug the property,
providing oxygen, shade, and history to guests. As you walk to your suite (one of only 80 on
property), your shoulders settle a little bit lower, you inhale a bit of gratitude, and exhale any
stress baggage you are carrying. Room amenities, from the four-poster beds, rain showers,
oversized sunken tubs, a stone fireplace, to free Wi-Fi and complimentary refreshments, coffee,
and tea, help keep the comforts of home close.
From the moment you arrive, you're invited to enjoy a slower pace. You will receive a
welcome packet, including area happenings and discounts on wine tastings set up just for you,
as a guest of Hotel Yountville. With the farm-to-table culinary options, on-site Heritage Oaks
Restaurant, and close-by Lucy's Restaurant, at neighboring Bardessono Yountville, you'll have
your pick of farm-to-table, fresh cuisine.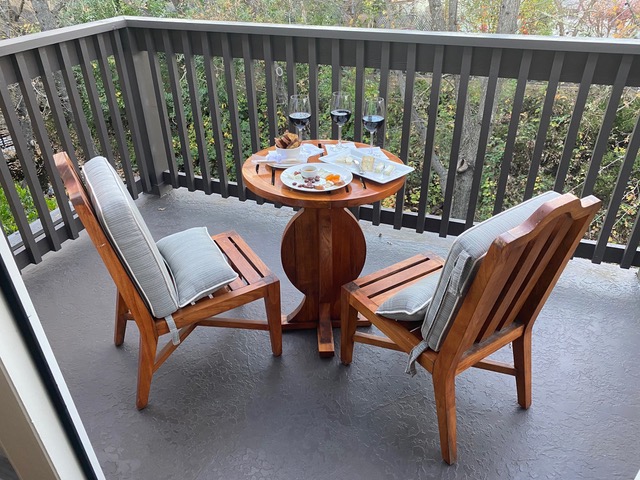 If staying in is more your pace, have food sent to your room and kick up your feet on your private patio with a glass of relax. When you're not enjoying the many relaxation options, let's get active! You have options here, too. As people who prioritize a healthy lifestyle, you'll share my appreciation for the heated pool, complimentary bicycles to borrow for a ride into town, and an upscale fitness center with floor
to ceiling windows (that manually open if fresh air is desired), treadmills, a Peloton bike,
ellipticals and ample weights for resistance training. There's space for a private yoga practice,
or you can request a yoga instructor for a private session through the spa.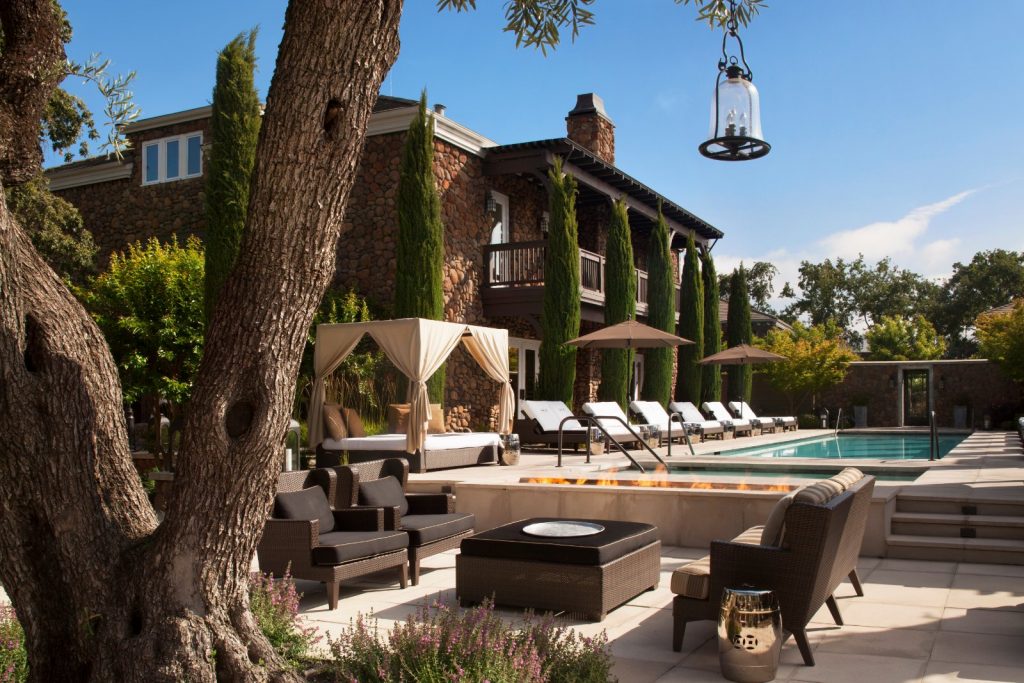 The courtyard, protected by the 200-year old Heritage Oak tree provides a welcoming spot for yoga.
Speaking of the spa, expect to sink into a deeper sense of relaxation once you change
into their spa robe and slippers. You are treated like royalty, as you arrive for your treatment,
and the feeling remains throughout your stay. For me, the Winter Revival Package was
beckoning me and the combo bath soak, sugar scrub, and 60-minute deep tissue massage
revived my skin, muscles, mind, and spirit.
Imagine how you feel after a few sun salutations, pigeon pose, a backbend, and savasana. Ahhh! and accomplished. Detoxed, revived, and soothed just in time to make your dinner reservation. Don't forget to ask the front desk to help with reservations, as restaurants in Napa Valley tend to fill up quickly, especially during peak travel times.
Much like the vines that saturate the valley, Hotel Yountville is rooted in Yountville
history with Napa river rocks, heavy timber beams and copper accents surrounding the
property. Kissed by the crisp air of the valley, be sure to bring your favorite wrap and tennis
shoes to enjoy morning walks around Hopper Creek, which surrounds the property. Here you'll
clear the clutter of your mind, and make big dreams for the day ahead. If you're like me, you'll meet a few bird friends along the way. After which you can choose your activity of the day, nourish yourself on the property before heading out to explore for the day.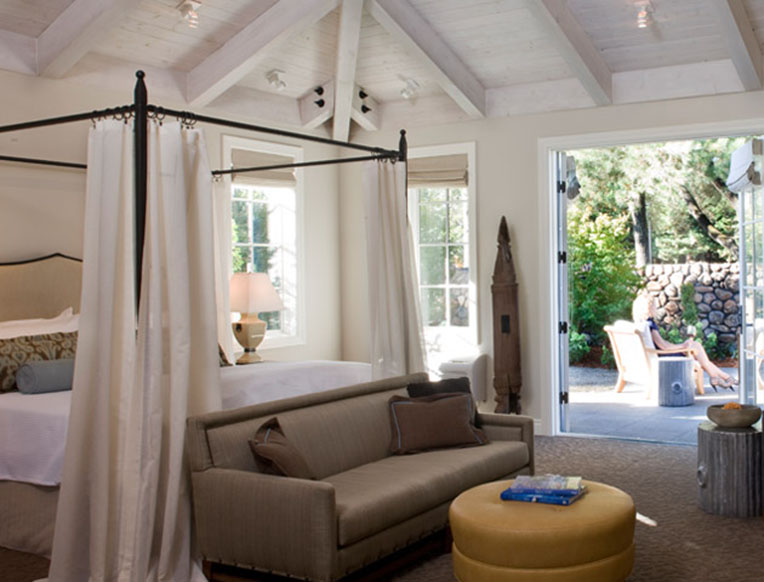 Returning to your room to the pleasant jazz music left on for you, is a gentle reminder that someone is looking out for your every need, and ready to assist when needed. Falling into the plush, oversized bed after a full day of tours and wine and food tastings was a favorite moment for me during my stay. If
you're looking for a refreshing retreat from your everyday hustle, but you also want some adventure, activity, and excitement close by, visit Hotel Yountville in the heart of the wine country.
You may even leave with a new appreciation for your next glass of wine and you definitely won't miss a beat with your wellness journey. You may even return home stronger, grounded, and restored because with all of the options and amenities available to you, your biggest concern will be running out of time each day.
Moving your body, breathing deeply, and becoming one with nature are three aspects of yoga that attract students to daily practice. Hotel Yountville combines each of these elements to bring you a unique home away from home for a focused retreat, a romantic getaway, or for a group of yogis looking for new adventure and scenery. Don't wait until you have a reason to visit. Just visit and find your reasons awaiting you here.
Lacey Pruett
Lacey Pruett is an author, business owner and yoga teacher, passionate about helping women find their authentic self. Serving as a communicator, TV host, speaker and educator for over 20+ years, she's equipped to mentor women of all ages. Her efforts gained momentum in 2012, when she served as Mrs. Texas United States, and spoke to a broader audience about healthy living and mindfulness. She and her husband live in the Dallas, TX area, have a Doberman (Maximus) and a Corgi-mix (Samson.) She is active in animal rescue efforts around Texas. Check out more about Lacey and her work at: www.laceypruett.com. She's on Instagram and Twitter @Laceypruett and on Facebook at /laceyfit.
Related Articles
Read more from LIFESTYLE