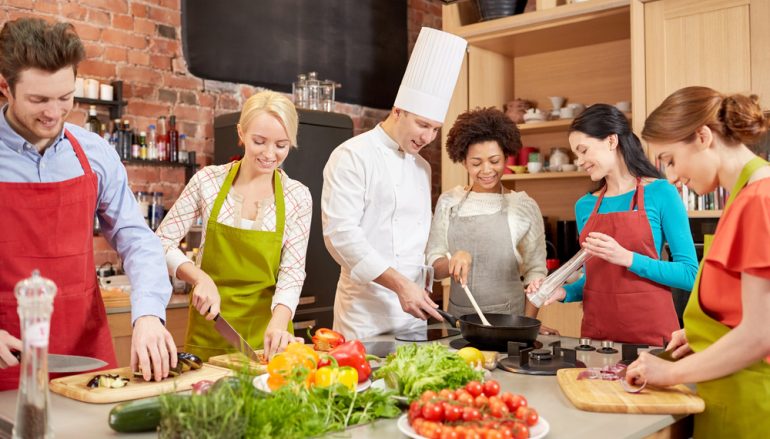 10 Gifts for Your Favorite Healthy Foodie
It's that time of year again! If you're looking for a gift for your favorite foodie, this list will help you get started.
1. Spiralizer– Veggie noodles are all the rage these days, and a spiralizer is the easiest way to prepare them. You can turn everything from zucchini to sweet potatoes into noodles, and any healthy foodie is sure to have fun with that! You can even avoid the holiday crowds by purchasing one on Amazon.
2. Glass storage– Glass storage lasts a lifetime in comparison to today's plastic alternatives. It's also safer for reheating leftovers, and much more sturdy. Find some holiday bows to decorate glass items and you'll have a beautiful gift in no time.
3. Cooking classes– Foodies love to eat, but they also love to cook. Check for cooking classes at your local health food store or restaurant and purchase a gift card or class pass for your favorite foodie. If you're lucky, they'll share the results of their labor!
4. Cookbooks– If cooking classes are too time consuming for your friend or loved one, a new cookbook is the next best answer. There's a cookbook for everything now, so check out your local bookstore for everything from vegetarian dishes to healthy holiday cooking.
5. Pre-made mixes and spices– Flavor makes a fun gift, especially if you're on a budget. You can make several different mixes and spices from recipes you find online. Purchase small jars and decorate them to match. You can even name them something fun like, "Zen Blend." If you're in a hurry, search online or at a local market for unique blends your foodie might enjoy.
6. Magazine subscription– Books are bulky and the content never changes, but magazines offer fresh ideas. Look for healthy cooking and recipe magazines that offer paper or digital subscriptions, depending on your foodie's preference.
7. Gadgets galore– Can't pick just one thing? No problem! Buy a handful of unique kitchen gadgets that your foodie doesn't have yet. Think about those items that are handy, but not quite as common. Make a festive gift basket or fill a box with everything and decorate it inside and out.
8. Customized bamboo- Engraved bamboo utensils or cutting boards make beautiful and meaningful gifts. They're sturdy, have a clean look and are a step up from plastic items.
9. Meal subscription- Do you know a healthy foodie that loves to cook, but doesn't always have time. A healthy meal subscription service is a great option. Services like Hello Fresh and Blue Apron deliver healthy ingredients and simple directions right to your door, but you still get to do the cooking. It's the best of both worlds!
10. Zen kitchen décor– If your favorite healthy foodie has a full kitchen, why not help them redecorate it? New visuals might be just the inspiration they need. Items like kitchen towels, kitchen mats and even storage containers can bring a little positivity into an otherwise plain kitchen. Etsy is a great place to find unique items like these.
These creative and personal gifts will leave your favorite healthy foodie with a huge smile for the holidays.
Casey Conway
Casey Conway is a certified health coach and freelance writer who helps conscious companies and wellness professionals grow their brands. She holds a Master of Journalism degree with an emphasis in Public Relations. When Casey isn't writing, she's likely practicing yoga, volunteering or planning her next big travel adventure.
Related Articles
Read more from HEALTH