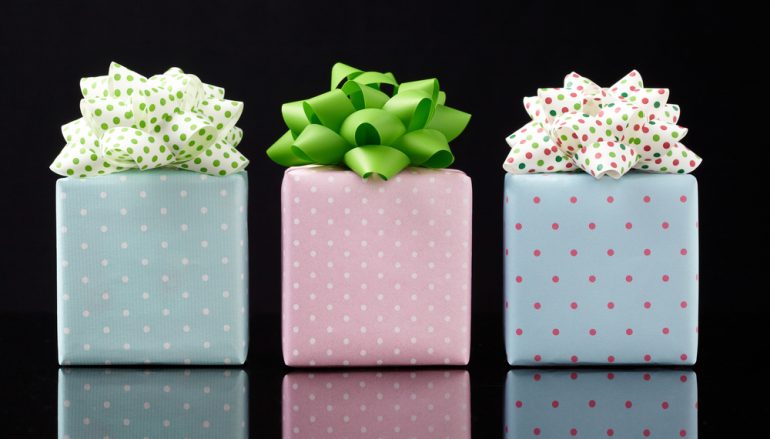 11 Mother's Day Gifts For The Health-Minded Mom
Moms are the best. They hug, they help, and they love unconditionally. That's why on Mother's Day, we need to treat them like the queens they are and give them the best gift of all—the gift of good health! Here are our 11 favorite gifts that will make mom feel pampered, refreshed, and keep her hugging, helping, and loving for years to come!
Wahl Hot/Cold Massage Spot Therapy Vibrating Gel Pack

Being a mom is one of the most rewarding jobs, but it can also be physically demanding. Think late nights with sick kids, carrying loads of laundry up and down the stairs, and chasing wild balls courtesy of a new T-baller. Giving mom this Wahl massaging pack is a gift that keeps on giving for years compared to a spa gift certificate that only lasts one day. The temperature-therapy pack is the first-of-its-kind because it has ceramic beads infused into the gel that retain their temperature longer than similar products. When the pack is hot, it will increase circulation and promote healing of sore muscles. When the pack is cold, it will restrict blood flow and reduce swelling and inflammation. On top of that, the pack vibrates for a massaging effect that will relieve muscle tension and soreness. Basically, mom gets a personal massage therapist she can keep "on call" when she's in need for a little relief and rejuvenation.
Arm Candy Bundle

Deck your mom out in inspirational bracelets that will lift her spirits and look good paired with yoga pants. I call it "Sweaty Chic" jewelry because these bracelets can take a dose of sweat—I wear the stack to my workout classes all the time! Each bracelet in the Arm Candy Bundle is made of real stones and has a different meaning to inspire Mom!
Patterned Workout Pants
Time to introduce Mom to 2015's biggest fitness fashion trend: patterned workout pants. Yes, they seem a little wild, but you know your mom has a wild side waiting to be unleashed. Skip the black yoga pants and give your mom these ethereal PRISMSPORT Watercolor Capris, these bold Athleta Stripes Chaturanga Capris, or these floral Dana Leggings from Target.com.
HelloFresh Box
If your mom is a foodie, give her a gift card for a week of meals from HelloFresh. What's HelloFresh? Well, depending on if mom's an empty nester or not, she can receive either three meals for two people or three meals for four people. Her shipment box will be filled with fresh and whole ingredients that are pre-measured for each delicious recipe and ready to cook in less than 30 minutes. Jealous of mom's gift? Buy one for yourself or conveniently invite yourself over when you know mom will be cooking a HelloFresh recipe!
Personalized Notepads

Since organization brings healthy benefits like less stress and better relationships, treat your mom to a precious, personalized notepad. Choose from watercolor, polka dots, florals, and more. We haven't seen any studies that a to-do list with your mom's name on it will increase the likelihood of her checking off the to-dos, but we'd like to think the answer is yes!
Chalk Pot Herb Kit
Fill your mom's windowsill with disease-fighting antioxidants. No, we're not talking a bottle of vitamins. We're talking about an indoor herb kit. These three adorable pots can be decorated with chalk and customized with mom's three favorite herbs. Your mom will be cooking and baking with fresh, homegrown ingredients all summer long!
ESSIO Aromatherapy Shower Kit
A happy, healthy mom needs time to relax, de-stress, and "escape." But often, the only escape is the kid-free, spouse-free, locked bathroom. Improve mom's getaway space by turning her shower into a mini-vacation with an aromatherapy kit. The attachment clips onto a showerhead and diffuses rejuvenating essential oils into the shower. The ESSIO Starter Kit comes with three different scents, so mom can mix it up depending on her mood.
Tenota Tea Greeting Cards
If mom lives across the country, fill her mailbox with a little touch of health, wellness, and love with the help of Teanota. Write a message, choose a tea (they have 16 flavors!), and your mom will receive the cutest bag of tea with your heartfelt note attached in the mail. Why tea for Mother's Day? Besides being a delicious stress reliever, tea can lower blood pressure, improve bone strength, and fight wrinkles.
Trip To The Farmers Market
. If your mom likes to do activities more than receive gifts, take her on a special mother-daughter day to the farmers market. Search through the stalls tasting and exploring until you find the perfect ingredients to cook a healthy brunch together afterwards. For a little added fun, have mimosa supplies ready as a surprise drink for your meal! PS: In the quest for the best produce, here are the seven questions you should ask the farmers market vendors before buying.
Gorgeous Gym Bag
Help mom tote her waterbottle and workout gear to the gym with a gorgeous new gym bag! We are obsessed with this crisp white bag from Athleta, this cute bag from CALIA by Carrie Underwood that has a special pouch for stinky tennis shoes, and this yoga bag perfect for stowing a mat from Uncommon Goods. Each of these bags can double as a cute beach bag or big purse for running errands!
2-In-1 Body Lotion Candle
You could buy your mom a candle, or you could buy your mom a nice lotion set. Or, better yet, you could treat your mom to both at once. Welcome to the 2-In-1 Body Lotion Candle! The calming soy candle with scents of fresh figs and amber will relax and de-stress your mom, but as the candle heats up, her skin is in for a healthy bonus. The wax actually melts into a warm body lotion packed with coconut oil, botanical oils, and Vitamins A, K, and E. Mom will be calm and moisturized all thanks to a beautiful candle.
This post is sponsored by Wahl Home Products, but opinions are 100% my own.
Chris Freytag
Chris Freytag is a nationally recognized fitness expert, speaker, and founder of GetHealthyU.com – Helping U Get Better Every Day. Known for her fitness DVDs and as a regular contributor to Prevention magazine, Chris served as the chairman of the board for the American Council on Exercise for several years, and was named as a top ten fitness influencer by Sharecare. Chris has appeared nationally in SUCCESS magazine, on The Today Show and as a regular healthy lifestyle guest on QVC. Chris appears weekly on NBC's Minneapolis/St. Paul affiliate Kare 11 News, in a segment called Motivation Monday. Chris lives in Minneapolis with her husband of 25 years. She has three grown kids, born in 1992, 1993, and 1997 (you know, back when Spice Girls were on top of the charts). Find out more about Chris Freytag or connect with her at GetHealthyU.com on Facebook, Pinterest, and on Twitter. Join her Get Healthy U community by signing up for her weekly emails and get a free guide to her 8 favorite fitness apps!
Related Articles
Read more from COMMUNITY