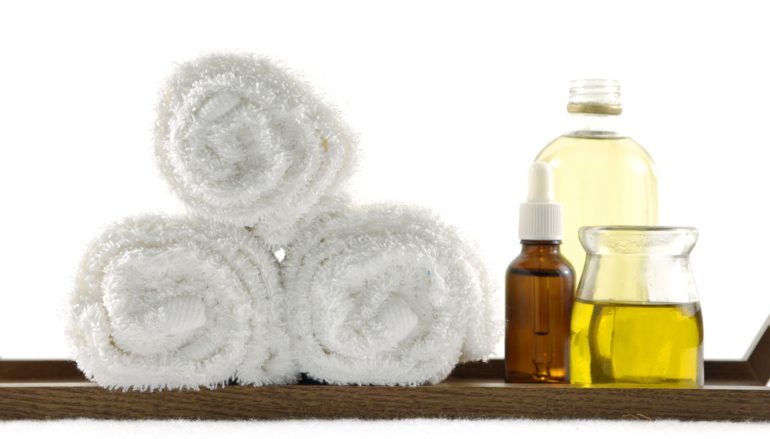 Tips & Tricks to Turn Your Bathroom into a Zen Spa Sanctuary
Everyone needs a sanctuary from the rigors of modern life, but not everyone can remodel their home and spend a fortune doing it. Here are inexpensive solutions for creating your own oasis of spa pampering. Watch those worry lines disappear and feel the tension draining from your shoulders!
Conscious color: Choose low or non-VOC (non toxic) paints. If painting a color, choose blues, greens (cool colors promote calmness and serenity) and avoid hot colors (bright yellow, orange, red); White, it goes without saying, is the color choice for everything in your efforts to Zen-up your sanctuary bathroom.
Nothing bespeaks "spa sanctuary" more than white.
Sanctuary Lighting: natural light –from skylights and windows – is best.
Textures: organic cottons and bamboos. Avoid anything artificial (polyester or plastic). Natural grasses and other fibers (linen, hemp, and wood) evoke a sublime "spa vibe".
Linens (towels, robes, slippers): Try to buy the highest quality you can afford – organic cotton or bamboo fiber mixture if possible. Choose non-toxic laundry products with no artificial fragrances.
Avoid dryer sheets which are highly toxic.
Water: the source of all healing – make your bath soaking area as luxe as possible. Replace broken or cracked tiles, re-grout if needed to have nice clean grout. Update your bath/shower area with modern faucet sets. Install a shower head filter: just as you wouldn't drink unfiltered water, nor should you expose yourself to unfiltered water in the shower – chlorine directly on your skin, day in and day out, is very toxic and can be the cause of serious allergies.
Keep your bathroom super clean with all natural cleaning products.  Avoid toxic cleaning chemicals at all costs!
Use aromatherapy to set the mood – avoid artificial fragrance, as it is highly toxic with many bad side effects. Use only pure essential oil candles (vegetable wax is preferable to soy which has high GMO and pesticide residues; paraffin is a petroleum by-product) and other scent sources.
For your "Calgon" moment: soak in Dead Sea salts– along with fresh rosemary, lavender, and mint. See below for some recipes using essential oils (which should be organic, if possible; source plain Dead Sea salts online very easily). Always keep the water temperature at lukewarm when using the salts – the purpose is for your body to absorb the healing minerals and if the water is super hot, your body will be flushing out in response, rather than absorbing.
Finally, and most importantly: use your spa sanctuary time as sacred retreat time. Meditate, do deep breathing, and most of all, visualize peace and rejuvenation. You deserve them!
Soaking Recipes:
For calming:
Lavender
Vetiver
For sore aches & pains:
Eucalyptus
Juniper
Cypress
Clary Sage
For tiredness/to reinvigorate:
Rosemary
Peppermint
Grapefruit
Randi Ragan
Holistic wellbeing expert, green-living entrepreneur, and author Randi Ragan is the founder of GreenBliss EcoSpa, Los Angeles' only award-winning mobile spa and wellness service. For over twenty years, Ragan has led yoga and spiritual retreats, created experiences for healing and wellbeing and guided groups and individuals with rituals and ceremonies to mark life milestones. Her new book, A Year of Living Mindfully, grew out of her popular blog, Randi Ragan's The Mindful Living Almanac (Twitter feed @randiragan). All her work strives to provide readers with ideas, tips, and inspiration for creating a mindful, sustainable life.
Related Articles
Read more from LIFESTYLE