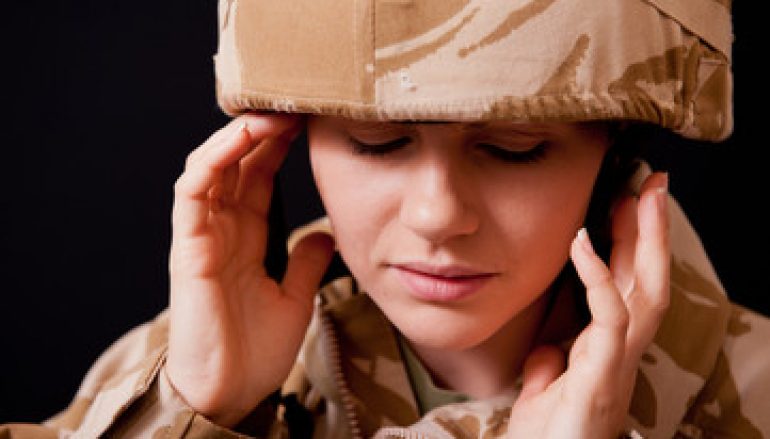 Using Yoga To Work Through PTSD
You're not supposed to question the existence of God when you're a visitor in Alabama. You're also supposed to be an ardent Crimson Tide fan or at least watch college football with a passion.
I got both wrong.
Traveling from New York City, I found myself in Tuscaloosa, Alabama; a rare foray to the south to obtain a certification to teach YogaFit for Warriors (PTSD), which is yoga for those suffering from post -traumatic stress disorder. (It's widely believed we store trauma in our nervous system and that specific yoga techniques can help.). As someone who has experienced personal trauma and reported on the front-lines of various war-torn regions in the Middle East, I wanted to spend free time giving back and through teaching this type of yoga.
But to learn, I needed to practice.
So, I found myself on my back in a semi-bridge pose to release our Psoas muscle: that's the big mysterious lumbar type muscle that is believed to physically hold trauma.
As the teacher guided our small class of all women through the poses, we were told we were in a safe place.
For a while, I thought the only shaking would be from my thoroughly unpracticed muscles. Then our teacher read aloud from the book we had all read in preparation for this course: "In an Unspoken Voice: How the Body Releases Trauma and Restores Goodness" by Peter A. Levine.
Honestly, I started to get annoyed.
Then she read from page 16, "And, in the Bible, it is said that 'God is found where you have trembled.'"
As if right on cue, that's when the trembling started. So did the involuntary shaking.
I screamed "NO!" in my head…a long, low scream.The scream continued, this time burgeoning into a wounded, deep, full body cry of, "It can't be this way!" as my mind started racing questions I had kept deeply buried for so long.
What kind of God allows the inhumane and tragic things I've witnessed and experienced over the years to happen?
It was something I never really allowed myself to fully think about for years. Raised Catholic, with years of reporting on conflicts in holy lands and sacred places (mosques, churches and synagogues) I'd learned to keep silent and be polite.
But then there it was, a strong, visceral, physical rage from within.
While I couldn't commit to God (for now), my body did shake as if I were receiving the Holy Spirit at a Pentecostal church session. It rattled me like a rag doll.
What kind of God lets children's parents die?
What higher power would allow child abuse? Domestic abuse? Rape and torture by the hundreds of thousands?
Apparently, I wasn't the only one questioning everything in this yoga session. I'd like to tell you the stories of my female classmates in Alabama, but their stories are not mine to tell. I am holding their secrets as promised but remain buoyed by their resilience. We tell so many stories as journalists but we also keep the secrets of people who inform our reporting, our worldview and our heart and soul.
From these women, to survivors of wars, there are tens of thousands in need around the country. This form of yoga, which helps PTSD survivors, is something I will continue to share since so many remain in need of therapies in our country. Oh and no one in Alabama even minded that I questioned God and didn't watch football.

They were satisfied with my new found appreciation of cheese grits and our bonds that we forged over one very powerful weekend. My faith and hope in the greater good of humanity remains.
Courtney Kealy
Courtney Kealy has been a breaking news television and radio Correspondent for over a dozen years, covering top international and national stories. She's extremely well versed in the complex foreign affairs of our times and able to distill stories with compassion, wit and clarity to engage viewers. Most recently, Courtney was a Senior Reporter for Al Jazeera America, focusing on Foreign Policy stories. She's held positions at Fox News as a Correspondent, including extensive reporting segments from the "Arab Spring" in Tahir Square in Egypt to the deserts of Libya, Al Qaeda in the Arabian Peninsula in Yemen, the ongoingturmoil in Iraq and Gaza and the US troop surge in Afghanistan.
Related Articles
Read more from YOGA