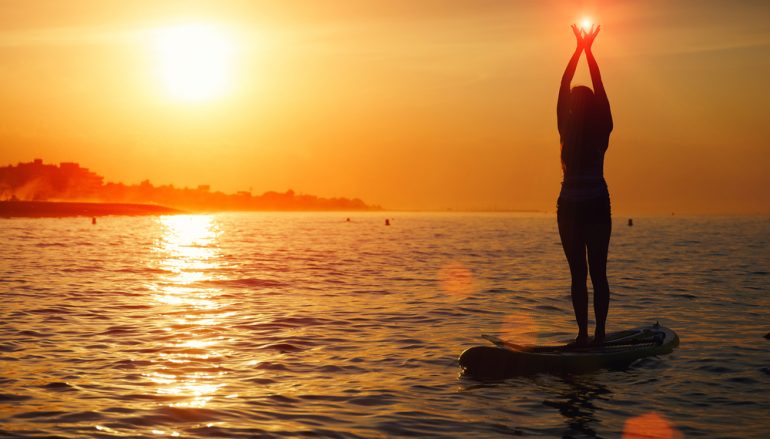 This Is What's SUP Summer Time Yogis!
It's summer! Is it just us or does everyone get a little more adventurous in summer time? There must be something in the water that makes everyone a little more energetic, carefree and perhaps even brave around this time of year. There is no shortage of yogi adventures: great festivals, hiking yoga, outdoor classes and…yoga on a floating board. Yes, Stand Up Paddle (SUP) Yoga is making more and more waves every year becoming mainstream and accessible to all. It's a great activity for the entire family. Some facilities are even offering classes in their pools and fearless yogis are purchasing them for backyard pool fun! If you haven't had a chance to try this latest and greatest yoga craze, this is your year. Yoga Digest got our asanas on the SUP yoga recently. Here is what you need to know:
What is it?
A Stand Up Paddle board looks much like a gigantic floating surf board. It's anywhere from 9-12 feet long and a little more than 2 feet wide. You get a large paddle to propel yourself around in open water and an anchor for when you arrive to the perfect spot to begin class.
History
The first designs date back to 1912 in Australia and it was called a surf ski. It was designed as an alternative to the canoe and never meant to be stood on originally, only to eliminate water filling issues. It wasn't until about 2005 that it became known in the U.S. with the first SUP store opening in 2007 in Santa Barbara, California. It was the highest ranked activity among first timers in 2013 according to the Outdoor Foundation's participation report.
What to expect
Most outfitters are very laid back, but also very knowledgeable. Ours offered tips on how to make sharp turns by sitting way back on the board so it pops out of the water and spins right around. Expect some drifting and by some we mean a lot. Expect to fall! The SUP yoga poses you think would be easy are hard like triangle pose. The SUP poses you think would be hard are easy like headstand (assuming it's already in your practice.) Expect a much slower practice than on land. Plan to spend anywhere from $30-$50 for an hour to hour and a half class, less for just the rental if you want to do you own thing. Plan to have a lot of fun and get a challenging core workout. Plan to experience an entirely different type of focus that will bring your yoga practice to the next level.
What to bring
Wear a swimsuit, you will most likely get wet if you are having any measurable amount of fun. Bring a waterproof camera, you will want to capture your awesomeness! SUP Yoga is an entirely different experience from a land class so most importantly bring a sense of humor and a big smile!
Photo – shutterstock.com
Jenn Bodnar
Jenn Bodnar is the owner of  Yoga Digest and has a genuine belief that yoga can benefit everyone. She is 500ERYT having attended multiple teacher trainings, facilitating yoga teacher trainings and studying and practicing yoga since 1999. Jenn is an avid fitness professional, who has taught and managed group fitness for many years. As a former competitive triathlete, gymnast and dancer Jenn loves the balance of strength, flexibility, perseverance and freedom that yoga provides. She is mom to three awesome young men and loves being active and outdoors with her family and friends. Jenn oversees LifePower Yoga studio in North Dallas, is a self proclaimed health food chef and hopes to leave a positive footprint by inspiring others to choose happiness. "Watching people grow through yoga is one of the most amazing miracles to witness."
Related Articles
Read more from YOGA