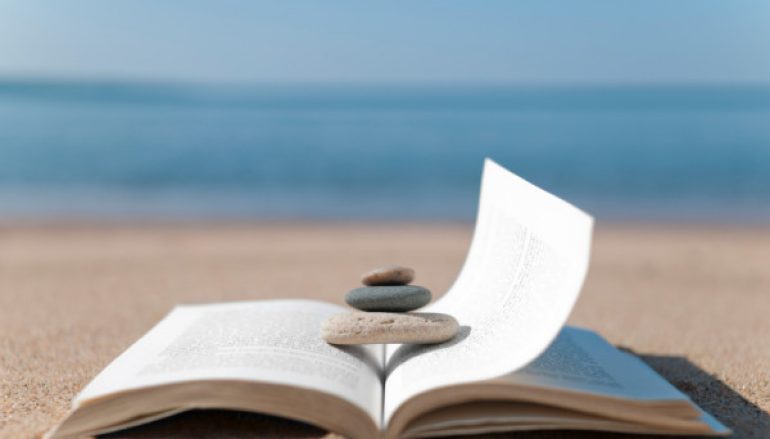 A Summer Reading Guide: Through the Chakras
Looking for a more spiritual approach to your summer reading? Want to explore the Svadhyaya Niyama with your toes in the sand and a book in your hand? Look no further. This summer reading guide will move you through the chakras, from root to crown, keeping you occupied on the beach while also deepening your connection to your energy body. Each chakra is listed below with one fiction and one non-fiction book recommendation. Happy reading.
Root Chakra-Get Grounded
The Upanishads translation by Eknath Easwaran
When reading this spiritual classic, I felt a profound sense of safety, assured that all is well in both the world before our eyes and the world behind them.
An Untamed State by Roxane Gay
The root chakra is all about grounding and safety, and some will consider this book about a kidnapped woman an odd choice for this chakra. But sometimes we have to move through our fear to move past it. This cathartic book challenges us to redefine our notions of safety, family, and self.
Sacral Chakra-Pleasure & Divine Feminine
The Chalice and the Blade by Riane Eisler
Eisler, a modern Goddess in her own right, takes us on a fascinating trip through history, challenging the idea that violence and domination are human nature. This book will help you reclaim your own feminine power and imagine a new future for our world.
Tipping the Velvet by Sarah Waters
Twists abound in this sensual page-turner. Waters perfects the art of understated and intelligent erotic literature.
Solar Plexus Chakra-Find and Feel Your Power
The Body Electric by Robert Becker and Gary Selden
It's now common knowledge that electricity runs through our bodies but Dr. Becker reminds us that this wasn't always the case. A fascinating scientific study about what happens when the West "discovers" the powers that the East has recognized for millennia.
The Hunger Games Trilogy by Suzanne Collins
An obvious choice, but in case there's anyone out there who hasn't read it yet, it must be included. A book about a young woman compelled to claim her power under impossible odds.
Heart Chakra-Compassion and Love
Mountains Beyond Mountains by Tracy Kidder
Kidder tells the story of Paul Farmer, a man who has dedicated his life to improving third-world health. A lesson in compassion, this book will open your heart to the suffering of the world and remind you that one person can make a difference.
On the Island by Tracey Garvis Graves
This is the most traditional "beach read" on the list. You'll tear through this story set on a deserted island after a plane crash. A novel about letting go of the mind to follow the heart.
Throat Chakra-Live Your Truth
The Message of You by Judy Carter
Do you have a story to tell? We all do. Carter will help you to clarify your core message and prepare a plan to bring your deepest truth into the world. Funny and practical.
The Nightingale by Kristin Hannah
Everyone and their mother probably read this book last summer, but just in case, I present to you a novel about two sisters who learned to live in their truth during a time when speaking out equaled certain death. A great reminder to never take our freedoms for granted.
Third Eye Chakra
My Stroke of Insight by Jill Bolte Taylor
Taylor, a brain scientist, takes us on a trip through the stroke that she suffered several years ago. As Taylor explores her own intuition, you'll be inspired to reconnect with yours.
Where'd You Go, Bernadette by Maria Semple
First and foremost, this is a hilarious and unique novel. It's also the story about what happens to a woman who sees the world differently. A great read to release your inner visionary.
Crown Chakra
Autobiography of a Yogi by Paramahansa Yogananda
Considered to be a classic yogic text, Yogananda's story will lead you to see the Divine in each moment and reaffirm your search for Self.
Life of Pi by Yann Martel
A novel, or better put, a fable, about a boy, a shipwreck, a tiger, and God.
Karen Costa
Karen Costa is an adjunct professor, speaker, and academic coach who aims to share the good news about higher education. Her passions include family, writing, and of course, her yoga practice. She lives in Massachusetts with her husband and son. Karen's favorite place on Earth is Long Beach Island, New Jersey where you might find her paddling the bay on her stand-up paddleboard. Follow her @thezebracoach or learn more at www.thezebracoach.com.
Related Articles
Read more from LIFESTYLE