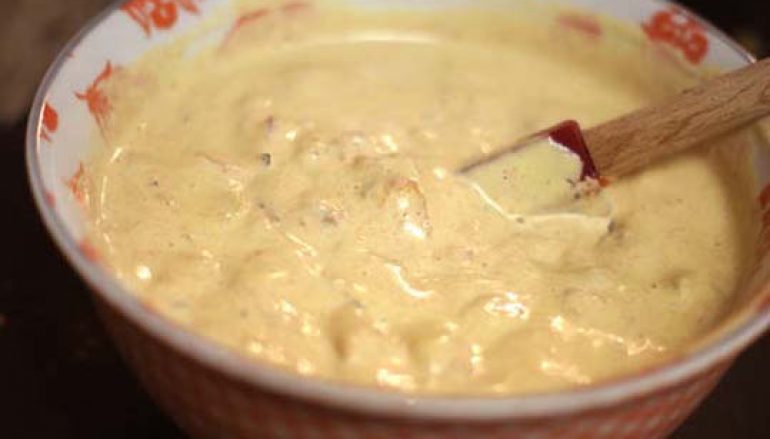 This healthy version of raw queso is a major party pleaser!  It's so delicious no one will know how healthy it is!
Ingredients
2 – cups of Cashews
1/2 cup of Nutritional Yeast
1/2 cup of diced fresh Tomato
1/2 of a small Onion finely chopped
2 cloves of fresh whole Garlic peeled
1 – small Jalapeño, seeds and ribs removed finely chopped
Juice from one small lime
1/2 bunch of cilantro washed and diced stems removed
Water as needed
Sea salt, to taste
Directions
Drain the cashews and place into vitamix (or other high speed blender).

Add, the nutritional yeast and cloves of garlic.

On a low speed, begin blending the nuts while adding water a little at a time. (You want this mixture to have the consistency of regular queso so be cognizant of adding the water slowly and you are blending.)

Blend until the cheese is creamy about 3- 5 minutes.

Chop onion, tomato, cilantro + jalapeño mix together and add the fresh lime juice and sea salt. Place Cashew queso in a bowl and top with your salsa fresco, serve with your favorite organic chip or fresh cut vegetables.
Chef Notes: This recipe is a great source of healthy carbs, and essential Omega 3's. Eat as much as you want it's great for you!
Photo – detoxinista.com
Linda Baldwin
Linda Baldwin is the team leader at Intelligent Gourmet where she serves as a chef and Certified Health Coach. She decided to become a health counselor to fulfill her passion of working with individuals, family's and children to improve their health and family life. Linda received her training at the Institute of Integrative Nutrition in New York City. She is certified by the American Association of Drugless Practitioners, a member in good standing of the American Association of Nutritional Consultants, and has obtained continuing Education in nutrition from Purchase College, State University of New York. Linda and her team lead workshops on obtaining a healthy lifestyle through food and offers individual health coaching to adults and families. Instagram.com/intelligentgourmet " JUICING = becoming a high-energy, healthy, glowing, nutrient-absorbing machine! "
Related Articles
Read more from RECIPES