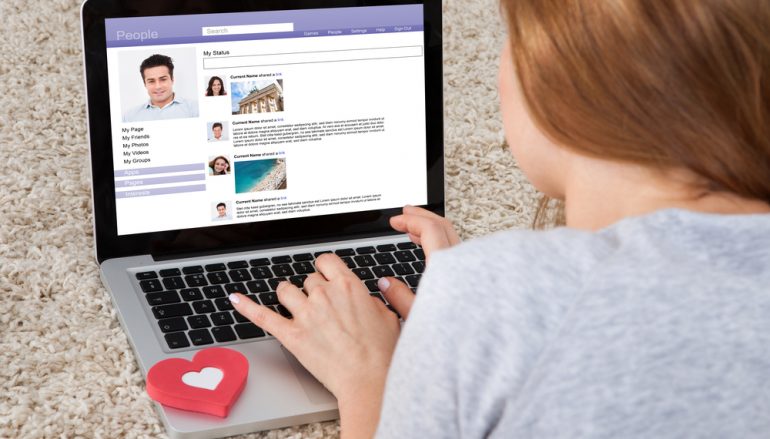 Improve Your Online Dating Profile In 3 Simple Steps
According to match.com, 40 million people are using online dating websites and 44 percent of the adult population are single: that's over 100 million single ladies….and gentleman! I asked around and got some real people answers as to what makes an online dating profile tick and what makes an online dating profile tank! This was one of the funnest research activities I've ever done and I have to thank the awesome and wonderful people, who will remain anonymous, for their helpful insight.
It all boils down to 3 basic suggestions…
Here are the 3 simple steps to make your online dating profile stand out:
1. Tell the Truth, the whole truth and nothing but the truth.
The number one consistent response was BE HONEST. Be yourself, genuine and natural. Use current pictures, state your real age, list activities you enjoy and actually do! Be available for a relationship and not currently in one!
2. Keep It positive
Tell us what you DO like and not what you don't, tell us what you ARE and not what you are not. Show your fun side. Be flirty, funny, smart, creative. No party pics, or pictures with your ex(es)cut out. Everyone wants humor to some extent. Smile in your pictures.
3. Less is more
Except for the no shirt mirror selfie guys! Put a shirt on and ask ANYONE to take a picture of you! Oh, and contrarily guys do want to see full body shots and don't mind a little skin, but keep it classy. We don't need 5,000 pics. We don't need pics of you and all your friends. One or two photos with your child, pet, beloved motorcycle or other cherished item will get the message across. Let some anticipation build up. Keep political and religious beliefs brief or choose a specific site.
Turn ONS:
Humor, Intellect, Wit, Charm, Flirty, Vocabulary, Passion
Genuine, honest and well thought out bio… correct spelling as if you finished the 6th grade is always a plus…sound intelligent for God's sake… intelligence is sexy!!! Be creative, stand-out! Recent pics would be good, not ones from 10 years ago and tasteful ones showing the world how exciting it would be to know you.
Career and family oriented, quality photos, fun and goofy, good energy, knows what they are looking for, not settling; confidence.
Working out, being active, drinking on patios, down to earth, takes care of themselves (gym, eats well)
Show more of a sense of humor and ambition rather than looks and money.
Self-sufficient, independent, knows what they want from life and doesn't need other people's help to get it, goal oriented.
Turn OFFS:
Taking oneself too seriously
Saying "I have no drama" which is a red flag they do
Stressing how much they work out, as if it were their only interest. Also, pics of them topless, with their guns, or of objects or places – without them in the pic.
No appropriately revealing full body photos…don't use a description like slender or toned or athletic and not have a pic to prove it
Pretentious profile with pics suggesting you are a princess, diva, skank still on Spring Break. No hating on men. Oh and you are 4'11" and you have to be with someone who is 6.6? or taller, really? Don't lie about your body type and if you only work out once a week that's cool but don't come off like you are an Olympic athlete!
More women than men are single in the United States, unless you live in Paradise, Nevada; Austin, Texas; Fort Lauderdale, Florida; Tempe, Arizona; Sunnyvale or Santa Anna, California. Ladies, maybe a re-lo is in order? The statistics also say that New York and Washington D.C. have the most single people but Idaho and Utah have the least. Finally, only 9% of couples meet at a bar or club; are you looking for love in all the wrong places?
If relocating today is not an option consider online dating, or update your profile and most importantly remember happiness comes from the inside and in order for anyone to love you, you must first love yourself!
Photo – shutterstock.com
Jenn Bodnar
Jenn Bodnar is the owner of  Yoga Digest and has a genuine belief that yoga can benefit everyone. She is 500ERYT having attended multiple teacher trainings, facilitating yoga teacher trainings and studying and practicing yoga since 1999. Jenn is an avid fitness professional, who has taught and managed group fitness for many years. As a former competitive triathlete, gymnast and dancer Jenn loves the balance of strength, flexibility, perseverance and freedom that yoga provides. She is mom to three awesome young men and loves being active and outdoors with her family and friends. Jenn oversees LifePower Yoga studio in North Dallas, is a self proclaimed health food chef and hopes to leave a positive footprint by inspiring others to choose happiness. "Watching people grow through yoga is one of the most amazing miracles to witness."
Related Articles
Read more from LIFESTYLE