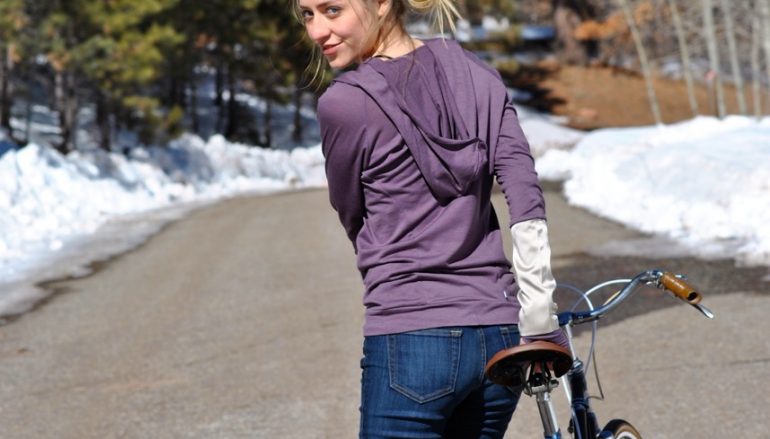 Layer It: 4 Tips To Keep You Toasty This Season!
Hot? Cold?  Layering is not only an art form, but also requires a great deal of practicality.  Some of us are born with it and some are not.  Born and raised in South Texas, layering was something one rarely practiced. It was either hot, or not.  Adapting to a wide range of temperatures without having to change outfits can take a great deal of skill for some. (Guilty.)
That is why I was so glad to come across these great layering tips from my friends at PavePara.  While some look at layering as another outlet to showcase their fashion skills, others see it as a skill set mastered by only by a select few.  With great accessories like leg warmers and arm warmers, there is no need to feel the chill as you make your way in and out of the studio this season!
If you are one who is constantly fluctuating back and forth between being hot and cold, take a few pointers from Chance Poe, PAVEPARA designer.
4 Tips on how to incorporate a layering system into your fitness routine during cold weather months.
One of my favorite things about cold weather is layering. Not only is proper layering a key component to staying warm, but layering is a super cute way to express your personal style. In fact, Pavepara is founded on layering.
Here are a few tips from my vault (i.e. my years of experience as an outdoor fitness enthusiast and personal trainer) on how to create a layering system that actually works:
Tip #1: Do not wear a padded bra. Padded bras are sweat sponges that do not dry. They trap moisture in the worst possible place—right at your core. If you sweat and the moisture is not wicked away from your skin, you are going to be cold.
Tip #2: Keep your core warm. You can do this by wearing a tight-fitting tank top base layer such as Pavepara's Kestrel Y-Back. It is both lightweight and moisture wicking. Depending on the temperature, a short sleeve layer like the Tanager, over the tank top with a long sleeve top, such as the Heron Long Sleeve, might be a smart layering system. Pavepara Wings arm-warmers are also a great piece to consider for all of your layering needs. Best of all, they are super easy to get on and off and stash in your pocket.
Tip #3: Do not, for any reason, wear cotton. Cotton does not wick moisture and leaves you wet and cold. Merino Wool is preferred because it is tremendously functional for layering. It is lightweight and wicks moisture away from your skin while keeping you warm and dry. Additionally, it is naturally antimicrobial, which is an added bonus.
Tip #4: Keep your head and extremities covered. You lose a lot of heat from your head, neck, hands and feet. Wool or synthetic socks will keep the moisture away from your body. A hat and scarf coupled with lightweight gloves are great (like the Wings arm-warmers) because they are easy to remove and put back on when you need to quickly adjust your thermal temperature.
Jenn Bodnar
Jenn Bodnar is the owner of  Yoga Digest and has a genuine belief that yoga can benefit everyone. She is 500ERYT having attended multiple teacher trainings, facilitating yoga teacher trainings and studying and practicing yoga since 1999. Jenn is an avid fitness professional, who has taught and managed group fitness for many years. As a former competitive triathlete, gymnast and dancer Jenn loves the balance of strength, flexibility, perseverance and freedom that yoga provides. She is mom to three awesome young men and loves being active and outdoors with her family and friends. Jenn oversees LifePower Yoga studio in North Dallas, is a self proclaimed health food chef and hopes to leave a positive footprint by inspiring others to choose happiness. "Watching people grow through yoga is one of the most amazing miracles to witness."
Related Articles
Read more from LIFESTYLE