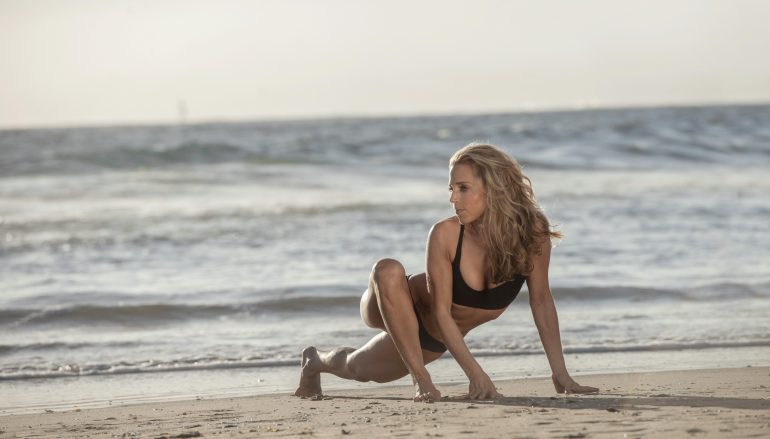 How Gratitude Became My Antidote For Anxiety
I made it! I'm actually here! Row U, Seat 37, Orchestra section, jammed into the middle of a long, long row of seats with no center aisle in the massive, sold out Dorothy Chandler Pavilion. I am here to see 'Joni 75 – A Birthday Celebration,' and I'm ecstatic. This performance is a celebration of Joni Mitchell's 75th birthday with a roster of incredible artists performing her timeless songs.
For weeks the event had been completely sold out. I called the box office every day for weeks to see ask if anyone had turned in a ticket I could buy. And every day I was told that no tickets had been released, until 2 days before the show. "It looks like we have one seat available in the Orchestra, Row U," said the voice on the other end of the line. "I'll take it!!!!" I declared with joy even before hearing the price (which was steep and worth every penny) and without even asking where the seat was in the row. In the past, sitting in the middle of a row in a crowded theatre could have been a problem for me. But I was so full of gratitude and joy that it didn't even occur to me.
Joni Mitchell has for most of my life been my hero, her soulful music and artistry woven into the emotional tapestry of my heart. Her ability to seemingly describe and validate my feelings about life and love is like no other. She was often my lifeline, an anchor, often leaving me with a heavy heart, often uplifting my spirits, sometimes inspiring me to sing, to dance, and sometimes saving my life.
I was not going to miss this evening! I endured an hour and a half of horrible LA rush hour traffic. I went down many levels to finally find a far-away parking space on the lowest level of The Music Center's over-flowing garage. I literally ran from my car through the garage, across the courtyard, into the theatre and into my seat. By the skin of my teeth, and with a smile on my face and a sweaty brow, I made it.
Phew! The house lights are still up. Smiles and excitement are brimming from my neighboring audience members, all of us tribe members, a community of life-long Joni fans sharing a collective energy of enthusiasm and delight. Still out of breath, I immediately connect with the folks next to me, all of whom seem happy for me that I made it, there to fill what appeared the only empty seat in the house.
In eager anticipation, we chat it up about the different artists performing, Joni's records and paintings, what songs we hope to hear, et al. Here we are, like 3,156 happy sardines, sitting with shared gratitude for simply being here to experience this rare and special evening.
About halfway through the show, I suddenly realize: there was a period of time in my life when this would not have been possible – a time when this scenario would have triggered feelings of being trapped. These feelings would quickly escalate, become all-consuming, terrifying me that something bad was happening to me, that I was in danger. Is this a panic attack? Or worse will I pass out!? What's wrong with me? My anxiety would rise up from my belly to my head causing my body temperature to rise, fogging up my vision, clouding my thoughts. How can I survive what's happening to me… and the fear, oh the fear…
Yes there was a time, in fact many times. But this is not one of those times! I am having no such feelings. I am not anxious, claustrophobic, or afraid. In fact it has been quite a long time since I've felt that way. I have enjoyed many nights in theatres seeing music, dance, opera – with ease and joy. But in this moment, it occurs to me, it was simply a memory of what once was and something I hadn't thought about for so long.
At this moment I realize how far I've come – how hard I've worked to learn about and understand my anxiety, and to manage and diffuse its hold on me. I am freer to enjoy life!
I am immediately filled with gratitude and love. I am here not only to bathe in the glory of this performance, but also to celebrate my personal triumph!
Tears come to my eyes (I should say MORE tears since they were already there listening to Seal's gripping rendition of "Both Sides Now"). I am grateful for this night, and grateful for my journey that got me here (both this evening's journey and of course the larger journey). I am grateful for my life, my health, my support system of friends, family, therapists, teachers, and my own wellness practices. I am grateful for the guy at the box office who originally encouraged me to call every day for a ticket. And I am grateful for being right here in seat 37 of row U, with 3,156 new friends surrounding me.
It's the end of the show and Joni appears on stage among her fellow artists. With the entire room on its feet, we sing Happy Birthday en masse. The band plays "Big Yellow Taxi" and we all sing along and dance. The evening is magical. I am intoxicated by the extraordinary performances and by the realization that I can do things that bring me enormous joy without suffering. How grateful I am for this experience, and the joy I feel in recognition of the emotional journey I had to take to get here. Gratitude continues to surround the night, and my life and recovery from debilitating anxiety.
This is my way of saying "thank you" to Joni for the magic and beauty of the evening, for her music and lyrics, so strong and deep, and to simply express to her, however indirectly, what she's meant to me all these years.
This experience continues to have a profound effect on me. Gratitude is so much more than giving thanks. It's a way of seeing the world, so that we may become more optimistic, experience happiness at greater levels, overcome adversity, and find greater joy in life. Gratitude is indeed an antidote for anxiety.
Jessica Schatz
JESSICA SCHATZ, The Core Expert™, uses her extensive knowledge, skill, and heart to inspire others to live better, happier lives. She is acknowledged in the health, wellness, and fitness communities for her integrative methodology and teaching of the mind-body connection. Jessica's method is rooted in Pilates and draws upon elements of Yoga, bio-mechanics, meditation, psychotherapy, physiology, kinesiology, strength and conditioning exercises, nutrition, and other modalities to address the whole person – mind, body, spirit. She is distinguished from many fitness professionals in the unique way she combines scientific knowledge of the physical core with an intuitive sense of the inner core of each person. Instagram
Related Articles
Read more from INSPIRATION