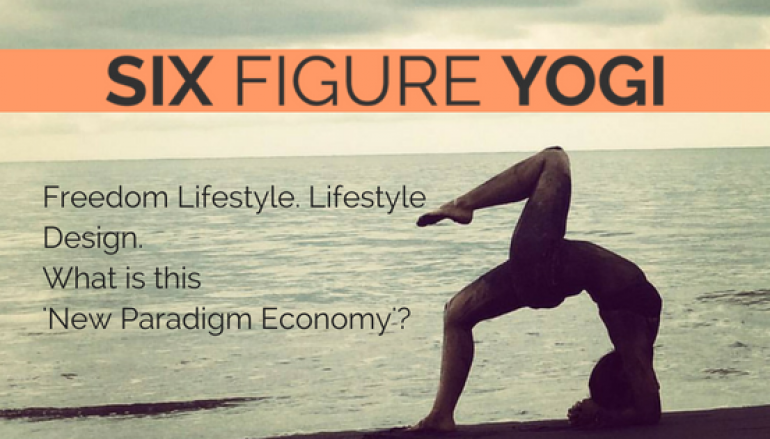 Freedom Lifestyle. Lifestyle Design. What is this 'New Paradigm Economy'?
Namaste Goddess Powerhouse! It's time to take your impact to the next level. I am here as your Hippie Business Strategist and New Best Friend. It is our job to re-shape the world we live in. The time has come for you to own your worth and commit completely to your soul work. This is the new paradigm.
Want to stay stuck in a 9-5 selling your life? Stop reading now.
Want to learn more about what the New Paradigm economy look like? Read on.
Perk #1: Location independence is freedom!
I choose to live in and work from a jungle in Costa Rica. I chose the lifestyle that I wanted. Then, I created my business to support that vision. For me, this looks like living in a tropical paradise with occasional travel back to the United States. Just this year, I have spent time in Kenya, Mexico, Peru, Guatemala, and more. No need for permission to take a vacation. I organize my business to match my life. Freedom.
You must set up your business so that it is completely aligned with your values. As soul based entrepreneurs this can look like creating workshops, retreats, or training programs locally or globally. My lifestyle is supported by a few months of being present with my students, and the rest of the year I am focusing on recruitment by creating content from my laptop. Right from Day One, set up your organization so that you can lead it globally (usually). Once you establish a team – set the expectation that you don't need to be face to face often. With this intention from the beginning, you prevent organizational pains later if you want to make the switch to location independence.
Perk#2: We are the new leaders of the heart-centered holistic integrated world…
We are living during a really special time in our history as human beings. People are awakening at an amazing rate. More people are choosing to devote themselves fully to the Goddess and to allow their hands to be an instrument of Her work. As conscious entrepreneurs – we live truly holistic, integrated lives. You don't meditate in the morning, get off of your cushion, and then separate the rest of your life from your spiritual work. It is all coming to be one beautiful creative devotional expression of your divine purpose and work here.
Trust me: you no longer need to give your time to some company or vision you don't resonate with or believe in. You can listen to the beat of your own heart and follow your divine inspiration. This is your chance to change yourself and the world by living your passions. And I am here to show you how…
Perk #3: Freedom to express your authentic self is now the rule, not the exception.

Pure freedom of expression in the new paradigm is setting the foundation for this new business climate. As a result, I can operate my business from my most authentic self. I am able to travel and to create from any café in the world. I am able to build my schedule in a way that feels good to me. I am able to feel empowered as I am making all the decisions I need to make. I can show up to meetings here in the jungle in bare feet, talk about the Goddess, and make good money with soul based collaborations. I then use
I'm not interested in showing up anywhere that I wouldn't be welcome in my most natural and creative state. That's when I feel the most comfortable, the most empowered, and the most alive. My branding, my message, my writings, my podcast – everything is infused with my authentic voice. Try and speak to everyone – and speak to no one. Share your authentic self, fears, desires, and watch your mission catch like wildfire.
Lead by example and be courageous! Be your authentic self and allow others to get to know what the new paradigm looks like. We are changing the climate of business together.
Perk #4: Seva is Sexy. Giving back is the new skinny….
As a conscious entrepreneur, your business needs to include a give-back model that is woven right into its core. It should be built to be as conscious as possible. To supporting other conscious businesses. To be working to support social justice initiatives you are passionate about. This is core to the New Paradigm model.
The give-back model used to be a unique piece of a company: like being eco-friendly or donating a percentage of proceeds to a special charity or cause. Now – that is the expectation. Of course you are eco-friendly. Of course you are committed to fair trade. Of course you support local initiatives. It used to be sexy. Now, its the standard.
People now make their purchasing decisions based on how companies are positively impacting the world. They are voting with every single dollar they spend. From Day One, you have got to think:"Okay, how does my company make the world a more loving place?". The benefits start with you and ripple out into the world!
Perk #5: SixFigureYogi.com was created to help you learn how to rapidly grow your socially conscious business.
The Six Figure Yogi podcast has mini-lessons which are great while you are on the go. The free Online Marketing & Conscious Business Growth eCourse was designed with your needs in mind. All FREE at the website.
This is Hippie Business Training you've never had, and it is FREE. Be phenomenal. Create an engaging online presence. Learn how to sell out live events and workshops. I cover a TON in your free online marketing & conscious business growth eCourse. You can get that over on sixfigureyogi.com right now!
In collaboration with Yoga Digest, we have created a live event in Costa Rica. The Empowered Goddess: A Modern Business Seminar for the Awakened Woman. An intensive immersion with us here in the jungles of Costa Rica, March 13-18, 2017. Make more money & amplify your spiritual impact. Let's do it in sacred sisterhood.
Adi Shakti - The Six Figure Yogi
Adi Shakti manifested the Empowered Goddess Seminar to serve as the launching pad for empowering impassioned awakened women entrepreneurs to come together to collaborate, get their s*** together, and elevate collective consciousness through smart and soulful business. Adi is the host of the Six Figure Yogi, Creative Director of Passion Yoga School, Creative Mastermind of the Maha Shakti Center, author, and humanitarian. Adi is a born leader, empowered creator, and active force of nature. She enjoys a global freedom lifestyle of empowered entrepreneurship. She lives full time in Puerto Viejo, Costa Rica. Visit Adi at, www.sixfigureyogi.com, IG: @adi_shakti_rising
Related Articles
Read more from LIFESTYLE