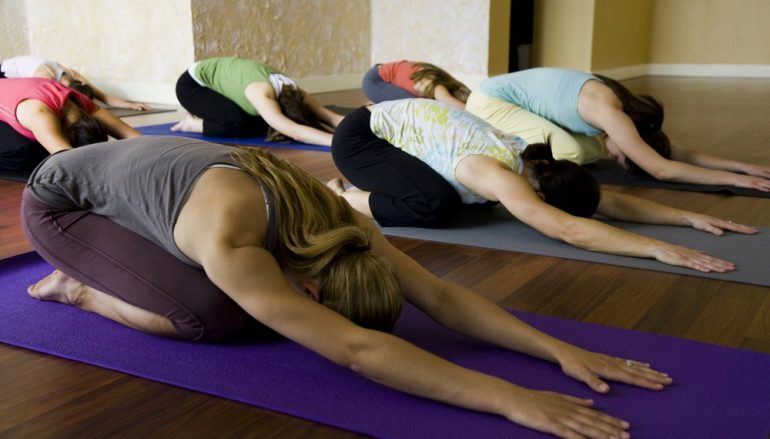 3 Ways New Yoga Students Can Embrace National Yoga Month
September is National Yoga Month.  Now is a great time to turn over a new leaf and connect with a practice that has lasting results for mind and body.  It is the perfect opportunity for new yoga students to embrace the practice and make it a lifestyle choice.
If you are new to your mat, here are three tips on how you can embrace National Yoga Month.
1.  Experience a variety of classes and teachers – During National Yoga Month many studios offer special promotions.  This is a great time to try a variety of classes and styles.  If you have only dropped into a class here or there and wasn't sure what all the buzz is about, you probably have not found the right style of yoga or teacher for you.  Not all yoga classes are created equal. Some classes have music, some don't.  Some classes are heated, some aren't.  Some classes have ancient chants incorporated others are more focused on the physical.  I promise there is a style and teacher that will match what you are looking for from a class.  As you explore the array of classes offered, see every class as an opportunity to learn.
2.  Commit to it! – During National Yoga Month, why not take your commit to yoga to a new level.  It is possible for students to increase flexibility and strength quickly, which makes practicing more enjoyable, but you must practice more than once a week.  I always like to say to my students "yoga does everything it promises; the only problem, is you have to do it!"  If you want the results yoga promises, you must commit to it.  Buy a monthly pass at the studio and commit to going a minimum of 4-6 times per week this month. See what changes occur in your body and your life!
3.  Invest in a training –Being a newer student to yoga, it might sound crazy to start thinking about a yoga teacher training. However, if you have fallen in love with yoga, it probably will become a permanent part of your life.  A yoga teacher training is a great way to learn more about the poses and the practice.  It's never too early to make this investment.  Just be sure to research the program, ask questions of the organization leading the training and then take the plunge.  A good yoga training will teach you not only about yoga, but it will also be a wonderful self-growth process.
The start of fall is a great time to reflect on your summer and prepare for the winter. Embrace National Yoga Month and allow yoga be a way to give your body what it needs during this season of transition, whether it is energy, rejuvenation, or more self-awareness.
Photo – shutterstock.com
Vyda Bielkus
A champion of self-transformation, Vyda's singular personal and professional goal is to empower others to transform themselves—and the world—through yoga, meditation, coaching and right action. Co-founder of Health Yoga Life in Boston, MA, she's a change-management coach and a passionate spokesperson for the emerging market of self-care as a better business practice. Health Yoga Life gives clients access to unique yoga, wellness and personal development tools through online products and personalized services. Vyda has written for Elephant Journal, Do You Yoga, The Examiner and The Huffington Post. In 2012, Improper Bostonian named her Power 'n Flow class "Best Mind Body Class in Boston," and in 2013 she was named one of Boston's top bachelorettes.
Related Articles
Read more from YOGA